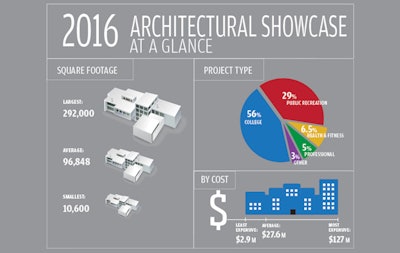 This article appeared in the June issue of Athletic Business. Athletic Business is a free magazine for professionals in the athletic, fitness and recreation industry. Click here to subscribe.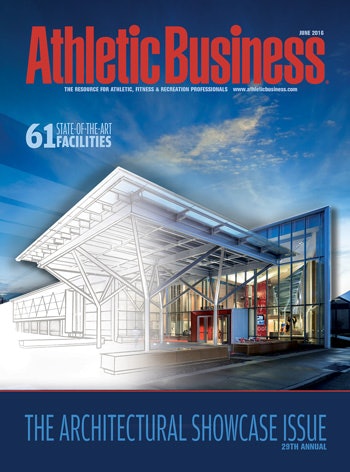 As I'll tell anyone who asks, the Architectural Showcase is the most exciting issue of Athletic Business every year. It's an opportunity to experience everything that is new in the athletic, recreation and fitness industries, including projects we've been following from concept to completion, as well as many that weren't on our radar and leave us all the more stunned by the final design. Viewed collectively, the projects in the Showcase illustrate the latest trends in design and technological innovations.
More important than our own enjoyment is what the Showcase issue means to our readers. For facility owners, architects or those who work in a venue featured in these pages, it's a testament to years of hard work, an opportunity to show off the fruits of their labor.
For others, it's an invaluable resource, filled with ideas that will inspire and influence their own building projects. It's an opportunity to not just borrow ideas from their peers but also build upon them. (Another way to do this is by touring a facility — learn how to make the most of a site visit.)
Demographics will change and technology will advance. The needs and interests of facility users will evolve, as will the means with which facility operators meet them. Today's state-of-the-art facility will not have that same status in 10 years, but the facilities that do will only have the honor because of the groundwork laid by the innovators of the present.
View 2016 Showcase Projects by Locations in a full screen map
And the cycle will continue — 20 years from now, this year's cutting-edge facilities Jun be prompted to renovate or expand in response to their changing user base and the latest facility trends displayed by their peers in the 2036 Architectural Showcase.
Thank you to this year's submitters, and to you for taking the time to review their efforts in this year's Showcase. Think of it as 61 site visits — all at your fingertips.
---
This article originally appeared in the June 2016 issue of Athletic Business with the title "Passing the torch"