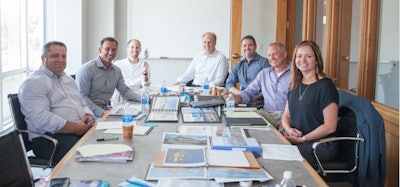 For two days this summer, Athletic Business played host to seven architects from firms around the country to determine the 10 athletics, fitness and recreation facilities that would be named Facilities of Merit®.
The process for judging the top facilities, which are chosen from submissions to the annual Athletic Business Architectural Showcase, can be intense. Between rounds of judging on consecutive days, the team works to show these industry leaders a good time and introduce them to AB Media's home city of Madison, Wis.
After introductions over lunch at one of the restaurants on Madison's Capitol Square, it's time to buckle down. On the first day of judging, panelists pore over each submission — 65 in all this year — and whittle the total list down based on set criteria – functional planning, design, site, cost and quality of submittal. After the list of projects up for debate on day two is cut by roughly two-thirds, it's time for dinner (and drinks!) with AB staff.
This year, the judges are treated to a delicious meal at one of the most famous steakhouses in town, the Tornado Room. The vintage charm of the restaurant provides a wonderful environment for getting better acquainted, as the group discusses this year's projects and the state of sports and recreation architecture.
As we reconvene for day two, judges revisit each of the projects that made the cut, spending more time with them and taking notes. Lunch is ordered in, and the architects dig into the details. Everything — from site plan to interior finishes to color scheme — is considered, and discussion heats up.
AB editors are on hand to facilitate and track the top facilities. Separation begins to occur among the top 12 to 15 facilities as others begin to drop off the list.
As is sometimes the case, one project is a virtual shoo-in, drawing rave reviews from all of this year's judges from day one. Other projects only ascend to the top 10 after persistent judges take up the cause. 
The architects advocate and argue for the projects that stand out, and consensus begins to build around the 10 projects that will be honored as Facilities of Merit and featured in the October issue of Athletic Business.
With the list finalized and their work done, the architects disperse with new ideas to inspire their own projects, and the whirlwind process comes to a close.