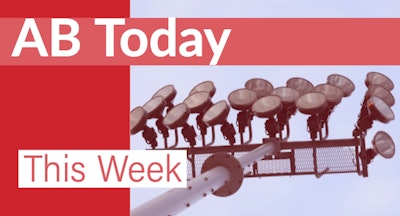 We made it to the end of another week. Congratulations, everybody.
We're still looking for feedback on your podcast listening habits! If you've got a minute, take our survey here — we'd really appreciate it!
We've got some fun content ideas on the horizon for 2018, and we really can't wait to share them with you.
Let's take a look at the news:
The big story this week was sexual assault and violence in sports.
Perhaps the largest case involved former USA Gymnastics and Michigan State team doctor Larry Nassar, who has been facing his victims in court this week. The stories are themselves are heart-wrenching — and now many are questioning what Michigan State officials knew about Nassar during the time he was employed there. As we were discussing this story in our editors' web chat this morning, senior editor Paul Steinbach said "It's becoming a Penn State-like story." That ain't good.
According to USA Today's Dan Wetzel, Nassar sent a letter to the judge about his "ability to be able to face witnesses these next four days, mentally."
Larry Nassar sent letter to the judge saying he is struggling to deal with victim statements and is uncertain in "my ability to be able to face witnesses these next four days, mentally."

— Dan Wetzel (@DanWetzel) January 18, 2018
The letter didn't earn Nassar much sympathy.
Continuing with the theme in a different context, WNBA player Layshia Clarendon filed a lawsuit this week, alleging that Mohamed Muqtar, the assistant AD at the University of California-Berkeley, sexually assaulted her. The suit claims that a number of student-athletes had made similar allegations against Muqtar, and that the school's regents were negligent.
Relatedly, in our January/February issue, we featured a column by former Olympian Nancy Hogshead-Meyer, who eloquently shared her thoughts on ending sexual abuse and violence in sports. One of her suggestions is simple: ban all romantic and sexual relationships between coaches and their athletes, regardless of age or consent.
As the national conversation on sexual abuse and violence continues to develop, so will these stories. Stay tuned.
Elsewhere on the Internet…
What happens if the Vikings advance to the Super Bowl — which will be hosted in their home stadium (which, by the way, earned a Facilities of Merit award in 2017)? From Sports Illustrated: What Happens if the Vikings Reach Super Bowl LII? Expect Plenty of Logistical Challenges.
Planet Fitness is using a low-cost model to bring in first-time gym members, and it's working. From CNN Money: Planet Fitness is winning by charging $10 a month
I really enjoyed this profile on the University of Missouri's first year men's basketball coach, Cuonzo Martin. Also from Sports Illustrated: Cuonzo Martin, the Fight for His Life and Why He Took the Job as Head Coach of Missouri
Baylor University with a look at what life is like as a facility manager, profiling the school's assistant AD for event management and facilities (and AB contributor) Drew Pittman. Some fun anecdotes here, including how he helped with arena logistics on his wedding day. From the school's website: Getting to Know: Drew Pittman
Lots of facility news!
Athens Banner-Herald: UGA committee supports using $1 million for three athletic facility projects
Ballpark Digest: FSU Planning Dick Howser Stadium Upgrades
Syracuse.com: SU to make decision on Carrier Dome roof by this summer
That's it for now. Have a great weekend, and as always — don't hesitate to get in touch with us with story ideas or suggestions. You can email the whole edit team at editors@athleticbusiness.com
We'll see you next week.