COTTAGE GROVE, Wis. (September 9, 2021) – Matrix Fitness, one of the world's fastest-growing commercial fitness brands, introduces the Virtual Training Cycle, an immersive training experience that delivers exclusive programs, streaming music, movies and shows and access to instructor-led content on the cardio floor. Fitness facility owners and managers will be able to get their first look at the Virtual Training Cycle at the 2021 IHRSA trade show in Dallas, October 13-15, 2021.
The high-performance cycle features a 56 cm / 22" touchscreen with app-based interface similar to other touchscreen consoles in the Matrix cardio portfolio. Users will be motivated and engaged with the Matrix-exclusive programs, including 20-minute Sprint 8 HIIT, Virtual Active forward-motion HD destination footage and Target Training that tracks watts, heart rate, RPMs, distance or calories while helping members gauge progress with engaging graphics and intuitive colors. Users will also have access to iFIT® live and on-demand experiential studio and outdoor workouts.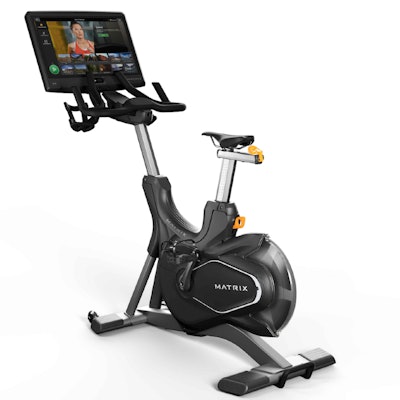 "By listening to our customers, we discovered their users wanted a variety of content and options to keep them engaged," said Scott Williams, Global Product Manager, Console Technology for Matrix. "Some members were also intimidated by group cycling classes, so the Virtual Training Cycle gives their members the same riding experience as a class in a non-intimidating format when it best fits their busy schedules. Better yet, the on-demand workouts provided through our partnership with iFIT, paired with our Matrix-exclusive content, will ensure that riders feel they have a new way to ride every time, with just the touch of a button."
The Virtual Training Cycle is precision-engineered with a freewheel design featuring magnetic resistance, intuitive four-way adjustment, a contoured seat and multi-position handlebars that simulate the feel of real road riding. For increased serviceability and easy maintenance, the cycle also features quick-release service panels, easily removable pedal cranks and clearly identifiable internal components.
Other Virtual Training Cycle highlights:
Console offers easy electronic resistance adjustment plus automatic resistance changes to keep members in sync with programming and on track for their goals
Connects to Apple Watch for more accurate workout tracking and consolidated user data
Wi-Fi compatibility makes it easy to connect in the way that works best for your facility
USB port allows members to charge their personal devices while keeping their screens in view
Bluetooth connectivity and ANT+ compatibility lets members connect a wide range of personal devices including smartphones, wireless headphones, heart rate tracking devices and more
Power save mode and auto wake-up bring the console to life when your members step onto the equipment
Single-point user login automatically loads personal preferences every time members log in, while RFID login offers a totally touch-free way for members to get started
Works with Matrix Connected Solutions digital ecosystem
"The Virtual Training Cycle brings together the experience of a group cycling class and familiar operation of standard cardio equipment into one," Williams said. "Both users and gym owners alike will appreciate the continuity of our user experience and connectivity capabilities across all of our equipment on the cardio floor – ensuring a unified aesthetic and an intuitive and engaging experience for all."
For more information about the Virtual Training Cycle, visit MatrixVirtualTrainingCycle.com.
About Matrix Fitness
Matrix Fitness (matrixfitness.com) is the fastest-growing commercial brand in the world and is the commercial brand of Johnson Health Tech. Matrix offers a complete portfolio of cardiovascular, group training and strength training equipment for health clubs and other fitness facilities.
About Johnson Health Tech
Johnson Health Tech, Inc. (JHT), Taiwan, is among the world's largest and fastest-growing fitness equipment manufacturers and is home to some of the most respected brands in the fitness industry, including Matrix, Vision and Horizon. The company manufactures a wide assortment of fitness equipment for both commercial and residential use, including treadmills, elliptical trainers, exercise bikes and strength training equipment. JHT's global management headquarters is based in Taichung, Taiwan, with global product development, marketing and engineering based in Cottage Grove, Wis.
# # #