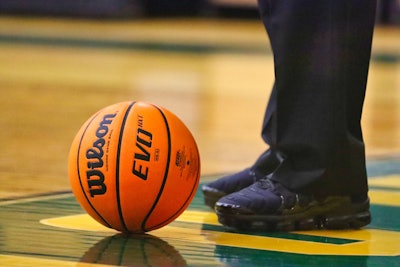 The public address announcer working a high school basketball invitational in Germantown, Wis., became the voice of widespread frustration with fan behavior and its impact on the officiating crisis this past weekend.
As reported by the Milwaukee Journal Sentinel, state-ranked Brookfield Central was on the brink of being upset by Cedarburg on Saturday in one of eight boys' basketball games featured during the Warhawk Invitational. Central had the ball with a chance to take the lead when Cedarburg was whistled for a foul as time expired, prompting crowd reaction and members of Cedarburg's bench to enter the court in protest.
As officials huddled, the PA announcer opened the mic and said, "I would like to take this opportunity to remind all fans — and I should have done this a lot earlier — shut up! The WIAA is always looking for officials, and since you do such a good job from the stands, get on the floor, wear a striped shirt and do it yourselves."
The announcement easily drowned out the crowd's chirping, which eventually gave way to applause.
A technical foul against Cedarburg was tacked on, giving Brookfield Central four free throws and the chance to at least send the game into overtime. Central missed all four attempts, sealing Cedarburg's upset victory.
A clip of the late-game sequence, captured from a since-deleted YouTube stream of the game, has garnered 1.4 million Twitter views and roughly 1,000 retweets. Former Marquette University and professional basketball player Joe Chapman, who owns Chapman Basketball Academy in the Milwaukee suburb of Mequon, captioned his tweet by stating, "The announcer had enough of the parents foolishness!"
According to JR Ratcliffe of the Journal Sentinel, the Wisconsin Interscholastic Athletic Association released in 2019 a statewide editorial that pointed to poor fan behavior as one reason the organization has struggled attracting and retaining game officials.