That is the question Hilary Bride asked the approximately 110 people attending her seminar, "Networking Sites: What Youth Sports Administrators Need to Know." Bride, in fact, encourages the practice, as it helps one better understand one's "e-self."
A big part of one's e-self these days is Facebook, for good or bad. An example of the bad can be found in Moultonborough, NH, where Bride serves as assistant director of the recreation department and where a teacher was recently fired for taking a Facebook "quiz" with a young "friend" that the school board deemed "inappropriate." There is also cyber-bullying, narcissistic displays and graphic evidence of inappropriate behavior (Bride described a public Facebook photo of two underage recreation employees engaging in "Edward 40-Hands," a drinking game in which 40-ounce bottles of beer are duct-taped to the hands of the participants, who are forced to finish the contents before they can relieve their bladders).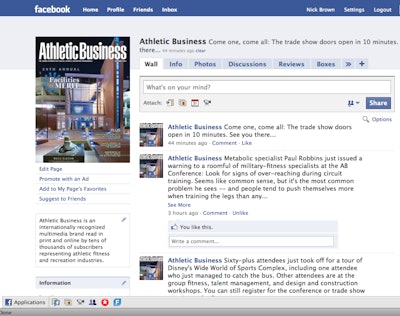 But Bride also noted the good that can come out of Facebook, especially an organization-run page intended to engage the community. It's free and it can be a valuable tool in any number of marketing efforts. It also can help administrators keep tabs on some of their employees. Bride, for one, encourages new hires to become her Facebook friend upon their employment. "We live in the age of 'Jackass' and 'The Girl Next Door,' " she told the crowd, before asking which employee they'd rather hire to run their youth programs, the one shown in their Facebook hiking a mountain or the one shown doing kegstands.