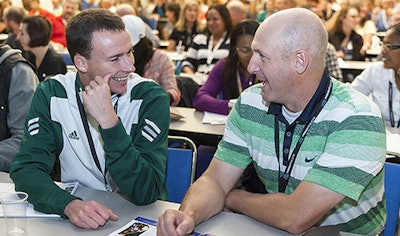 This is a story about a conversation Lou Holtz and I never had.
The conversation didn't take place on Dec. 3, 1999. I was attending my first Athletic Business Conference & Expo, having been hired by Athletic Business magazine little more than three weeks earlier. Holtz, head football coach at the University of South Carolina at the time, was going to deliver our noon keynote that day.
The only opinion I had of Holtz to that point was based on what I had witnessed on TV (physically collaring a game official while coaching at Notre Dame stood out), what I had read in Under the Tarnished Dome: How Notre Dame betrayed its ideals for football glory by Don Yaeger and Douglas S. Looney, and what I had heard come out of the mouth of my father, who loved the Fighting Irish and Holtz for returning them to said football glory. I was indifferent about the Irish, and leaning toward thinking Holtz was a jerk, despite my dad's influence.
Still, I was looking forward to seeing Holtz speak. First came a full slate of morning educational seminars to which AB editors had been assigned to make sure AV equipment was functioning, to hand out and gather evaluation forms, and to learn just as attendees were learning. I briefly ducked out of my last session before the lunch break and was walking down an Orange County Convention Center corridor when I realized Holtz and an OCCC staffer were walking in my direction.
RELATED: Learn more about the Athletic Business Conference & Expo
As mentioned, I wasn't a huge Lou Holtz fan, and even if I were, I've never been the fawning-fan type. I hadn't sought an autograph since I was 12. But after we had crossed paths by several paces, something came over me. I simply couldn't pass up this chance on behalf of my dad. I stopped in my tracks and turned. "Coach!"
Holtz likewise stopped. I approached. "Coach, my dad is your biggest fan and it would make his day if you'd sign one of my business cards." He set his travel bag onto the corridor carpeting. "I'll do better than that," he said. "I'll sign one of mine." He asked me for my name and my dad's, then dashed the following onto his card accented in USC's red and black school colors: "To John, Paul tells me you're the greatest dad in the world. Lou Holtz" I read it, smiled and told him, "Coach, you just made his year."
I returned to my session beaming, then watched Holtz deliver his keynote. I don't remember much beyond an old Notre Dame joke with a punch line that involved himself and the Pope. But I'll never forget the reaction I got when handing that business card, which I had laminated, to my father on Christmas Eve three weeks later. My only regret is that I shared the backstory with him, as well, which I guess was meant to elevate even higher my dad's esteem for Holtz based on this beyond-the-call gesture. But in doing so, I perhaps took some of the luster off of the scribbled sentiment. I like to think the tears in my eyes, and my dad's, provided all the luster needed.
John Steinbach is gone now, but the card is still here. So is the memory of the conversation Lou Holtz and I didn't have, and the ones my dad and I did.
This isn't meant to encourage you to ambush an ABC keynote speaker if the chance should present itself. Most speakers are particular about their face time, and stick to their contractual obligations when it comes to photos and book signings. There's usually a plane to catch. I share this story to encourage you to stop, take a chance and at least get to know the peers joining you in your educational sessions of choice.
You're no doubt going to learn a lot about our industry at ABC. You may also find that you can learn something unexpected about others — and yourself.

VIDEO: Inside #ABCOrlando: Episode 1
RELATED: 10 Things to Bring to the 2014 Athletic Business Conference & Expo
---
This column originally appeared in the November 2014 issue of Athletic Business with the title "An ABC Moment Captured on a Business Card "