You've developed a social media strategy after experimenting with different channels to find the right fit for your business or organization. Now what?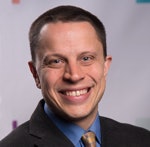 Social media is great for marketing your business, Athletic Business Show guest speaker Chris Strom says, but it works best when used with other digital marketing channels, such as emails, search marketing and your website.
"Social media isn't going to be your go-to place for that return on investment," says Strom, the director of digital marketing for the Jewish Community Centers Association of North America. "You're not going to be able to post a promotion or an event onto social media and be able to see a direct impact to your bottom line. Social media is just one of the many channels that plays a role in the online customer journey."
Strom will navigate attendees through that online journey at the AB Show, Nov. 17-19, by sharing three digital marketing trends that will enhance a school or organization's social media strategy in 2017:
1. Story Timelines
"One of the biggest inventions in the last 10 years in social media is the newsfeed. All of the different content that your network is sharing — whether it's pages you like or friends you've connected with or groups you're a part of — is displayed in this newsfeed. Newsfeeds aren't proprietary to Facebook anymore. LinkedIn has adopted it. Instagram adopted it. All social networks have some kind of newsfeed. The next platforms that social networks are going to be telling their story through are these storyboards, or story timelines."
2. Remarketing
"You're going to be sending a lot of people to your website, and only 3 percent will be a lead you'll be able to follow up on. What about the other 97 percent of the people who visited your website who showed some kind of interest but will never return again? Remarketing and retargeting is an opportunity to recapture those people. Remarketing continues to be the best return on investment for paid advertising on the web. Browsing history is a much better indicator than any other way that we can target."
3. Video
"Video is becoming such an important way for all brands to communicate. When you're talking about video nowadays, it's much less the thought of, 'Let's spend thousands of dollars to create a beautiful video,' as much as, 'How can we show the day and life of our organization, of our club, and tell that story through video today?' Video is so ephemeral. It's here today, gone tomorrow. With platforms like Snapchat, your video is good for 24 hours."
Transform your program, facility and career at AB Show, Nov. 17-19. This premier event is the No. 1 place for you to learn how to build a great team, get top-notch education and tips from industry thought-leaders, and find the products and services you need to effectively manage and equip your program or facility.
---

Hear more from Chris about the latest digital marketing trends during his AB Show session: "What's Next: Cutting Edge Digital Marketing Trends for 2017."