My leadership journey, or as I call it, "My Ithaca," began at the Park District of Park Ridge in Illinois. Fresh out of college, I designed social recreation programs and supervised ice rinks, a sled hill, and sports and youth centers. After two non-stop years, I could feel the burn(out) and returned to graduate school to retool for a career in collegiate recreation.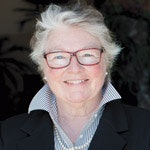 As luck would have it, I landed at SUNY-Brockport after graduation. I call this my first lucky break because the university was preparing to host the '79 International Special Olympics. In addition to my day job as campus recreation assistant director and ice rink manager, I had the incredible opportunity to help produce the games.
The experience introduced me to what has become a lifelong relationship with Special Olympics — from sign committee volunteer to a member of the board of directors. My time at Brockport also confirmed my suspicion that it was "good to be queen." I was determined to become a director as soon as possible so that I could implement my forward-leaning collegiate recreation agenda.
At the age of 26, I became director of campus recreation at St. Cloud State University in Minnesota. The six years that followed taught me about what was possible in collegiate recreation and prepared me for my next great challenge. I was called to my alma mater, Illinois State University, to coax the recreation department out of its "malaise," as the vice president put it.
---
More from AB: Ten Tips for Keeping Your Rec Center Looking Like New
---
Twelve years at ISU went by in the blink of eye. Campus recreation was restored with the help of strong, young, capable staff members, nine of whom have become directors in their own right. New model programs were developed and "category of one" facilities and spaces were created over the years. There were many spectacular successes. Were there ever any failures along the road? Yes, brilliant, big, sloppy and public flops. But each failure and misstep was just a chance to get up, learn from my mistakes and come back even stronger.
In '97, I was invited to come to the University of Missouri to "work a little magic" on a recreation organization in trouble. After accepting the appointment, the reality of the situation sunk in with one exception. Luck struck again! I discovered a bright, young assistant (soon to become associate) director on the staff who had arrived 13 months earlier. We teamed up as true partners for the tremendous task in front of us. I provided vision, he provided perspective, and together we forged The Missouri Model, a roadmap for building on our campus the nation's best recreation facility. It was a once-in-a-lifetime opportunity to invent the future of collegiate recreation — from facility to programs to services. A $50 million recreation facility project launched the Recreation Renaissance at Mizzou.
Recognizing the uniqueness of the campus and the opportunity, I was determined to pack every dream and idea I ever had into the project. My thinking was, "If we're going to do this thing, then why not step off boldly and do it better and more amazingly than anything else has ever been done before?" MizzouRec was deliberately designed to be the new national model, and we were determined to go where no one had gone before in creating a custom, one-of-a-kind collegiate recreation environment. Every stitch of new and renovated space was treated to inspire, motivate and delight our students with purpose, humor, warmth and sometimes whimsy.
The opportunities afforded to me and the experiences I have had and continue to enjoy still fill me with wonder, gratitude and the spirit of possibility. In short, the journey has been magical, even with the occasional wrong turn and closed road along the way. It has been more rewarding and wonderful than I could have ever imagined.
---
Related: Fitness Programming Trends at Prominent College Rec Centers
---
There is an adage: "Luck is what happens when your preparation and life's opportunities meet up." Each of us should always be scouting opportunities as we prepare for the next big moment to serve and make a difference. It is important to take care not to squander opportunities, as they rarely come again. In life, luck may be arbitrary, but success and excellence are intentional actions.
To prepare for the journey of leadership success in the field, deliberate steps must be taken. There are seven strategic steps that will help you plot and plan your course for the long haul:

1. Listen and engage
It is more challenging today than ever to hone the skills of listening and engaging. Our world is distracted and our senses are overstimulated. As a result, we must be intentional in developing the habit of listening. Do your best to develop a talent for forming excellent questions.
With electronic communication all around us, all of the time, we must also develop skills for actual face-to-face engagement. At some point in your career, you will need to argue your position, to advocate or to stand in front of someone or a large group of people who neither love nor agree with you or the organization you represent. You may even have to relieve someone of their position. These are not easy things to encounter and they are not easy things to do, but be prepared because they will happen and they must be accomplished.
2. Speak purposefully
For the sake of their credibility, leaders must master the professional language and know the proper vocabulary of the body of knowledge that makes up our field. The need for this skill extends to each specialization within the profession so that you can make clear distinctions, as well. Without this essential competency, you will not be able to effectively and credibly communicate in any medium.
Becoming fluent in the language of the field takes practice and study. True leaders are great clarifiers, advocates and communicators.

3. Read
Literacy is the most important leisure skill. Read every day — preferably material that interests you, challenges you and broadens your knowledge of how people and our world function. Seek out sources that will broaden your perspective and challenge your truth.
I read the Sunday New York Times with my laptop to take notes or to investigate certain bits with greater depth. For fun, I breeze through USA Today and a flurry of related trade magazines each day. It keeps me informed and sharp and will occasionally bring something completely new to consider.
If you want to amp up your reading entertainment, reach for one of your college textbooks from your recreation curriculum, and open it at random to recharge yourself.
Reading is an outstanding source of inspiration. Fresh views revive our minds, our thinking and our performance. Words, thoughts and stories committed to print can inform us, lift us up and shake us loose from conventional thinking. Seeing life through someone else's eyes helps us build perspective, or it can reinforce our truth and give us strength when we need it.

4. Write
The age of the digital native is upon us, so many new leaders have a head start on writing. Keep building on that platform and develop your writing skills. Reading will help you do this with greater ease, and having a command of your professional vocabulary should provide confidence in your written word.
Countless proposals filled with outstanding ideas are stalled because the author didn't commit to developing basic writing skills, and the supervisor was too burdened to perform a rewrite. Writing well allows you to be the master of your universe and supreme commander of the fate of your ideas. The ability to write well will grant you autonomy. It will allow your agenda, your ideas, your perspective to be considered and shared faster and to a larger audience.

5. Sacrifice
Sacrifice is rarely discussed during the professional preparation phase of a career. Nevertheless, it is an important term to take to heart, understand and discuss. In our field, we work when everyone else is recreating. We work with people. We work in a field that has plenty of misperceptions, looks easy and is often taken for granted. This field requires sacrifice. Simply stated, if you are not prepared to make the sacrifice, then you are not prepared to join the profession.
What are you giving up? Your time. An unrenewable, unreclaimable resource.
Michigan State volleyball coach Chuck Erbe told me years ago that when he was considering an athlete for the team he would ask them three questions: How hard are you going to work? What are you willing to sacrifice to be on the team? How long are you willing to make that sacrifice?
If you are to be considered for this professional team, I would submit those same three questions to you. There is plenty of average in the world, and our field is crowded, but there is always room for the best. To be the best, to succeed and to experience excellence, you must make the sacrifice.

6. Be courageous
This work requires courage, and to lead this work takes even more courage. We don't typically think of leisure and courage partnering together. Yet in every corner of our field there is a competing interest or compelling higher priority in the eyes of others. It will take courage for you to defend a program, a facility, an initiative or a cause.
And you will be called on to lead, whether you intended to or not. Being a reluctant leader can pass, but being an unprepared leader will not serve you well. To help develop your courageous mind and spirit, learn what leaders do. Leaders challenge the status quo and ask "why?" and "why not?" Leaders solve problems for organizations and people. Leaders deliver results that can be articulated.

7. Take the high road
In our field, we work with the three P's: Planning (the most important), Programming (the easiest) and People (the most difficult). I was introduced to this breakdown in my graduate recreation administration class during the first week of the session. I thought it was the most out-of-touch thing that I had ever heard. I've never been so wrong in my entire life.
People. The greatest reward is working with people and serving people. The greatest challenge is working with people and serving people. You will be sorely tempted throughout your career and your life to strike out at those who cross you. You will want to take shortcuts. You may consider payback and various forms of revenge. Do not allow that devil in your house.
In every situation and in every case, I have taken what is known as the high road. It has taken longer, it is not immediately gratifying, it is more tedious at times, it can be personally painful — but it has always paid off, without exception.

Collegiate recreation is a wonderful, satisfying and enriching profession. It is a calling, requiring the best of what you have to offer. No other field affords you a greater opportunity to engineer human experiences that enrich the lives of people and make the world a better place.
---
This article originally appeared in the May 2017 issue of Athletic Business with the title "My leadership journey" Athletic Business is a free magazine for professionals in the athletic, fitness and recreation industry. Click here to subscribe.