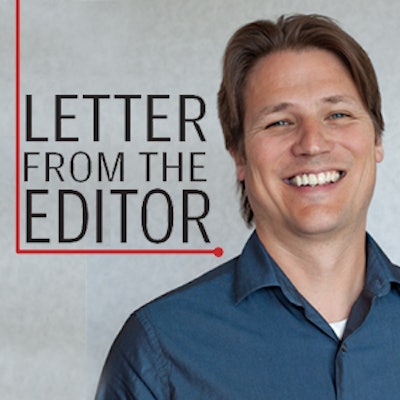 As you might have heard, Athletic Business recently announced a partnership with NIRSA. Starting in May, a few pages of every issue will be devoted to offering our readers deep insights from NIRSA on a range of topics related to college recreation. We're proud to be NIRSA's preferred media partner, and we're confident our inherent synergy — fully leveraged — will serve both organizations and their constituents well.
I'm writing this having just returned from NIRSA's conference in Denver, where collegiate recreation professionals from all over the country congregated to share ideas on everything from programming and leadership to facility management. Equal parts educational seminar, expo and party, the conference was a great showcase of the energy and expertise that NIRSA and its membership can bring to the pages of our publication. We look forward to exploring this rich partnership in the months and years to come.
While travel to Denver was delayed in part by a winter storm, our April issue represents a turn toward spring and cranking up the heat on all the great things we're planning for 2018. It's no coincidence that this month's cover features a beautiful baseball diamond, as this issue should hit mailboxes right around the time first pitches are being thrown at ballparks across the country. Those readers who might be prepping for the upcoming baseball season will want to check out Paul Steinbach's piece on baseball field care and maintenance. Courtney Cameron has you covered if you're looking for information on ensuring clean air at your aquatics facility. And, as a veteran of the tech industry, I enjoyed writing about how virtual reality is taking the fitness industry to a whole new dimension.
I'd also like to quickly thank those who submitted projects to the 2018 Architectural Showcase. The response this year has been amazing. The Showcase is a great opportunity to have your project seen by more than 40,000 print and online subscribers. As is AB tradition, all submissions will be considered by our judging panel for 2018 Facility of Merit awards, with winners featured in our October issue.
But let's not get ahead of ourselves. Fall is a long way away. In the meantime, let's settle the dust, clear the air and get ready for the reality of spring!
---
This article originally appeared in the April 2018 issue of Athletic Business with the title "A New Partnership." Athletic Business is a free magazine for professionals in the athletic, fitness and recreation industry. Click here to subscribe.