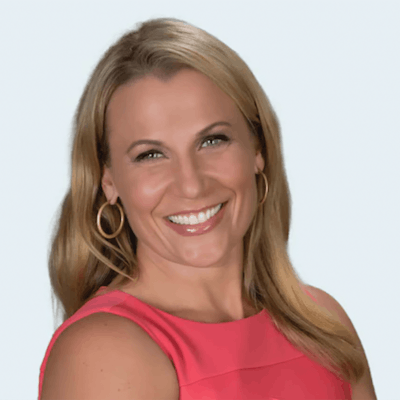 Two decades into the 21st century and women are still breaking glass ceilings in sports. Midwest-born broadcaster Lisa Byington has been shattering industry glass for years. This year alone, she became the first woman in history to call play-by-play during NCAA men's basketball tournament. Months later, Byington was named the first full-time play-by-play announcer for an NBA team, the 2021 NBA Champion Milwaukee Bucks. Byington has an extensive broadcasting background, including her work for NCAA basketball on several national networks. In 2017, she became the first female play-by-play voice for a college football game on the Big Ten Network and shortly after was part of an MLS game broadcast that was believed to be the first all-female broadcast of any of the five major men's professional leagues, according to the Bucks. Byington talked about grunt work and glory jobs with AB editor Tabatha Wethal in September, roughly a week after the Bucks announcement, and by then, sports media veteran Kate Scott had been announced as the second full-time female play-by-play announcer for a major men's professional sports team as the new voice of the NBA's Philadelphia 76ers.

What are your thoughts on normalizing women's voices in sports?
I think you normalize anything by seeing it time and time again. And then once you see it time and time again, you stop thinking about it being different. That's what I mean about normalizing voices: the more that we can hear female voices — not just on women's sports events, but on men's sports events — the more we can get it, the better. We need a first to have a second, to have a third, to have a fourth, to lose the headlines and not think about it again. I've used the phrase "background noise" because male voices on anything is background noise. Female voices, I believe, only on women's sports can sometimes be background noise. I can't wait for when a female voice on a men's game becomes background noise and we just have it on, literally in the background, and we don't think twice about who the female announcer is.

It's important to highlight women breaking more ceilings, but in a way, we're almost talking about you just being a woman in this space instead of your extraordinary skills and expertise.
Well, I don't look at it that way. I look at it as a media person and a broadcaster. I mean, other people might see me as a female in that space. But I've always been a female in whatever space I've been in. And so that's just me, so it's not different. I don't put on like a different sort of costume and walk around and be "Female Broadcaster," I'm just Lisa. So to me, it's not different. Maybe it's different for other people watching me work in that space. But for me to operate in that space and do my job, I've been doing that for years and years. I go back to the story that I love to tell about my parents and growing up, that they let me believe I could do anything I wanted. So, I literally would walk out at recess in elementary school and I would play with the boys in soccer, with the boys at recess, and you know, I'd be the only girl doing that. But I didn't think twice about it because that's just what I wanted to do. And I was taught, if that's what you want to do, then that's okay.

How are you gearing up to cover the NBA Champions?
Well, it started when the interview process began, and just paying attention to the Bucks stories — you know, connecting. I think it's most important on my end to just connect with the team that's already been there, with the broadcasters — Marques Johnson, Steve Novak and Zora Stephenson — those are the experts. And our wonderful production staff that we're going to be working with. I'm reaching out to [retiring Bucks play-by-play voice] Jim Paschke, as well. Those are the voices, the brains, everything that I'm tapping into to understand. Because you can try to understand it as an outsider. I mean, you can talk about what the Bucks did right and wrong in the playoffs and what they've done in the last few years, but it's really the people who watch it day in and day out, hour in and hour out, that I think are the most valuable to tap into.
HEAR THE PODCAST: On Sports Broadcasting with Bucks Announcer Lisa Byington
You were a two-sport athlete at Northwestern University. Are there facets of your collegiate sports-playing experience that translate to sportscasting?
I think it's just understanding, maybe, moments and understanding what the players and the coaches are going through. I played at the Division I level, I played four years of basketball and two years of soccer. I didn't play professionally, but I think once you get up to those higher levels, you can understand the demands of a sport, you can understand pressure, stress, time management — all of those things I think you can relate to because you've played at that high level. I was a former point guard, so I look at it with a former point guard's eyes, especially when I call a basketball game. And so maybe I'm seeing things develop, or anticipating things to develop that maybe other people can't. And maybe, more importantly, point guards like to pick up assists, or at least I did. I think we have more scoring point guards these days, but I like to be a dish-first, score-second point guard. And so, I'm looking to make the rest of the people on my team better. Whoever I'm working with, I'm looking to hand them assists instead of scoring points during a broadcast.

What makes this work meaningful to you?
Well, it's fun. I never show up to do the job and think that it's a job, and I'm very grateful for that. I think you know when you're doing the right thing when it feels like that. I love pouring into stats and backstories and going to practices. I think everyone thinks about the game day, that you have one of the best seats in the house. But for me, the value of doing this job is the stuff that people don't see. It's the time that you spend prepping, it's the one-on-one conversations with coaches and players, and then it's finding a way to connect all of those pieces and bringing it alive during game day. That's what I love.

One thing you and I both have in common is that we started out at small, Midwest TV stations. Do you have any memorable sportscasting or reporting moments from that time in your career that stick with you now?
Well, I think when you first start out and you have to do a little bit of everything, you have appreciation for every role in every job, whether it be at a local station or a broadcast. Because in some of my first few jobs, I literally had to do everything. I was showing up, and I had to grab a camera to go to a high school football game and shoot three to four football games on a Friday night. And I would drive back to the station. I would edit those highlights, I would write those highlights, and then I would run into the bathroom and change — put on makeup, hair and on-air clothes — and then do the sportscast. You literally are a photographer, editor, writer, producer, anchor. So I appreciate that I don't have to do — necessarily — all of those jobs. I think that's just the value of starting out small and doing kind of the grunt work to get the glory job, so to speak.

I've seen a T-shirt with you and a quote on it: "You've got to work the grunt job to get the glory job."
Yeah, yeah. I think people see, you know, some of the great jobs that you get — and certainly this past year, I've been very blessed to have so many great opportunities from the NCAA tournament to working the Olympics, to getting this opportunity with the Milwaukee Bucks. But I just don't want people to think that, you know, I woke up one morning and realized, 'Hey, I'd like to call the Olympics today.' Or, 'Hey, I'd like to do the NCAA tournament,' or 'Hey, I'd love to call the NBA on a regular basis.' Like, there's a lot of grind and grunt work that goes into, I think, everyone's story. And sometimes the space in between grunt job and glory job is one year, five years, 10 years, 15 years. I think for everyone understanding that space between where they started and where they're at is really important, because it really is not an overnight success story. There's a lot of people to help, there's a lot of time and a lot of hours that I think a lot of people don't see.

What are you looking forward to this season?
I think it's just the obvious: The opportunity to work for such a great organization and get to know a wonderful fan base. And I remember watching the NBA Finals. I've been to Milwaukee several times. I've been to Fiserv Forum before. But I'm sitting there and I'm watching the NBA Finals and just appreciating not only the energy in the building, but the mass of humanity that was outside of Fiserv Forum cheering on their team. I just thought, wow, what a great fan base, what a great organization, and what great momentum to be a part of. And so, I'm just honored, I'm grateful for the opportunity. I always say if there's fans who see me in the community, or fans who see me at games, come up and say hello. Introduce yourself, because they are part of this franchise, and they are part of this championship mindset, and I would love to get to know as many people as I can.

Fear the deer, right?
That's right. Bucks in Six!