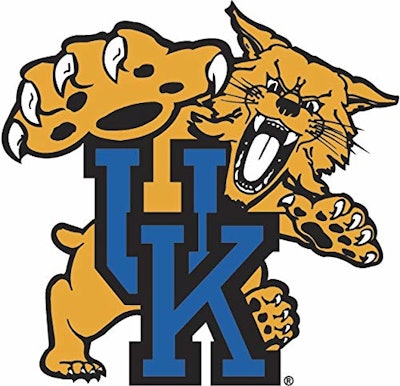 In a wide-ranging, 40-minute news conference Saturday, University of Kentucky athletic director Mitch Barnhart called the week's back-and-forth between basketball coach John Calipari and football coach Mark Stoops "unproductive and unfortunate."
At reported by the Courier-Journal of Louisville, the spat started Thursday, when Calipari told reporters in the Bahamas — where his Wildcats are playing in a four-game exhibition series — that Kentucky should commit to constructing a new basketball practice facility to replace the Joe Craft Center, noting that the Wildcats had to stop a recent practice because of a roof leak in the 15-year-old building.
Related: Calipari Wants Grand, Multi-Use Practice Facility at UK
Calipari alluded to significant facilities improvements in other sports, including football and baseball. He insisted the administration should be committed to doing the same for basketball.
"And the reason is, this is a basketball school. It's always been that," Calipari said, as reported by The Athletic. "Alabama is a football school. So is Georgia. I mean, they are. No disrespect to our football team. I hope they win 10 games and go to bowls. At the end of the day, that makes my job easier and it makes the job of all of us easier. But this is a basketball school. And so we need to keep moving in that direction and keep doing what we're doing."
That was enough for Stoops to tweet "Basketball school? I thought we competed in the SEC."
"I don't care what anybody says about their program," Stoops said Saturday, according to the Courier-Journal. "That's not my business. That's not my lane. But when you start talking about my program and others that we compete against, I mean, I don't do that. I stay in my lane."
Stoops said that he and Calipari had not spoken. He declined to comment on their relationship.
Calipari told Lexington NBC affiliate WLEX in the Bahamas on Saturday night that he "said the wrong thing" in his initial comments.
"Mark and I will be fine," Calipari told WLEX. "We'll get back and talk about it. I'm not real smart and sometimes it doesn't come out the right way. That's my Italian in me. But we'll be fine."
Calipari tweeted earlier in the day from the Bahamas that he'd made a mistake in discussing other programs while making his facilities pitch, adding that he'd attempted to reach out to Stoops and would again.
"I think that they'll talk at the appropriate time, when Cal gets back from the Bahamas," Barnhart said Saturday. "I don't think those are conversations that are probably great over the phone. I think you want to get back face-to-face and visit a little bit and do that together. You know, they're both grown men that are that are iconic people in our program. And I would expect and anticipate that they'll manage that like pros."
He said a new basketball practice facility "is not a project that we've put on our strategic plan," but noted that UK has made improvements over the years at the Craft Center and will continue to explore ways to help the men's and women's basketball programs.
He added UK's rent at Rupp Arena — where the men's basketball team plays its home games — went from "a couple hundred thousand, $250,000 a year" to "almost $2 million" to help facilitate a major renovation of the downtown venue.
According to the Courier-Journal, Barnhart conceded that he's "not real thrilled" with the state of his department this week — "the grown-ups are going to have to figure this out and be a little better," he said — and insisted "we will not be an entitled department; we will be grateful for what we've got."