By Alyvia Caple, conference coordinator
Join us on the AB Show 2023 expo floor in Baltimore where attendees will find a range of fun activities, classes and demos focusing on health and wellness.
New this year, the expo will host fitness events led by the Under Armour Performance Center.
Some of the activities returning to AB Show 2023 will include:
Pickleball
Pickleball is America's hottest new sport that combines elements of tennis, badminton and ping pong. It's a great way to get active and can be enjoyed by all ages and skill levels. Head to the pickleball court on the AB Show floor and pick up a paddle or watch a demo to learn more about how it could benefit your facility.
Free-throw contest
Stop by the AB Show free-throw contest and test out your basketball skills! For just $1, you will have 45 seconds to shoot and score for a chance to win fun prizes. The more baskets you make, the greater your chances of winning an awesome prize.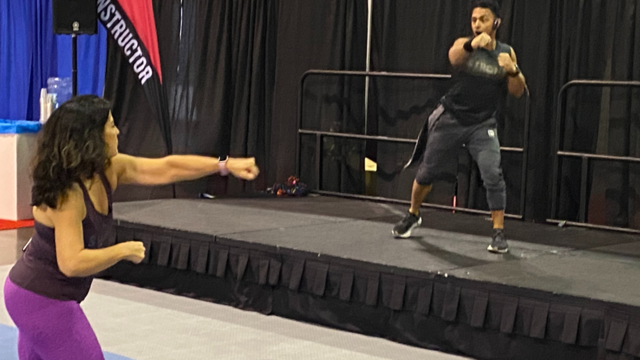 Demo stage
Try out the latest fitness trends, live, at the demo stage. Here attendees will be able to participate in classes and demos to jumpstart fresh ideas for facilities and programs. A special thanks to Zumba for organizing classes and demos.
Early-morning workout
Get an early start to Friday (Nov. 3) and join us from 6:30 a.m. until 8 a.m. for an early-morning workout that encourages attendees to get moving. Follow an instructor-led class or exercise on your own for the opportunity to test out the latest and greatest fitness products before the crowd hits the floor.
Get more details on how to attend AB Show 2023 at abshow.com.
---