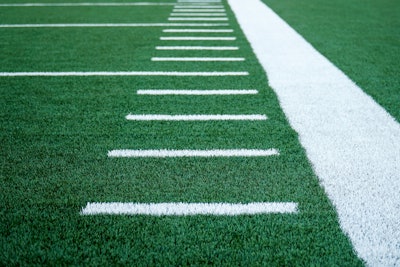 High school football teams in Maine are showing support for the city of Lewiston, which recently experienced a mass shooting that left 18 people dead and many others injured.
As a show of support for Lewiston, Windham High School gave its football field a new paint job, which proudly displays the word "LEWISTON" at midfield in the same font and color as Lewiston's home field.
"Windham is Lewiston strong!!" league administrator Jenna Jordan wrote in a post on social media.
In neighboring New Hampshire, a moment of silence was observed before Friday's Division I high school football game between Spaulding and Winnacunnet to honor the 18 lives lost less than 100 miles away, the Portsmouth Herald reported.
Both teams walked in unison from Winnacunnet High School to the school's Alumni Field in Hampton, with captains from both teams holding a handmade sign that read, "Lewiston Strong," according to the newspaper.
"Amazing Grace" was played as the teams walked toward the football field.
"Last night was certainly bigger than a high school football game, as our team and Winnacunnet were honored to walk on the field together in solidarity & united for the victims and families of the Lewiston Maine tragedy," Spaulding's football team wrote on X, formerly known as Twitter. "All of the families & victims are in our thoughts & prayers."
Winnacunnet football coach Ryan Francouer said he wanted to show the city of Lewiston some love, according to the Herald.
"I can't even comprehend what that city and those people are going through," Francoeur told the newspaper. "Anything we could do to show some love and show that people are thinking about them while they try to process this horrible tragedy is the least we could do. We just wanted to show them love and that the world, and especially their neighbors close by, are thinking of them."