Transfer-rule challenges by student-athletes increase pressure on state associations.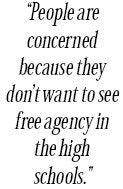 Jaison Williams, Jessah Martin and countless other studentathletes across the country are making life increasingly tough on state high school activity associations. By challenging the validity of transfer rules (and winning), they are contributing to what some administrators believe is an erosion of associations' authority.
With school-choice advocates crying foul when student-athletes' eligibility requests are blocked, it appears likely that the battle among individual school districts, activity associations and a burgeoning number of state legislators is only going to intensify. And the brigade is being led by elite players like Williams and Martin.
"We believe that transferring in the middle of the year interrupts the continuity of the educational process," says Bert Borgmann, an assistant commissioner of the Colorado High School Activities Association. "And we hope that the ultimate decision to switch schools is based on academics, but we're not naïve enough to believe that this is really happening."
Nor should they be. In November, Williams-a junior standout basketball player-transferred from Smoky Hill High School to Hinkley High School, both in Aurora, Colo., but in different districts. At the time, the CHSAA-which is considered to have one of the most lenient set of transfer guidelines in the country-ruled that Williams was ineligible to play varsity ball at Hinkley because commissioners considered the family's new address to be bogus. Under state guidelines, a student-athlete changing schools after the first 15 days of classes is reduced to non-varsity status for the rest of the school year, unless the transfer is accompanied by a bona fide family move.
Williams spent two seasons at Smoky Hill before his parents, citing concerns about their son's academic problems there, withdrew him in November, rented an apartment in the Hinkley area and enrolled him at that school. Family members maintained residency at both the $781-a-month apartment and their $250,000 home, although the apartment lease reportedly expired March 30-about three weeks after basketball season ended.
In January, Arapahoe County District Court Judge Thomas C. Levi granted a motion for a preliminary injunction against the CHSAA that enabled Williams to retain his athletic eligibility for the rest of the year. Levi called the association's decision against Williams "arbitrary and capricious."
Some observers fear Levi's ruling could have severe repercussions for the CHSAA. But Borgmann says Levi stressed that similar situations in the future will be decided on a case-by-case basis, essentially trying to remove precedent-setting status from the Williams case. "When the decision came down, there was an awful lot of support for the association," Borgmann says. "People are concerned because they don't want to see free agency in the high schools. Public sentiment is that there have to be some kinds of limitations set on these types of activities."
Officials at the Indiana High School Athletic Association couldn't agree more. In January, IHSAA was hit with an unprecedented contempt charge and fined $500 a day for denying full eligibility to Martin, a senior girls' varsity basketball player who transferred from Bellmont High School in Decatur to Bishop Luers High School in nearby Ft. Wayne. Bishop Luers at the time was the state's reigning Class 2A girls' basketball champion. Martin also moved from her parents' home into a residence with a former coach.
Because she transferred to a school in a new district without a move involving her parents, Martin was declared ineligible for varsity play by the IHSAA. Indiana's transfer rule states that student-athletes involved in such scenarios may not participate in varsity sports for 365 days after the last date of competition. However, Martin won a preliminary injunction against the IHSAA in November, which allowed her to play for Luers. Nevertheless, school officials kept Martin off the hardwood, fearing that if she lost the case, Luers would have to forfeit the games in which she played.
Allen County Superior Judge Nancy Boyer interpreted the school's action as a forced violation of the court's order allowing Martin varsity status. She declared the IHSAA in contempt, fining it for every day it remained in contempt (retroactive to Dec. 9 and payable directly to Martin) unless it waived the rule causing Martin to sit on the bench. Boyer maintained that Martin has suffered emotionally and financially because her chances of obtaining a college basketball scholarship have been jeopardized. Meanwhile, the IHSAA-which at press time also faced pending legislation that would create a separate appeals panel that could overturn any IHSAA decision-appealed to the Indiana Supreme Court.
The Williams and Martin cases could affect the way all state associations conduct business in the future, says Michael Savage, executive director of the Connecticut Interscholastic Athletic Conference. A few days prior to the Williams verdict, the CIAC prevailed in a case involving the transfer of a junior basketball and soccer player from a private school to a public school because of financial hardship. He asked for a waiver to participate in sports, rather than sit out a year, as the association's rules stipulate.
The association denied the waiver because there was not a legal change in residence, and the player's family took the matter up with the state Supreme Court, claiming that a free and public education was the boy's constitutional right. The court sided with the CIAC, ruling that, yes, a free and public education is a right, but participating in interscholastic athletics while receiving that education is a privilege-a refrain that should be familiar to activity administrators.
Despite the fact that Savage claims the CIAC has never lost a suit, he can feel the winds of change. "There are so many war stories and legal battles going on around the country that center on the erosion of authority that high school athletic associations have over high school athletics," Savage says. "I doubt you could find any high school athletic administrators who wouldn't say their authority is eroding every year. Do I think that as the years pass it's going to be harder to regulate transfers? There's no question in my mind about that."
It's true many residency-requirement cases are settled at the local level. But officials at more and more state associations are reevaluating their transfer regulations to keep themselves out of the courtroom. Some, bowing to the pressure of state legislators who support their enraged constituents, are making the rules more lenient. Others are holding tight and writing tougher guidelines-even if that means more work on their part. The Oklahoma Secondary School Activities Association, for example, reports a significant increase in the number of hardship requests this school year after bulking up its residency rule in 1998. The change requires that a student-athlete not complying with the rule lose eligibility for one year. The old mandate allowed eligibility after only a semester.
Meanwhile, in the wake of the Williams ruling, the CHSAA is considering an eligibility-waiver process that requires the commissioner's signature, as well as a more-thorough documentation system for transfer requests at the school level. Says Borgmann, "The reason that we have these rules is that we believe we're doing what's in the best interests of the students."