Public recreation departments up the ante to meet the needs of traditionally underserved groups.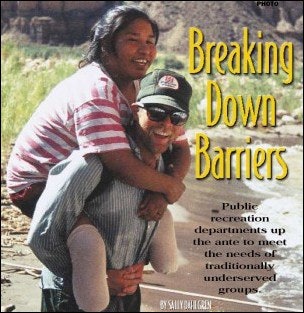 In today's society, a wide range of constituencies demand a park and recreation department's attention, and every individual has a specific wish list. Unfortunately, tight budgets often mean everyone's needs cannot be accommodated, especially within the time frame desired. As demands mount from all sides, it has become increasingly difficult for departments to meet the needs of all their residents, and particularly to address the needs of traditionally underserved groups.
"Far and away the hardest thing that we do as upper management in a park and recreation department is to try to find a fair and equitable way to expend the limited funds that we have," says Larry Foster, acting director of parks, recreation and public property for Omaha, Neb.
For some departments, the first step is branching into leisure services-adding programming and social services not traditionally offered. This may mean adding mentoring programs, health-care services or passive recreational opportunities such as hiking trails, fishing trips or massage classes. In many areas, facilities or programming may also be developed for target populations. Leisure services for seniors, for example, are on the rise, with the addition of low-impact exercise programs, yoga and flexibility sessions, educational courses and enhanced senior centers.
Targeting another population, several communities-including San Francisco; Charlotte, N.C.; and Fort Lauderdale, Fla.-are building or have recently built centers for their lesbian, gay, bisexual and transgendered communities. In San Francisco, efforts have also been made to add programming and social services to aid youth struggling with their sexual orientation.
Departments that fail to meet needs run the risk of getting sued, as two California departments recently discovered.
In April 1998, the American Civil Liberties Union sued the city of Los Angeles and its Department of Recreation and Parks for discrimination against the San Fernando Valley-based West Valley Girls' Softball League-the first lawsuit brought against a city or county park and recreation department for discriminatory treatment of girls at public recreational facilities, according to Rocio Cordoba, staff attorney for the ACLU.
The league had been fighting for years to acquire a permanent field, but instead was handed temporary permits for neglected school fields, while boys' leagues had permanent access to well-maintained park fields. The ACLU's subsequent investigation also discovered disparities in sports participation levels (80 percent boys) and city programming.
In one recreation center, Cordoba says, the only programs available for girls were modeling and square-dancing classes. In the fall of 1998, the suit was expanded to include all girls in the city. That portion of the case, however, was quickly remedied through the adoption of a gender equity program called Raise the Bar.
"The program is pretty comprehensive," Cordoba says. "It not only states that gender equity is a priority for the city, but also includes a number of components to ensure equity takes place on all levels, including increasing outreach for girls, making programs and clinics available for girls, raising the number of women mentors and coaches, and adding an outside advisory group to make sure that girls' participation increases throughout the city."
If only the West Valley Girls' Softball League were so fortunate. A year ago, a settlement was reached that would provide a long-term lease to construct a facility at the former Hughes Middle School. But the new administration of the Los Angeles Unified School District, crippled by a shortage of schools, decided the building may be needed for a new school facility. The girls are still permitted to play at Hughes, but they are still searching for a permanent home.
Also waiting to be resolved is an ACLU suit against the city of Montebello, Calif. Filed this April, the case charges that the city has failed to allocate equal field space for the Montebello Ponytail Girls' Softball Association. At the time the suit was filed, the girls had regular access to one softball field, and shared use of a T-ball field with the Montebello Baseball Association, which had three additional diamonds at its disposal. Mario Guerra, who oversees recreation and community services as assistant to the city administrator, has suggested a per capita system in which each child would receive the same amount of field time, and the time for the leagues would be split accordingly.
For now, the city is actively working with the league, and successfully met the needs of both groups this past season. At the same time, Montebello continues to provide field time for the YMCA, the Police Athletic League and other groups.
"While the city may be trying hard to work with these organizations to accommodate their needs, the organizations also have to be willing to be a little flexible," Guerra says. "We're working with limited resources."
"Limited resources" are often cited when contemplating additional services for individuals with disabilities. Many communities, however, are making it happen, far beyond what the ADA requires. In San Francisco, Project Insight, a program designed for blind and deaf young adults, last year took blind participants to France. While there, they toured Louis Braille's birthplace and the Louis Braille Institute, and enjoyed an exchange program with blind youths in Paris and a stay on a farm in Holland. Aided by directors trained in American Sign Language, deaf young adults traveled to Europe for a similar trip this year. The city also offers a program for people who are developmentally disabled.
Farther east, Phoenix maintains a park with two beep baseball fields, a therapeutic heated pool and a Special Populations Office that offers programming and events for people with disabilities. Ten years ago, Phoenix ran its first annual whitewater rafting trip in the Grand Canyon for adults with significant disabilities. Participants spent 16 days in the bottom of the canyon, traversing about 225 river miles with rough rapids.
While the perceived risk might be very high, the idea passed the muster of city officials, risk management consultants and lawyers, and has proved very successful. "By the second year, with the adaptive equipment that we developed, we were able to include people with quadriplegia who had literally no ability to hang on through the rapids, and we felt that we could do that very safely," says Ann Wheat, recreation supervisor for adaptive recreation services in the City of Phoenix Parks, Recreation and Library Department.
More recently, the department added a job training program for people with significant disabilities between the ages of 17 and 39. The program matches interns with city staff members, who serve as mentors. After the 200-hour internship is completed, a full-time job developer helps participants get placed in permanent jobs in the community.
While this population faces a national unemployment rate of more than 70 percent, the program has maintained about an 85 percent success rate for placement.
But more important, says Wheat, is integrating this population into recreation services at large. Residents with disabilities have become active participants in the department's offerings, and several have become advisors who help the department develop programs and address concerns about accessibility. In addition, the adult whitewater rafting program sparked the initiation of another program, River Rampage, which provides a similar rafting opportunity for 16 teens-eight of whom have significant disabilities and eight of whom are considered at-risk, with referrals from courts, social workers, homeless shelters, counselors and other professionals.
Participants perform 40 hours of community service each to earn their trip, and get the benefit of mentoring and programs organized to keep them connected after the trip. Volunteers and staff actively program the trip to initiate communication among the teens and encourage the teens to assist each other. By the end of a typical trip, Wheat says, all 16 teens are calling themselves a family.
"Sometimes it just doesn't work to do fragmented programming, particularly when you're working with really vulnerable populations, folks who have so many strikes against them," Wheat says. "They've been left on the sidelines for some reason or another, and have never successfully made it into traditional recreation programming."
River Rampage has also sparked spinoff programs to benefit at-risk youth. The most prominent is a tattoo-removal program for young people who have chosen to leave gangs. Similar to a program begun in Minneapolis in 1996, the project requires participants to engage in community service and attend educational workshops on topics such as personal finances, career planning, finding a job, teen pregnancy, domestic violence and GED programs to earn the laser treatments, which are conducted by volunteer plastic and reconstructive surgeons. In Phoenix, 190 teens have graduated from the program since its inception five years ago.
Meeting the needs of different ethnic groups is also an ongoing challenge. In a Chicago Tribune article published in July, for example, several residents of Chicago's 19th Ward-white and black-implied that basketball courts had been disappearing from neighborhood parks because certain residents didn't want other ethnic groups coming into the area. In San Francisco, too, some citizens have strongly protested the proposed reopening of a half-court basketball court.
Thirty years ago, the city blocked off the abutting street, causing the suddenly isolated court to become a magnet for drug use and other illegal activities. Eventually, the park was closed down. "A lot of people who live there don't want a basketball court at all, because when the street was closed and the projects were across the street, there were a lot of problems," says Becky Ballinger, public relations director for the San Francisco Recreation and Park Department.
"They don't say it was because minorities were living in the projects, and they don't point out the fact that they're Caucasian and the people they're concerned about are not, but I know that's part of what's driving the discussion. And I don't even know if they know it."
San Francisco works hard to provide for its diverse community. When community events are held, the department makes sure decorations and activities are ethnically appropriate, according to the demographics of the area. A recent opening of one recreation center, for example, featured a Chinese lion dance, Russian and Chinese food and performances by Russian folk dancers and singers.
Next month, the city will return to district elections, which means budgeting will be allocated Each district, hopefully ensuring greater equity in the city. The budget is also an issue in Annapolis, Md. When LeeAnn Bogan, the recreation and parks director, arrived almost a year ago, there was a definite disparity in how funds were distributed.
"One of my goals is to try to create a more equal balance, because admittedly, the people who spoke the loudest got the most funds," Bogan says. "We're slowly trying to create a more equal playing field in terms of socioeconomic differences by providing some free and reduced-fee programs, and also encouraging those people who can't afford the programs to use the facility in different ways."
Bogan is also working to provide additional resources and funding for the recently renovated Stanton Center. Once left to its own devices to gather resources, the center is now one of Bogan's priorities. Remodeled to serve as a multicultural community center and a one-stop shop in the heart of the African-American community, the center focuses on the history of African-American culture in Annapolis. Part of that is made possible by the building's past-it was once a black community school. Large, captioned photographs are prominently displayed throughout the center, and a meeting room is fashioned after a historic classroom. The center houses several community groups representing African-American, Hispanic and Latino interests. Programming focuses on joining the groups for classes and performances that celebrate each group's culture.
A major challenge, she says, is finding staff who can represent the diversity of the community and overcome language barriers. It's a common concern. In Omaha, where a largely African-American group called Coalition Against Injustice crusaded this summer for increased opportunities for minorities city-wide, Foster says maintenance crew members sometimes have difficulty communicating with the predominantly Hispanic soccer teams using city fields. While he doesn't feel it is essential to hire staff of the same ethnic background, he does believe it is important to have staff who fully understand the needs of the city's clientele and can speak multiple languages.
Omaha does have an affirmative action plan that has been in existence since the 1970s. According to Michele Frost, personnel director for the city, the plan establishes goals for each job classification based on the makeup of the community and the available workforce.
Specifically, she explains, all applicants must take a job skills test. Those who pass the test are ranked according to their grades, and ordinarily, the employer can only interview the top three. If a particular racial or gender group is underrepresented in the department, however, affirmative action candidates chosen from those who passed the test may also be interviewed. Currently, the city is a defendant in two lawsuits, one in federal court and one in state court, filed by white males passed over for a position eventually granted to an affirmative action candidate.
In order to successfully defend the policy, the city will need to affirm that the choice to interview an affirmative action candidate is voluntary and prove that there is a history of discrimination that this plan would help remediate.
But such a program is not always necessary, says Guerra. "People can be culturally sensitive without having to be from the same ethnic or cultural group," he says. "The city as an employer has a responsibility to its community to try to have a representation of different ethnic and cultural groups on its staff, but if it's not through physical characteristics or traits, then it should be through training to deal with cultural differences."
Having staff from a variety of ethnic backgrounds does have its advantages, however. Along with overcoming language barriers, many park and recreation directors say it allows staff to learn from each other and create opportunities for role modeling for youth-a key component of Phoenix's Rites of Passage program. Divided by gender, the program has tracks for teens of Mexican descent, African-American descent and European descent. In addition to learning about their heritage, participants are taught self-respect, leadership skills, career planning and decision-making. Staff reflect the appropriate ethnic background for each track.
"Part of what that program does is introduce young people to people of the same ethnicity and gender that are in leadership roles in the community," says Manny Tarango, recreation supervisor for Phoenix's At-Risk Youth Division. "It sets participants up to look at staff as role models. So the participation of people of the appropriate gender and ethnicity is key."
Daly City, Calif., has successfully overcome language barriers by having a diverse workforce, according to Bill Roser, parks supervisor for the city. The maintenance crew includes one longterm Filipino employee, who converses in Tagalog with the city's growing Filipino community, and three Spanishspeaking employees.
In Phoenix, Wheat says her team in adaptive recreation has become much stronger with the addition of staff who happen to have disabilities. She recommends marketing to specific groups to diversify the department's staff. When she hires, for example, she contacts groups such as independent living centers, nonprofit service associations and colleges and universities with disability service organizations. Marketing is also key to attracting participants from populations that traditionally have been underserved.
"They've been excluded their whole lives," Wheat says. "No one's ever invited them, no one's actively sought their participation. They're not going to just show up and participate in your programs unless you make the point of advertising your programs to them, and it's not going to happen just because you put up an accessible port-a-john at your site. We have a lot of ground to make up. There have been attitudinal barriers in place for a long time."
One way to make up that ground is to build communication with all the groups in the community-not just with traditionally underserved groups, but with special-interest groups and sports leagues, from soapbox derby fans to lacrosse players to hikers.
"The secret is to try to have relationships built up prior to having a conflict," says Foster. "If you wait until you've reached critical mass, it's really hard to get people working together proactively because they're angry and lines are drawn. We try to have ongoing dialogue so we avoid crisis mode."
Once relationships are formed, the department can have a firmer grip on the community's desires and issues. From there, park and recreation professionals can determine their next step, whether that means adding programming for a particular market group, establishing standards to determine the distribution of resources, purchasing a mobile recreation facility to visit schools and underserved neighborhoods, or rotating camps or concerts in the park through neighborhoods so everyone gets their fair share.
"As far as the recreation department stands, I think we've just reached the tip of the iceberg," Bogan says. "In some areas, it may be a lot easier just to do the things you've been doing over and over. But our communities are changing, and we need to change to meet people's needs."