Monetary damages levied against LSU may quicken the pace of Title IX compliance.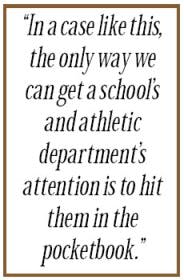 Since the passage of Title IX in 1972, college athletic programs have made progress in the area of gender equity-although many would argue that improvements have been made too slowly. The percentage of Division I student-athletes who are women increased from 15 percent in 1972 to 40 percent in 1998. The fact remains, however, that between 80 and 90 percent of universities are still in violation of Title IX, according to statistics compiled by the National Collegiate Athletic Association and the Women's Sports Foundation.
There are few consequences for programs that fail to meet Title IX standards. The Department of Education's Office for Civil Rights lacks the resources to thoroughly investigate most alleged Title IX violations. As a result, the threat of a lawsuit has been the only deterrent for programs not in compliance with Title IX. Typically, the courts have been reluctant to award monetary damages to plaintiffs; the usual relief has been to order schools to add women's athletic teams to their programs. The courts' unwillingness to award monetary damages or to allow class-action lawsuits in Title IX cases has resulted in a lack of pressure on collegiate athletic programs to come into compliance with the law. That is, until a decision reached this January by the Fifth Circuit Court of Appeals.
In a case dating from 1994, Pederson v. LSU, three female students at Louisiana State University claimed that the university's failure to add a varsity women's soccer program was in violation of Title IX's equal-accommodation provisions.
The following year, two more female students were added to the lawsuit with similar claims regarding LSU's lack of a varsity softball program. Softball had been added by LSU in 1979, but was abruptly dropped in 1983. While the university added women's soccer in 1995 during the lawsuit, the trial court in Pederson [912 F. Supp. 892 (M.D. La. 1996)] found that since women comprised 49 percent of student enrollment but only 29 percent of the university's varsity athletic participants, LSU was in violation of Title IX with respect to women's athletics.
District Court Judge Rebecca Doherty ordered LSU to submit a plan to come into compliance with Title IX within 20 days of her ruling. Doherty also ruled that the plaintiffs were not entitled to receive monetary damages, which they could have been awarded had the court found that LSU had intentionally discriminated against the women. The U.S. Supreme Court's decision in Franklin v. Gwinnett County [503 U.S. 60 (1992)] created this intentional-discrimination standard for the awarding of financial compensation as damages in Title IX cases.
While she commented that the question of intentional discrimination was "a very close one," Doherty found that the university and Athletic Director Joe Dean had been negligent rather than intentional in their actions, and, as a result, the plaintiffs were not awarded monetary damages by the district court.
Despite this finding, Doherty was extremely critical of Dean and LSU. She stated that while LSU's Title IX violations were not intentional, they were rather "a result of arrogant ignorance, confusion regarding the practical requirements of the law, and a remarkably outdated view of women and athletics which created the by-product of resistance to change." Doherty further remarked that "LSU's ignorance about the state of compliance with Title IX was ably demonstrated at trial."
With regard to Dean, Doherty remarked that Dean's testimony inferred that the "'women's program' is something separate, distinct and apart from the 'athletic program.'" This "dichotomy," Doherty continued, was responsible for creating the problem, and Dean's assessment of the program based simply on its competitive success meant that as long as LSU's teams were successful, "there was no urgency toward expansion of athletic opportunities for women."
On appeal [201 F.3d 388 (5th Cir. 2000)], the Fifth Circuit Court agreed with the lower court's decision that LSU was in violation of Title IX. The court stated that LSU "argued brazenly that the evidence did not demonstrate sufficient interest and ability in fast-pitch softball at LSU and that, therefore, they cannot be liable under Title IX."
Circuit Judge Carl E. Stewart continued, "The heart of this contention is that an institution with no coach, no facilities, no varsity team, no scholarships and no recruiting in a given sport must have on campus enough nationalcaliber athletes to field a competitive varsity team in that sport before a court can find sufficient interest and abilities to exist." Adopting this criteria, Stewart said, "would eliminate an effective-accommodation claim by any plaintiff, at any time." LSU also argued "that it is improper to consider proportionality (LSU's student body is 51 percent male and 49 percent female, while varsity athletic participation is 71 percent male and 29 percent female), because to do so would be to impose quotas, and that the evidence shows that female students are less interested in participating in sports than male students."
Said the court, "LSU's hubris in advancing this argument is remarkable, since of course fewer women participate in sports, given the voluminous evidence that LSU has discriminated against women in refusing to offer them comparable athletic opportunities to those it offers its male students."
The appeals court thus reversed the lower court's findings regarding intentional discrimination and the awarding of monetary damages. Stewart stated that, "If an institution makes a decision not to provide equal athletic opportunities for its female students because of paternalism and stereotypical assumptions about their interests and abilities, that institution intended to treat women differently."
The court also cited several comments by Dean in its finding of intentional discrimination, including calling one of the plaintiffs "honey," "sweetie" and "cutie," as well as stating that LSU should add a women's soccer program because women "would look cute running around in their soccer shorts."
With regard to the district court's reasoning that LSU was ignorant rather than intentional in its discrimination, the Fifth Circuit Court stated that LSU's "alleged ignorance of the law does not preclude our finding that LSU acted intentionally." The court further noted that LSU "need not have intended to violate Title IX, but need only have intended to treat women differently." As a result of finding that LSU intentionally discriminated against the plaintiffs, the three-judge appellate panel unanimously ruled that the plaintiffs were entitled to receive monetary rewards for damages caused by LSU's Title IX violations.
This marks the first time that a court has awarded monetary damages to plaintiffs in this type of Title IX case. According to the plaintiffs' attorney, Nancy E. Rafuse, "In a case like this, the only way we can get a school's and athletic department's attention is to hit them in the pocketbook." The amount of the financial compensation will be decided later by the district court.
The Fifth Circuit's decision in Pederson could have serious implications for many collegiate athletic departments. The 80 to 90 percent of athletic programs that are not in compliance with Title IX legislation now face the possibility that not only could a court order them to add participation opportunities for women in order to meet Title IX guidelines, but that the court could allow plaintiffs to receive financial compensation as a result of past discrimination.
While the decision is mandatory precedent only in those states that make up the Fifth Circuit, the ramifications of the Pederson decision may force athletic administrators around the country to reevaluate their situations relative to Title IX.