New Coaching-Education Efforts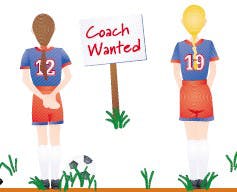 Walk-on high school coaches received a shot of respectability last year when NBA legend Kareem Abdul-Jabbar became an unpaid basketball coach for an Apache Indian reservation team in remote Whiteriver, Ariz. But like the "careers" of so many coaches in similar positions, Abdul-Jabbar's stint on the White Mountain Apache Reservation was brief. The NBA's Los Angeles Clippers hired him earlier this year as an assistant coach.
A national coaching shortage in most sports at most levels has athletic directors scrambling to fill vacancies with either volunteers (typically teachers, parents or former players) or paid nonfaculty members. The addition of both girls' sports and new sports means schools must now fund and staff more teams than ever, often with the same budget or one that's even smaller. The need for more coaches, coupled with dwindling resources, forces athletic directors to look for cheap help - sometimes with devastating consequences.
The problem has become so severe in California that of the state's 75,000 or so high school coaches, about two-thirds are walk-ons who are neither teachers nor even certified coaches, says Jim Brownfield, past president of the California Coaches Association and a former athletic director and varsity football coach. Athletic directors in that state must replace about 25,000 coaches each year - most of them walk-ons frustrated with the lack of training and financial remuneration they receive. "It's beyond chaos," Brownfield says.
Such high turnover makes finding qualified people who are willing to work hard for little or no money, and sometimes even less respect, an annual task. That challenge is magnified when you consider the recent spate of negative publicity surrounding volunteer coaches. For every feel-good Abdul-Jabbar story, there are many more tales of volunteer high school coaches serving jail time for child abduction, sexual contact with minors, cocaine and marijuana possession, driving under the influence or resisting arrest. Most of these people were brought into the coaching ranks - without being subjected to costly background checks - because they had experience as a player, but that doesn't necessarily mean they're cut out to coach.
"They don't have to know about the sport," Brownfield says about potential walk-on coaches. "But they have to be interested in kids and in helping them become better people."
That's the attitude of Karen Biehle, athletic director at Festus (Mo.) High School and president of the National Federation Coaches Association, who earlier this year decided to break with tradition and hire the school's first coach who is not employed by the Festus School District. The new assistant boys' and girls' cross country coach was an all-state runner at a rival high school and an all-American at a St. Louis college, Biehle says. "I knew about her athletic ability, so I interviewed her for the job as a person, not as an athlete," she says. "I asked her about her coaching philosophy, how she would treat the kids, if she considered herself a role model - questions like that."
Since the coach was named last summer, other members of the Festus community have approached Biehle about becoming walk-on coaches, but she hopes to retain as many faculty coaches as she can. Issues concerning communication, accountability and liability are much easier to handle with in-house staff.
"Teachers who coach understand the importance of athletics and education, and they understand the system. Outside coaches do not," says one high school athletic director, adding that using in-house coaches enhances accountability and their desire to succeed. But even teachers who coach aren't immune from issues that plague all coaches.
"The problem we have with coaching today is when somebody gets pegged with the term 'coach,' they're automatically supposed to know everything. And many coaches don't," says Tim Flannery, the assistant director of the National Federation of State High School Associations who's responsible for coaching education. "We're asking these people to do a very difficult thing. We're just not offering them the proper skills."
The federation's current coaching education program, in conjunction with the American Sport Education Program (ASEP), is a seven-hour clinic that not all state associations require their paid and unpaid coaches to attend. Not satisfied, NFHS leaders are developing a new multilevel coaching-education program designed to operate like a college curriculum. The joint venture with ASEP could end up being the closest high school coaches have ever come to having a national training system in place, Flannery says.
A task force - including coaches, athletic directors, state associations and members of the U.S. Olympic Committee - convened in Indianapolis last month to lay the groundwork for this new professional-development initiative. The next two years will be spent developing a curriculum far more detailed than the current one-day course, training an additional 2,000 to 3,000 instructors and gaining the support of local school boards and principals. Slated to take effect during the fall 2002 school term, the program will consider all first-year coaches to be "in training," Flannery says. "It's ridiculous to hire coaches who don't know how to teach or coach a sport, even if they can play it. Coaches need to have credentials. They need to have something that will prove they're smarter than the average schmo. We're trying to bring some sense to the coaching issue."
"I think this is the beginning of something that is needed," says Brownfield, past president of the National Federation Coaches Association. "But it's like a drop of water in the Pacific Ocean."
That's why Biehle and Brownfield are adding their own drops. Biehle is overseeing the development of the NFHS Future Coaches Program, an Internetbased mentor system that will be accessible through www.nfhs.org by the end of the year. Intended as a means for high school coaches to encourage and support high school students interested in coaching, the program will allow students to work at their own pace to complete a variety of training lessons, which are submitted to their mentor coaches.
Meanwhile, the California Coaches Association is now in its third year overseeing its Future Coaches Association, which puts on monthly seminars for potential coaches from the ranks of high school and college students. Among the topics discussed are the education, training and personal demands high school coaching requires, as well as its many rewards. The problem, Brownfield says, is that so many California high school coaches are walk-ons - without a stake in the future of their teams and the student-athletes they coach - and thus very few are interested in making an effort to mentor young people. "I'm not discouraged by what we have to do," Brownfield says. "We've just got to figure out a way to do it."