Insurance Options for Health Club Owners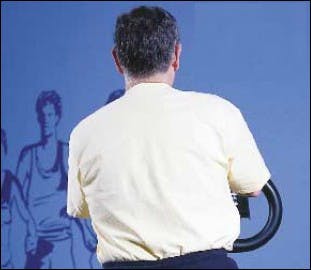 In Laguna Niguel, Calif., a club member claims a treadmill stopped operating while he was using it, causing him to fall backward and injure his back. The owner of the club where the accident allegedly occurred insists it is a false claim. Even if the equipment had shorted out, he says, it would have slowed down gradually, and the member would have fallen forward, not backward. Plus, he says, the member had a bad back before even joining the club. Nevertheless, the club is now faced not only with potential damages in the event of a loss, but with the cost of defending itself.
In today's increasingly litigious society, insurance coverage is vital to the continued success of health clubs. As a result, club owners are looking into increased coverages and additional insurances for claims that may not be covered by the standard package.
One of the market's newest add-on products has been greeted with much skepticism. Called employment practices liability, the insurance covers clubs for claims of sexual harassment, discrimination, wrongful discharge and other employee-based complaints. When it was first introduced two years ago, EPL was too expensive for most clubs. Now, while many clubs continue to have reservations about it, steadily dropping prices caused by increased competition are drawing attention back to the coverage.
"It's a normal business risk that we felt needed to be insured against," says Bob Schwartz, who has purchased EPL as senior vice president and chief financial officer of Fitcorp of Boston. "Companies make mistakes, and employees who leave are sometimes disgruntled."
These types of claims are growing, according to Jon Denley, senior vice president of Creative Agency Group, an independent insurance agency. Earlier this year, Denley received a claim from a male club member charging a female employee who touched his stomach during a fitness evaluation with sexual harassment. In another recent case, a man passed over for a nursing job in a club is suing for discrimination.
"EPL is becoming more and more prevalent," says Denley. "I had not had an EPL claim against any of the clubs that I've been insuring since 1979, but in fiscal year 1999, I've had half a dozen EPL claims. All of a sudden, it's coming out of the woodwork."
But, Denley cautions, a general insurance carrier that adds EPL to its standard coverage does not necessarily provide complete EPL coverage. It is important to read all forms and exclusions carefully. Jim Foley, an insurance broker for Fitness Pak, a package provided by InterWest Insurance Services, agrees.
"It's not as black-and-white as having fire damage," Foley says. "You get into litigation that might tangentially mention something that might be covered by the policy, but there's a lot of room for interpretation. You definitely want the broadest product available."
EPL can ease the price of claims - even when a club is innocent - by covering attorney's fees, but many club owners choose to take extra precautions rather than buy it, at an additional 10 to 25 percent of their existing premium. Foley estimates that no more than 20 percent of the clubs he insures currently carry EPL insurance.
Cecil Spearman, owner of Spearman Industries, which runs five clubs in southern California and Illinois, takes a number of preventive steps in lieu of EPL insurance. Knowing how time-consuming these claims can be, he hopes to stop claims before they start. At one of his clubs, the decision was made to replace a fitness director who was resigning with two fitness trainers, and to eliminate the position. Nevertheless, one of the fitness trainers already working for the club claimed she was not hired as director because she was a woman. It took more than 10 hours of executive time to prove that she did not have a case. Since then, Spearman has instituted a four-step plan.
First, a careful employee selection process is enforced, and employees are treated as well as possible once they are hired. Secondly, employee policies and personnel manuals are regularly reviewed by a labor lawyer for fairness and equitable employment practices. Next, all employees are trained to administer these policies properly. Finally, the company documents everything it does. As a result of the plan, the company believes it has prevented many claims from being filed.
Tennis Corporation of America, which owns and manages 47 upscale clubs across North America, uses similar procedures. In addition, the company has a labor law firm on retainer and a full-time human resources staff person available who is also a labor lawyer.
"You buy insurance to cover risks that are generally unmanageable, uncontrollable or catastrophic in nature," says Steven Schwartz, president of TCA. "Employment practices are something that we feel we have a good degree of control over. We aggressively root out any problems, train people, let people know that top management doesn't tolerate sexual harassment or discrimination. But we live in a litigious society - no matter how good we are, someone's going to claim something."
Insurance is a game of hit or miss in many ways. While some clubs go so far as to purchase insurances against personnel (such as employee dishonesty coverage), many hope to mitigate employment hassles by hiring good employees in the first place. For example, most today require their employees to obtain appropriate certification, not only helping to lessen the number of claims (by having better-trained staff), but possibly helping to decrease insurance premiums. Some insurance carriers will actually refuse to cover clubs whose employees are not certified, or will discontinue coverage after repeated claims reveal a lack of training or expertise.
"Basically, most good underwriters are going to screen clubs based on their overall quality, and part of the overall quality of the club is having certified instructors and professionals on site," says Foley.
But clubs aren't just looking to insure against potential problems from employees. Clubs' insurance policies typically cover employees for any lawsuits, and workers' compensation protects them if they are injured. It is an important protection, club owners say, since employees are constantly teaching classes, working with members on equipment or engaging in other activities that can lead to injury. In fact, 2000 is the first full year of a nationwide workers' compensation insurance program written by Hartford Insurance Company. Recommended by the International Health, Racquet and Sportsclub Association, it is a dividend program in which each participant is covered under an individual policy and can receive a potentially large return. Denley, whose office administers the program, says that clubs that participate could realize an average 30 to 40 percent return each year.
But it's a different story for professionals who are not considered club employees. Some clubs have independent contractors working on site, typically including massage therapists and physical therapists. Not only are there additional IRS, governmental and legal restrictions to qualify workers as independents, but they cannot be covered by the club's insurance policy. Some club owners avoid the problem altogether by adding these people as employees.
"We finally wound up putting all those people on the payroll," says Ted Torcivia, president of Wisconsin Athletic Clubs. "There are too many regulations. Plus, our professional liability insurance didn't necessarily cover those people if they were, in fact, independent contractors."
Clubs that don't add independents to their employee roster try to make sure that subcontractors have their own liability coverage and add the club as an additional insured. This way, if any lawsuits claiming negligence on the part of a subcontractor are directed at the club, they can be redirected without defense from the club. Many club owners require that independent contractors sign a contract that acknowledges they will pay their own insurance and taxes, and some agreements require that the club be listed on the independent's policy.
"In the past, clubs often got sued because we didn't insist that the independent person get his own insurance and name us as an additional insured," says Rick Caro, chairman of Spectrum Clubs International in New York City. "We need to insist that the club is added as an additional insured on the independent's insurance, so it's not just the individual who is covered, but also the club where he happens to be located."
Personnel matters, however, are only a small portion of a total insurance package. Club owners still need to protect their property, as well as insure against any liability claims in which the club may be at fault. A major portion of the standard insurance package includes property coverage for the building, its contents and loss of income. The coverage protects against perils including fire, windstorm, hail, explosion, theft, water damage resulting from broken pipes, collapse and vandalism. Plus, in an effort not only to improve coverage but to convince potential clients to choose one company over another, many insurance providers are adding coverages to standard packages at no additional cost in what is referred to as an enhancement endorsement.
One particularly valuable enhancement is building ordinance coverage. If a club were partially or completely destroyed in a fire or other disaster, a city permit would need to be acquired to rebuild. During the application process, the club would be notified of any ordinances or laws that have been changed since the original construction. For example, if the club had two levels, but did not have an elevator, it might be required to add an elevator during the reconstruction phase. These types of additional costs, normally not included in the standard coverage, would be insured under building ordinance coverage.
An enhancement endorsement also typically includes increased coverage for computers, including software and hardware, as well as insurance to cover the cost of computer breakdowns. Additional coverages include off-premises utility failure, business interruption, fire department service charges, pollution cleanup, property temporarily offpremises, personal effects of employees, stolen securities, signage, fine arts, consequential damage and brands and labels.
The other part of a standard insurance package is liability coverage, which includes personal injury, medical payments, advertising, products, fire damage, legal liability and professional liability. It, too, is often enhanced by a number of additional coverages. One option is non-owned/hired automobile insurance, to cover club administrators while traveling on business. Administrators can also be covered through directors and officers liability insurance, which protects board members from claims resulting from any decisions they've made. Employee benefits administration liability offers protection if an employer neglects to explain an employee's rights to medical insurance after termination, and the employee experiences a medical problem shortly after termination. Coverages are also offered for liquor-related claims. Liquorlaw liability covers clubs that feature restaurants or bars that sell liquor by the drink. Host liquor covers clubs when liquor is offered for any party or celebration in which the club is serving alcohol as the host.
Even with the enhancement endorsement, the standard insurance package does not cover every property or liability claim that may occur. Frank Beresh, director of risk management for TCA, recommends a number of additional coverages to fill in the gaps. One of these is replacement cost coverage, which replaces property at the current cost, as opposed to what you paid for it, minus depreciation. Another is an agreedamount endorsement, in which the insurance carrier agrees to pay a specified amount in the event of loss, and waives the coinsurance. Beresh also recommends covering nuances of total losses such as demolition costs or architects' and engineers' fees, if plans or specifications are ruined in a loss and have to be redrawn. He suggests requesting a minimal deductible, waiving the short-rate cancellation provision and changing the cancellation notice to 90 days from 5 or 10 days. Liability policies, he says, should be occurrence basis, which covers current claims, and not claims-made basis, which requires coverage at the time of the incident and the time the claim is filed. For clubs with multiple locations, Beresh recommends a per-location endorsement, which extends equal liability coverage to each of the clubs, rather than stretching the standard liability over all of them. Club owners have the option to purchase any or all of these additional coverages at an added cost, but, as always, it's a question of balance.
"It is a balancing act between how much personal exposure I am willing to take on before the insurance carrier's coverage kicks in," Caro says. "If there are a lot of small claims that I think will be made, I can get a carrier to cover those claims, but I might have a much higher premium. The alternative is to pay out, negotiate and try to fight those claims, and then have coverages that would kick in from an insurance carrier if a loss was very substantial."
EPL insurance is only one of the major added-on coverages. Another is boiler and machinery coverage, which broadens coverage for heating and air-conditioning systems, pool equipment and steam boilers. Foley estimates 40 to 50 percent of his clubs have purchased that coverage. In addition, many club owners are opting to increase their limits in general, or to add or expand an umbrella policy. Perhaps this has to do with an increasing number of claims, greater exposure to damage from lawsuits, or better equity in clubs' business, but for many, it all comes down to cost.
"People are buying more coverage simply because it's fairly reasonable to purchase, and the rest of their coverage tends to be pretty stable in terms of cost," Foley says.
That stability, however, might not stick around forever. Most insurance brokers agree that premiums - which have dropped steadily since spiking dramatically (up to 300 percent) in the 1980s - will not drop much further. Most likely, premiums will at least plateau; some agents warn that an increase is imminent.
"I think we're going to bottom out now," Denley says. "We're starting to see indications of the market hardening, and if anything, there may be an increase. I think it could be up 25 percent in the year 2001."
Denley's best advice is to maintain a clean claims history. Clubs should follow good safety practices, write a proper employee manual, implement an appropriate maintenance program and hold regular meetings with their insurance agents to review past claims. They should also turn to their agents for risk-management recommendations. Then, when the market turns and asks for an increase, the clubs will be more likely to maintain their pricing or have a lower increase than clubs with a poor claims history.
This may offer solace to those clubs that continually fight against claims before even submitting them to the insurance company. It may also be refreshing for those clubs that make special efforts to ensure safety and equality. In the long run, however, the cost of a standard insurance package is almost irrelevant. Club owners know that insurance is a necessary part of a club's operation. Liability claims happen, and there is little that can be done to prevent property claims. For most clubs, the process of weighing and reweighing exposures and costs will continue. Any savings gained will be reinvested, used to take advantage of new coverages or expanded limits and to fill holes in coverage - wherever they may be.