Corporate Sponsorship and Intramural Programs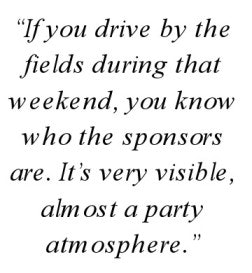 Field-level signage. Branded equipment. Game-day product samples. Marketing strategies such as these have helped make corporate America as conspicuous on a major college football Saturday as the marching band and cheerleading squad.
But corporate marketers are also employing these tactics on more grassroots playing fields - the ones patrolled by participants of intramural sports.The goal is to raise brand awareness within the influential but hard-to-reach consumer group known as college students. In exchange for exposure in campus recreation venues and at intramural events, corporations such as Nike and Target Stores provide monies that are being used to improve recreational sports programming for millions of college students nationwide.
"Corporate sponsorship has raised the profile of recreational sports on America's college campuses relative to their educational mission," says Kent Blumenthal, executive director of the National Intramural Recreational Sports Association (NIRSA). "In a material sense, it has brought value-added incentive to participate in programs - everything from water bottles, towels and T-shirts to the additional programs themselves. And last, it has brought some sponsorship monies into the association that have helped us tremendously in providing a variety of services to our members."
College student recreational activities and corporate sponsorship appeared to be a winning combination to one marketer nearly 10 years ago. Soon after founding the Baltimore-based marketing firm Campus Concepts Inc., Ian Leopold looked into fully leveraging the allure of NIRSA's membership and programming within the private sector. Leopold, who had introduced SportsBoards ® in 1991 as a means to sell advertising within recreation facilities, saw potential in intramurals from a life-style event marketing standpoint.
"We said, 'Gee, if you can harness the power of a national association and its members and tie this with something that's really fun and really touches students' lives, that would be really tremendous,' " he says. "And that's what we did."
It started with flag football, a popular program that every year since 1979 has culminated in a national championship tournament held in New Orleans. Butterfinger (a Nestlé brand) became its first title sponsor in 1994, but took advantage of branding opportunities only at the finals, not at any of the 10 regional tournaments held on designated campuses across the country. That changed a year later at the insistence of Leopold. "That sponsorship's great at the national level, but that's just the cherry on the sundae," Leopold says. "The real action is on campus."
Subsequent sponsors of flag football - including three-time sponsor Nike and 1999's trio of Target (title sponsor), Nestlé Crunch (presenting sponsor) and Mentadent (presenting sponsor) - enjoy near year-round visibility on campuses that offer intramural flag football. Their banners encircle playing fields. Their names appear on cones that mark boundaries, and on flag belts. They distribute product samples and award prizes to the winners of sideline competitions. And they award expenses-paid trips to New Orleans to regional-winning teams in men's, women's and co-ed divisions.
Regional hosts have welcomed as many as 58 teams to their campuses for three days of competition. "It is quite a sight," says Jon Bollinger, intramural director at the University of Wisconsin-Eau Claire, a regional host for the past five years. "If you drive by the fields during that weekend, you know who the sponsors are. It's very visible, almost a party atmosphere."
David Scott, coordinator of student affairs within the Recreation and Sports Services Department at the University of West Florida, which hosted its 19th regional last November, says the advent of corporate sponsorship has generated more interest in the tournament from local media, the campus community and visiting participants. Of the latter group, Scott says, "It sort of heightens that adrenaline to 'Whew, this is not like my campus intramural championship.' "
Most important to Scott and Bollinger, corporate sponsorship has eased the financial burden on their respective recreation programs. "With corporate sponsorship, you have things like windbreakers, and you can do a lot of the niceties that you normally wouldn't have the money to do," Scott says. Adds Bollinger, "With our dollars being stretched as far as they are in a state university system, any help we can get is huge."
The sponsors benefit, too. Todd Thompson, director of marketing for chocolate and confections at Nestlé, says that students surveyed three months after participating in the flag football tournament were twice as likely to list Nestlé Crunch among their five favorite brands of candy bars as they were upon their tournament registration. "What the sponsorship program allows us to do is to have continued brand presence throughout the year, via the banners that are up during the games, via the Web sites that students access to look at calendars and the standings and via the message boards that are in the intramural facilities," Thompson says. "Most important, we have a chance to participate in a relevant way in the consumers' lives by sponsoring an activity that is very near and dear to them."
Flag football isn't the only recreational activity from which sponsors can choose. Nike has teamed with Kellogg's to sponsor Nike Nutri-Grain Training & Fitness, a program that includes sponsorship of daily campus fitness activities, a fall-term rewards program that helps keep students faithful to their workout regimens, and the chance for participants to win trips to a national competition in Venice Beach, Calif. Sponsorships have been attached to basketball and volleyball as well, and soccer is waiting in the wings.
According to Leopold, corporate support channeled through Campus Concepts and on to NIRSA and participating schools in the form of cash, trips, equipment and products totaled more than $2 million in 1999. However, the system is not without its critics - those who feel corporate America's reach has extended far enough on campus without latching onto recreational sports. Leopold has heard it before. "We're basically making recreational sports more authentic and more fun for the participant," he says. "It's not like we're bastardizing recreational sports."
NIRSA's Blumenthal accuses many colleges of having misplaced priorities when it comes to accepting corporate support of athletics at various levels. He cites NIRSA statistics that state that while 80 percent of America's 15 million college students participate in recreational sports, only 2 percent are varsity athletes. "My concern," he says, "is with the billions of dollars being poured in from universities and corporations into varsity sports, which have such a limited scope of participation and are not nearly as directed toward the mission of the educational institution, which is building self-esteem, social skills, self-reliance, independent thought and physical well-being."