Wrestling Advocates Seek a Policy Reversal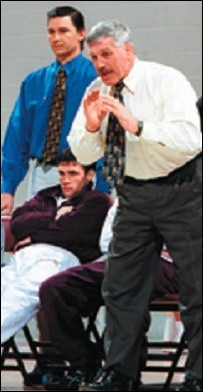 As a record-setting high school wrestler, Anthony Filleti had his pick of colleges to attend this fall. Johns Hopkins, in his hometown of Baltimore, was among those interested, but something about the program, coach and academic offerings at Marquette University seemed to best fit Filleti, who eyed a degree in engineering. Upon visiting the Milwaukee campus in April, the young student-athlete knew he was going to be a Golden Eagle, and his excitement about attending college and wrestling at the next level was obvious to those close to him. That excitement, however, proved short-lived.
In June, Marquette announced it would no longer sponsor a wrestling program in order to "achieve compliance with NCAA certification and Title IX gender-equity mandates." Absent his chosen team and enough time to land a spot on another one, Filleti fell into a two-month depression. His mother, Jean, feared he might be suicidal, and she vowed never to let Anthony's younger brother wrestle and "waste his young years on a sport that will only destroy him."
By the time Marquette decided to drop wrestling this off-season, seven other schools - Southern Colorado, Bucknell, Capital, Coppin State, Longwood, Seton Hall and Syracuse - had already done so. Between the academic years of 198182 and 1990-2000, the combined number of wrestling teams competing at all NCAA levels fell from 368 to 234, even as the number of NCAA member schools climbed from 787 to 1,045. Whereas nearly half (46.1 percent) of the membership offered wrestling 20 years ago, now less than a quarter (22.4 percent) does. More than 1,000 opportunities for individuals to participate in NCAA wrestling that once existed no longer do.
It's a trend that makes those close to the sport fighting mad. "How many of those guys who didn't get an opportunity would have had sports turn their life around, help them get all the things they need to be a success in life?" asks J Robinson, head wrestling coach at the University of Minnesota, last season's NCAA Division I champion. "Why should we deny people who want to participate while artificially creating opportunities for other people? It's not right."
Wrestling coaches are a vocal lot, and from their ranks have come two organizations bent on challenging the current policy interpretation of Title IX. Robinson launched Simply Common Sense, while Leo Kocher, head wrestling coach at Division III's University of Chicago, founded the National Coalition for Athletics Equity. Both groups argue that Title IX was never intended to establish quotas, a word they attach to one of the three means by which schools can comply with the law. The proportionality test, as it is commonly known, mandates that gender representation in a school's sports programs mirror the gender breakdown in that school's student enrollment. Schools with a student body that favors women (nationwide college enrollment is currently 56 percent female) often choose to reduce the number of male athletes on campus by cutting men's sports teams. According to Kocher, it's the easiest way to prove Title IX compliance: "Any legal counsel at a university is going to look at the policy interpretation and how the deck is stacked and say, 'If we get dragged into court, we're going to lose. We better show people we're trying and start slashing men's sports.' "
Kocher is quick to point out that while wrestlers may make the most noise about Title IX, they aren't the only ones whose "ox is getting gored." In fact, men's golf has experienced a greater number of program cuts, and men's gymnastics is nearing extinction as a varsity sport. However, according to Kimberly Schuld, project manager for the Arlington, Va.-based Independent Women's Forum, a women's advocacy group that rejects "the false view t hat women are the victims of oppression," wrestlers may have the biggest gender-equity beef for a number of reasons. Wrestlers typically comprise large team rosters (about 30 athletes), they have no corresponding women's sport to counterbalance roster numbers, and the vast majority of them regard collegiate wrestling as the zenith of their athletic careers - when it's over, so are their competitive lives. This summer, Schuld solicited letters from coaches, athletes and parents in an effort to present Congress, the White House and the media with personal accounts of Title IX's impact. Letters from individuals with wrestling affiliations - a note from Jean Filleti among them - outnumbered the next closest sport (men's gymnastics) by eight to one.
Yet, the overriding theme of these letters, Schuld says, is "not that elite athletes are being cut down in their prime and have no place to go, as much as it's just guys who wanted to play sports. Those opportunities are being taken away, and that's going to affect the younger generation. There will be fewer youth coaches around, fewer people in the community who have the experience and desire to coach an inner-city wrestling team."
For the past six summers, Robinson has rallied that younger generation - specifically, high school wrestlers - around his Title IX cause. As part of the J Robinson Intensive Wrestling Camps, Robinson speaks openly about Title IX, often complementing his 30-minute lecture on proportionality with a screening of an ABC News "20/20" segment on the subject. Robinson then requires that each camper write a letter about Title IX to their respective congressional representatives. Those who refuse face extra conditioning drills as a consequence. A parent of one of this summer's camp participants had a problem with that, and a review of whether Robinson used university resources to aid his Title IX efforts followed. Robinson admits to everything, defending his actions by stating he is merely defending his sport. "I have nothing to hide," he says. "You have to look at the camp as a whole. The Intensive Camp is a different kind of camp. It's about responsibility. It's about accountability. It's about life skills. One of the life skills is learning to get involved as a group. You either get involved or you don't get involved, but when you show up and you don't get to wrestle because they've cancelled the program, don't bitch if you didn't get involved."
Robinson and Kocher both emphasize that they're not against Title IX. Both have at least one daughter and one son, and both want to see each of their children have an equal opportunity to play sports. The problem, they say, is in how Title IX has been applied, particularly by Norma Cantú, the Clinton administration's director of the Office for Civil Rights, the U.S. Department of Education arm that investigates Title IX complaints. (The Bush administration has yet to appoint a successor to Cantú, and the OCR declined comment for this article.) "We are not fighting Title IX," Kocher says. "In fact, many of us believe that this rampant destruction of male opportunities is a violation of Title IX, because clearly they're discriminating against these men because of their sex and chopping their programs. We have a huge problem with what the Department of Education and the government bureaucrats have done to the interpretation of Title IX to turn it into a quota law. And anyone who says it's not a quota law is either trying to deceive people or doesn't understand it."
Donna Lopiano, for one, has gone on record as saying that Title IX is not about quotas. Like other Title IX advocates, the executive director of the East Meadow, N.Y.-based Women's Sports Foundation feels the problem lies within an elitist collegiate sports culture that favors revenue-generating sports played by men. "What I'm trying to say to the wrestling coaches is you can't even think Title IX in this," Lopiano says. "If Title IX wasn't there, it would give license to cut both men's and women's non-revenue sports programs. Men would not stay.
"Here's the mentality: I'm going to get sued if I try to cut a women's program, so I've got to leave that alone. You have to feed the monster. Football needs more money. Basketball needs more money. What gives. The sport that gives is the one that's low man on the totem pole."
But what about Marquette, where football hasn't existed since 1960, men's basketball has seen only marginal Division I success since the late 1970s, and the wrestling program had been entirely self-funded since 1992? Can the decision to drop wrestling be viewed as anything but a means to meet a gender quota? "It's their choice," Lopiano says. "They didn't have to do that. What they're saying is, 'We don't want to give women the same opportunities to play as men. We'd rather cut this wrestling team, cut the number of participation slots, and bring some men down to the level of women in order to comply with Title IX.' The point that I think should be argued is that schools should make every effort to raise the level of participation of women up to the level of participation of men, not bring men down."
Robinson thinks the solution is simple: amend Title IX language to state, "No men's programs can be eliminated to come in compliance with Title IX." "What that does is pass the burden onto the college," he says. "Now the women's numbers have to come up." As for the additional money such a change would require of each athletic department, Robinson takes aim at the excess in football by proposing salary caps for coaches while cutting player scholarships from 85 to 50. "If you put me in charge of football here I could save a half-million dollars and they wouldn't even really know it. They think it would make a difference, but it wouldn't," he says.
How much of a difference the efforts of Robinson, Kocher, Schuld and their respective organizations make on the direction of Title IX policy interpretation in the coming years is a question that may have to wait until the OCR gets its new director. Clearly, strict adherence to the status quo is likely to be met with more letter-writing campaigns. "The feminists who have been pushing this status quo of the Title IX policies are afraid that if they allow any changes in those policies to take place that girls would be relegated back to the old tennis courts with the weeds growing up in the middle," says Schuld. "Our culture has changed so much that there's no way that that's going to happen. No way possible that the fathers of daughters today would let that happen. No way that the athletes of today want that to happen."