Pro Shops Offering Sports Equipment, Specialty Apparel and More are Emerging as a Key Revenue Source for Public and Private Facilities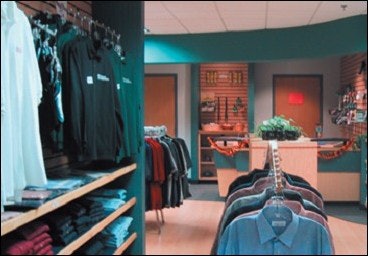 Athletic and recreation facilities are branching out into what previously was unfamiliar territory: retail sales. In addition to offering the traditional medley of programs and services, a growing number of health clubs, college recreation centers and for-profit multipurpose facilities are adding pro shops to their list of amenities, for several reasons.
Owners of some athletic facilities - particularly health clubs - are capitalizing on this untapped gold mine and recognizing pro shops' potential as profit centers. By utilizing available resources, keeping overhead costs low and selling a balanced mix of products with high profit margins - including popular energy snacks and beverages, convenience items, sports equipment and specialty apparel - facilities with small yet highly accessible pro shops have turned significant profits.
But making money isn't the only objective. Some facility operators are adding pro shops to improve their level of customer service. Rick Caro, president of Management Vision Inc., a New York City-based consultancy that provides business management for health clubs, says that pro shops emerged because club owners "wanted to provide a one-stop shopping opportunity for people in their facilities." That concept has spread beyond the for-profit realm, too. College recreation centers offer similar products and services at their shops and, as a result, are better accommodating their customers as full-service athletic facilities.
Although the benefits of operating a pro shop are obvious, facility managers should carefully evaluate their business objectives and determine what goals they hope to accomplish before opening one. According to Jim Turman, assistant vice provost for student affairs and director of the department of recreational sports at the University of Minnesota, it is crucial that managers take into consideration whether they want to open the shop as a profit center or as a service feature, or both. "We had to make some programmatic choices in terms of how we were going to dedicate space," Turman says. "Colleges are set up differently, and tend to look at their facilities more as health and wellness centers." Therefore, facility managers who realistically address this issue can more effectively plan how their shop will be managed, what resources will be devoted to its operation and how important customer service is to its overall strategy.
Once your organization has decided which business approach to take, it must determine initial start-up and ongoing operation costs. This includes allocating the amount and location of facility space (will several bookcases suffice or is 1,000 square feet of floor space needed?), calculating the cost of building the store and maintaining its daily functions (inventory, electricity, cash registers/computers), weighing merchandise display options, and deciding to what extent the store will be staffed. Cindy Eggemeyer, executive director of Edward Health and Fitness Centers in Naperville and Woodbridge, Ill., says keeping these costs low needn't be difficult. "If you utilize some of the skills of your part-time staff, that's certainly advantageous." Eggemeyer adds that the most expensive overhead-cost component is the "flat-wall," adjustable standup structures used to display goods - although she notes that the metal or plastic fixtures used to hang merchandise are often donated or provided by vendors who want facilities to sell their products.
And deciding which products to offer is one of the simplest tasks in setting up the store, according to Steven Resnick of Resnick Amsterdam Leshner P.C., a Blue Bell, Pa.-based certified public accounting and business development firm that advises health clubs and tennis centers. "Something we often do is survey the customers," he says. "Why not just ask them?"
Once the pro shop is up and running, how do operators ensure its success? Four key factors will help pro shops yield positive results:
• Hire qualified staff. Those who work in athletic and recreation centers are typically not trained in purchasing and retail skills. Since facility managers should avoid taking their "eye off the ball as to what they do best," as Caro puts it - selling memberships and providing programming - they should add to the staff one highly qualified individual with purchasing or retail experience to manage the shop's operation.
Pro shops in several college recreation centers - including those on the campuses of the Universities of Maryland, Minnesota and Texas - all employ at least one full-time staff person and "borrow" the services of several part-time employees from other departments to assist during key business hours. Cindy Keene, who has 25 years of retail experience, coordinates the shops at Edward Health and Fitness Centers. Although Keene handles all purchasing and staffing duties for both shops herself, she isn't easily bothered by what many fitness professionals consider the headaches of retail. However, Keene does admit the addition of one or two part-time sales associates would ease her workload.
• Seek out partnerships. For those organizations that would rather not handle the specific responsibilities of retail, yet still desire to have pro shops in their facilities, subleasing space to outside retailers might be an option. Facility Management Corporation operates 12 ice rinks in Massachusetts and leases out space for pro shops to a variety of individual retailers, some local and others with larger reaches. According to Rick Nadeau, FMC's director of marketing and public relations, the partnerships have been profitable. "What better partnership could we have than with somebody who knows their equipment, enjoys the industry, can help us service our patrons and at the same time, help us alleviate a lot of extra work for our company?" he asks. For example, J&J Sports runs pro shops in two FMC rinks, selling hockey equipment and accessories from their shops and offering skate sharpening services, as well. Because retailers such as J&J Sports take good care of FMC's ice rink patrons, Nadeau says his company can better focus its efforts on overall rink operations, such as programming, staffing and maintenance.
Partnering with retailers whose products are available via Internet mail order is another option for facility managers. VSC Sports operates three ice rinks in Southern California, and has pro shops in each facility. Recently, VSC partnered with HockeyGiant.com, an Internet store that sells hockey, inline and figure-skating equipment. VSC sales associates guide customers through online shopping on HockeyGiant.com's touch-screen computers located in the shop, which allow customers to order directly from the web site. All purchases are made at the point of sale, and delivery to the store or the customer's home is guaranteed within 48 hours, thus allowing the shops to easily track merchandise and keep inventory low. "We purchase the product from HockeyGiant.com and handle the selling, but we don't have to carry all the different sizes. They have just about every product and size in their warehouse," says Mike Paikin, president of VSC Sports. "Our customers come in, we help them with sizing and fitting, and if we sell an item, within 24 to 48 hours, we have that item replaced. I don't have to have a back-stock."
Partnerships between athletic facility managers and retail experts on college campuses can also be beneficial. Unlike facilities in the private sector, college recreation centers rarely open pro shops to make a profit, but rather to provide a service for students, faculty and alumni in the community. However, in order to do so, facility managers still must be able to pay for their shops' everyday labor and operational costs. Campus recreation staff at Maryland employed the help of the campus' Dining Services department to do just that.
With the construction of its campus recreation center in 1998, Recreation Services provided Dining Services with the space to operate two stores directly across from each other - one designed to be a pro shop and the other a café. Dining Services handles all the staffing and purchasing for both stores and uses the profit from the café to subsidize the operations of the pro shop, which initially did a respectable business, but not enough to keep itself afloat. However, Bart Hipple, Maryland's administrator of convenience stores for Dining Services, says that since he has learned to offer a carefully balanced product mix of food, beverages, accessories and apparel, both stores are accomplishing their original goals. Jay Gilchrist, the school's director of campus recreation services, agrees that the business has grown significantly. "The café recently added a smoothie machine and a couple of new products that seem to be doing very well," he says. "It's been a good relationship for both of us, because it gave Dining Services an opportunity to get into something a little bit different, and we knew we wanted the pro shop service in the building."
• Keep overhead low. This is a must for any successful enterprise. However, pro shop operators would be wise to ask themselves, "How much cost-cutting can go on before we also cut short our shop's level of service?"
"You can only cut costs so far. If you cut costs completely, then you have no business left," says Resnick. His firm advocates four basic principles by which organizations can grow their business - one of which simply says to "improve the process." Resnick says that by making the best use of available resources, pro shops can more effectively run their businesses, thus saving money and better serving their customers. For example, shops can streamline their labor expenses by utilizing their personnel more efficiently, only keeping extra employees on during peak business hours. When the shops are busy, customers still receive the assistance and attention they need; and during less busy times, only one employee or manager needs to work the shift. In an ideal situation, the manager would run the pro shop during its slowest hours of operation (usually early morning or late night), so that in the meantime, he or she can work on purchasing orders or other supervisory duties.
Pro shop operators can also limit their overhead costs by creatively monitoring their inventory supply and storage areas. Are any of the facility's partner organizations likewise seeking to curtail inventory costs? If so, operators should consider working out an agreement to share inventory space with that group, thus cutting down on space earmarked for storage purposes and also reducing the amount spent on purchasing. Chris Hull, executive director for Texins Activity Centers, Texas Instruments Inc.'s three fitness centers managed by Health Fitness Corporation, says his pro shops share inventories of certain merchandise (including logo key chains and athletic apparel) with the Texas Instruments recognition department, helping his shops keep costs down. In addition, the pro shops circulate inventory from the Dallas center, the largest at 68,000 square feet, to the other fitness centers in Plano and Sherman, which are 32,000 and 10,000 square feet, respectively. According to Hull, this warehousing method allows the smaller shops to take space that otherwise would be dedicated for storage and utilize it for valuable floor and wall displays.
• Increase customer interaction. Because pro shops are sometimes located in remote areas of athletic facilities, it can be difficult for some operators to draw customers to their shops. Therefore, it is critical for pro shops to take advantage of each customer visit - not only using the opportunity to make a sale, but also to learn from their customers how they can improve the shop.
"So many people are busy working in their business, that they don't step back and look at it from a consumer perspective," says Resnick Amsterdam's Gary Loewenstern. Every pro shop operator will have his or her own method of finding out what the customer wants - comment cards, informal surveys or just simply asking people at random. The universal key is to listen. Adds Hipple, "What I've noticed is that customers don't care if you think the store's terrific, and they particularly don't care if you think it's better than it used to be. They'll tell you what it should be like next." Hipple uses student community meetings on his campus to find out what products his customers are using. Yet, he has often found that the most up-to-date products are only available at larger retailers or sporting goods outlets.
Loewenstern suggests that instead of trying to compete head-to-head with these stores, pro shop operators should differentiate their business by providing the little things - better service or quicker delivery time - making their customers see that shopping at a pro shop is more convenient. Says Resnick, "Customers want service. They want to feel taken care of and get all the intangibles that they often have trouble getting elsewhere."
Staying current with the facility's programming will also help pro shop operators to build and strengthen their customer draw. If the shop is inside a facility with a strong aquatics program, then carrying an appropriate selection of swimwear, goggles and other accessories should be a priority. At many facilities, tennis and racquetball are among the most popular activities, so shops would benefit by carrying the necessary equipment and services for those sports. At the Gregory Gym, the main recreation center for the University of Texas, a number of facility users enjoy exercising while listening to entertainment systems. These systems allow guests to plug in personal headsets to exercise equipment (treadmills and stair-steppers are common examples), and listen to television or radio while they exercise. Says Eric Stoutner, UT's director of facility operations for recreational sports, "We're conveniently close to an entertainment systems outlet, so there's some synergy that goes on between this retail outlet and the entertainment systems lounge. We sell a lot of headsets out of our store."
Just as important, pro shop operators should remember that their customers are in the athletic facility to have fun. Keene has found that by holding sales events that coincide with seasonal holidays, her customers are never bored and always look forward to the next special. "At Easter, each customer can pick up an Easter egg and pull a percent-off card out of the egg," she says. "At Christmas, we have little grab bags, where every customer gets a percent-off card and a free gift. If you can come up with a few catchy ideas, that seems to keep the interest going."
Depending on the circumstances inherent to each athletic facility, operating a pro shop can be just as profitable as other traditional programs and services. However, developing a successful operation is not always as easy as it seems.
"It's a learning process, especially if it's an end of the business you've never been in before," says Resnick. However, if operators pay attention to detail and listen to their customers, the pro shop has a great chance of becoming a profit center.
"I think pro shops can be real profitable if the people running them know what they're doing," says Keene. "Our members want the convenience of picking up something in our shops if they forgot it at home - they don't want to run to the mall to pick it up. So if you've got the right items, I think it's a great customer-service convenience for the people. And I do a fabulous business."