It Just Got Harder for Title IX Whistle-Blowers To Win A Retaliation Claim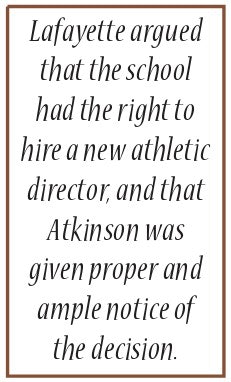 Eve Atkinson's 1989 hiring by Lafayette College - as athletic director, professor and department head of physical education and athletics - was noteworthy in a post-Title IX era marked as much by a decrease in opportunities for female administrators as by the explosive growth in female sports participation. Atkinson was the first woman AD of a combined men's and women's program at a National Collegiate Athletic Association Division I school with a Division I-AA football program.
As it turned out, the end of Atkinson's career at Lafayette was in its own way as newsworthy as its beginning. The relationship between Atkinson and Lafayette began to deteriorate early in 1996, after Atkinson presented a plan to the board of trustees to bring Lafayette into compliance with Title IX. Over the next two years, Atkinson continued to question the college's commitment to gender equity and presented numerous budgetary and gender-equity issues to a committee of the board of trustees. Because of the issues raised by Atkinson and the debate they caused within the school community, school officials considered dropping to Division III or eliminating the college's football program. Another result of the debate, Atkinson claimed, was an incident in which she was physically threatened and intimidated by her immediate supervisor, Herman Kissiah, the dean of students.
After reporting the incident to Lafayette's president, Arthur Rothkopf, and the college's general counsel, Atkinson claimed that no corrective action was taken. In fact, Atkinson claimed that while the college did nothing to punish Kissiah, it retaliated against her by removing her as supervisor of physical education, recreation and intramurals in April 1999. Atkinson claimed it was again retaliation when, on Nov. 4, 1999, Rothkopf notified her that her job as director of athletics was being terminated and that she would not be reappointed to her faculty post the next academic year. Rothkopf told Atkinson that her final day of employment would be June 30, 2001.
In challenging her termination, Atkinson filed a federal lawsuit seeking more than $150,000 in compensatory and punitive damages. In her lawsuit, Atkinson v. Lafayette College [2002 U.S. Dist. Lexis 1432], Atkinson alleged that Lafayette, in violation of Title VII and Title IX, illegally terminated her employment because of her gender and in retaliation for her insistence that the college comply with Title IX.
In defending its actions, Lafayette argued that the school had the right to hire a new athletic director, and that Atkinson was given proper and ample notice of the decision. Lafayette also argued that there was no private cause of action to enforce a claim of Title IX retaliation. In other words, Lafayette claimed that Title IX does not allow lawsuits for retaliation.
In evaluating Atkinson's Title IX complaint, United States District Court Judge Ronald Buckwalter relied on a recent decision by the United States Supreme Court in Alexander v. Sandoval [532 U.S. 275 (2001)]. In Sandoval, a class of non-English speakers challenged an Alabama policy requiring that driver's license examinations be available only in English. The group asserted that the policy discriminated based on race and amounted to disparate-impact discrimination under Title VI of the Civil Rights Act of 1964. In analyzing that claim, the Supreme Court reasoned that disparate-impact discrimination was prohibited only through agency regulation, and not by the statute. Therefore, the court held that there is no private right of action to challenge activity that has a disparate impact on a racial group under Title VI.
In Atkinson, Buckwalter found that Atkinson's claim presented a situation analogous to that in Sandoval, due to similarities between the text and structure of the two statutes. In particular, Buckwalter noted that Title IX contains a rights-creating provision, Section 901, that parallels Title VI's Section 601. Title IX also includes Section 902, a provision functionally identical to Title VI's Section 602, which authorizes federal agencies to regulate the terms of the statute. One such regulation bars recipients of federal funding from retaliating against persons who complain of discrimination prohibited by Title IX.
Keeping in mind that Congress intended that Title IX be interpreted and enforced in the same manner as Title VI, Buckwalter examined the text and structure of Title IX for evidence of legislative intent to create a private right to enforce the anti-retaliation regulation. Like the Supreme Court in Sandoval, Buckwalter ruled there was no such evidence anywhere in the text. Buckwalter concluded that while Title IX prohibits retaliation, the exclusive remedy is the cessation of federal funds after prosecution by the Department of Education, not a private cause of action.
In an attempt to support her argument that Title IX prohibits retaliation, Atkinson argued that, unlike Sandoval, the anti-retaliation regulation in this case does not proscribe conduct that is otherwise lawful. In other words, Atkinson tried to undermine the applicability of Sandoval because Title IX's Section 901 prohibits retaliation.
In rejecting this argument, Buckwalter ruled that on its face, Section 901 does not refer to retaliation. Furthermore, Buckwalter found that there was no evidence whatsoever to support Atkinson's contention that Congress specifically intended to prohibit retaliation in Section 901.
As for Atkinson's second argument, that the designated purpose of Title IX is to protect individuals from discrimination, Buckwalter ruled that there was no evidence from the text or structure of the statute that Congress meant to prohibit retaliation under Title IX.
After the court rejected her attempt to distinguish Sandoval from her case, Atkinson argued that instead of applying Sandoval, the District Court should follow Lowrey v. Texas A&M University System [117 F.3d 242 (5th Cir. 1997)]. In Lowrey, Jan Lowrey, the head women's basketball coach and women's athletic coordinator at Tarleton State University, charged that Tarleton had systematically misallocated resources among male and female athletes in violation of Title IX. As a consequence of her repeated objection to such discriminatory practices and her participation in a civil rights complaint filed with the Department of Education, Lowrey claimed that Tarleton retaliated against her by denying her a promotion to the position of athletic director and removing her from the position of women's athletic coordinator.
In ruling that Title IX provided a private right of action for retaliation, the Fifth Circuit Court concluded the implication of a private right of action for retaliation would serve the dual purposes of Title IX, by creating an incentive for individuals to expose violations of Title IX and by protecting such whistleblowers from retaliation. Accordingly, the court found that the implication of a private right of action for retaliation is consistent with the statutory purposes of Title IX.
While Buckwalter allowed that the Lowrey case was technically correct, he still declined to follow it. Instead, Buckwalter held that Lowrey was not binding precedent because it was decided well before Sandoval and was incompatible with the Supreme Court's decision in Sandoval. For example, Buckwalter noted that the Fifth Circuit began its analysis with the plain language of the regulations, and concluded that the retaliation regulation could, by itself, give rise to an implied cause of action. This analysis is plainly inconsistent with the Supreme Court's ruling in Sandoval that Congress must create a private right of action.
Instead of Lowrey, Buckwalter relied on the only other Title IX retaliation case decided since Sandoval: Litman v. George Mason University [156 F.Supp.2d 579 (E.D. Va. 2001)]. In that case, Annette M. Litman, a student at George Mason University, filed a lawsuit claiming that she was expelled in retaliation for making a complaint of sex discrimination under Title IX. In dismissing the retaliation claim, the District Court of Virginia, relying on Sandoval, ruled that based on statutory analysis, there was no private cause of action under Title IX for retaliation claims.
While it is unclear exactly what weight courts outside of Pennsylvania are going to give Buckwalter's decision, when viewed alongside Sandoval and Litman the ruling could be very important for future Title IX cases - both because claims of retaliation are common in discrimination cases and because the decision seems to contradict the intent of Title IX. If other courts agree with Buckwalter's interpretation that Title IX does not provide a private right of action for retaliation, it could have a chilling effect on future lawsuits.
As the Fifth Circuit in Lowrey noted, allowing an individual to sue for retaliation serves two important purposes: providing an incentive for individuals to expose violations of Title IX and protecting whistle-blowers from retaliation. With that in mind, Congress, whatever its original intent, should act to provide a private remedy for retaliation under Title IX.
Finally, it should be noted that although the court held that no private right of action exists to enforce a claim of retaliation under Title IX, Atkinson's lawsuit is still going to trial under her claim that Lafayette College violated Title VII, which prohibits discrimination in employment.