No school is immune to the potential damage caused by athletic reps acting outside the rules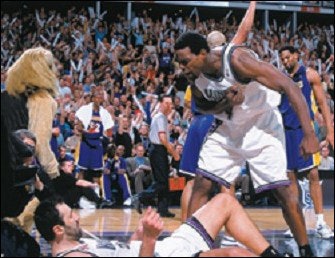 It was as if tiny Jacksonville University had reached the big time. In November 1998, the Dolphins upset No. 3-seed Duke in the first round of the NCAA men's soccer tournament, 3-2. That their first-ever tournament appearance would soon end with a second-round loss to Maryland was softened somewhat within the context of a 19-5 season that included Trans America Athletic Conference regular-season and tournament championships.
But those once-glossy achievements are gone now - expunged from the NCAA record books. The coach (a former JU soccer All American), as well as his athletic director and university president, are gone, too. What's left is their legacy of administrative chaos, and a plethora of NCAA penalties that includes five years of probation.
By 2000, it had come to light that the Dolphins were being influenced behind the scenes by another JU soccer alum - a Hollywood television producer hellbent on bringing success to his alma mater, even if it meant circumventing the school's admissions protocols. With this booster's help, Jacksonville loaded its roster with players from war-torn Yugoslavia who were long on athletic talent but short on English language proficiency. The booster - or, in NCAA parlance, "representative of the institution's athletic interests" - directly aided in the recruitment of these players by flying coaches for visits overseas.
"It's something that you would see in football or basketball at big schools, but you don't often see it in college soccer," says Jamie Zeitz, assistant athletic director for media relations at Jacksonville, a private university serving fewer than 2,000 students. "It happened to be one guy with an ego. Yeah, we had a little success during that time, but it certainly wasn't worth what we've had to go through in cleaning this up. It's never worth having success if you don't do it the right way."
Infractions cases involving boosters both egomaniacal and well-meaning typically revolve around the concept of extra benefits - perks enjoyed by student-athletes that aren't available to the general student body. As recent episodes indicate, extra benefits come in a variety of forms:
• In 1998, an internal investigation conducted by the University of Virginia found that a booster had made improper contacts with recruits and "loaned" three recruits workout clothes for pickup basketball games that they were not required to return.
• In 1999, the NCAA determined that a Bucknell University wrestling booster provided an improper recruiting inducement to a student-athlete by offering him a summer job, then paid the individual an excessive wage for the type and amount of work completed during two subsequent years of employment. In a similar case, the NCAA revealed last year that a business owner and Marshall University booster had paid 21 football nonqualifiers (academically ineligible first-year students) and two basketball non-qualifiers $25 an hour to perform janitorial duties.
• In 2000, a Madison, Wis., newspaper uncovered that a shoe retailer and University of Wisconsin booster had extended unadvertised discounts and lines of credit to dozens of Badger student-athletes.
• In March, a University of Michigan booster was indicted on charges that he loaned more than $600,000 to ex-Wolverine Chris Webber and other basketball players while they were in high school and college. The investigation, which this summer turned its focus on whether Webber possibly perjured himself before a grand jury, has lasted more than six years.
• In May, Southeastern Conference and NCAA officials began investigating a relationship between former University of Tennessee quarterback Tee Martin and a Mobile, Ala., sportswriter who allegedly gave him $4,500 to put toward, as the latter individual described, "a blown engine in his car." To complicate matters further, the sportswriter had been loaned the money by a Mobile insurance executive and admitted Vols fan.
Despite the seemingly annual emergence of at least one case, booster-related infractions are on the wane, according to Tom Yeager, commissioner of the Colonial Athletic Association and current chair of the NCAA Division I Committee on Infractions. Twenty years ago, a booster could join the head coach in a prospect's living room. Boosters were even permitted to serve as quasifoster parents for enrolled student-athletes. Today, contact with prospects is limited to conversations initiated by the prospect, as long as it's not for recruiting purposes. In fact, no discussion of athletics is allowed. Contact with enrolled student-athletes, while not forbidden by rule, is strictly limited - and these days, quite often discouraged.
Educating boosters about these and other rules has become a top priority for athletic departments, particularly those with prominent football programs with a lot at stake. Many schools post the NCAA's booster rules verbatim on their web sites, include them in media guides and game programs, or even mail boosters special pamphlets dedicated to the subject. In addition, coaches - perhaps the most influential voice in these matters - often emphasize rules compliance during speaking engagements before booster groups.
Jacksonville, which has neither a formal athletic booster club nor the regular meetings and social functions that come with one, mails information regarding NCAA rules to all donors. "We have a very strong letter from our president that accompanies all of our educational materials in which the president addresses the institution's need for donors to cooperate and help ensure we don't create any more violations of a similar type," says Donna Kirk, assistant athletic director for compliance. Adds Yeager, "A number of schools are tireless in trying to drive home the message that if you're not paying attention to the rules, you could cause the university some serious problems. A lot of boosters take that to heart. Others don't."
Penalties stemming from booster-related violations often include a reduction of scholarships and/or recruiting visits for the affected program. In addition, the university may be required to invest more resources in its compliance efforts. The booster, meanwhile, is invariably disassociated from the university for a period of years or permanently - stripping him or her of privileges such as season tickets and priority seating at athletic events, membership in booster clubs and contact with coaches. Pledges to capital campaigns are sometimes refunded. "In some instances, boosters have become pariahs within their own circle of friends, and it becomes very natural for them to step away," Yeager says. "For others, who rightfully get a great deal of enjoyment and pride out of college athletics, being removed from that is a big personal penalty."
The student-athletes themselves also have a responsibility to know what's permissible and what isn't. According to Yeager, violations such as those involving excessive pay to student-athlete employees are sometimes reported by teammates who aren't getting the same treatment. Says Zeitz, "We put information in the student-athletes' handbooks, so they understand what's right or wrong involving boosters, and what they can and can't do. They sign off that they've read those books. We're doing what we can - you can't force somebody to know information. You can just present it to them and hope that they'll read it and understand it."
Other individuals on campus need to stay current regarding NCAA rules, too. The chaotic atmosphere at Jacksonville during the period of booster improprieties, from 1996 through 1999, existed under a university president who turned a blind eye to the NCAA, leaving key administrators in the dark regarding rules violations in progress. "In our case, there were several departments on campus that were involved in these particular violations, which dealt with admissions and financial aid," Kirk says. "Making key people in those departments aware of what's permissible and what is not permissible can really head things off right from the beginning. It's really a team effort to make sure that the institution has control."
Institutional control has become the NCAA's compliance mantra while ratcheting up its rules enforcement over the past 15 years. Released in August 2001, the association's 2,616-word document on the Jacksonville case (which also addresses violations involving the women's rowing team) mentions a lack of institutional control, then tacks six points of reparation onto the 25 corrective actions and penalties suggested by the university itself.
The resulting messages from such cases, and from proactive educational efforts, appear to be sinking in. In fact, Yeager has known a few informed boosters to blow the whistle on their own kind. At the same time, if an institution is able to present the committee on infractions with proof that diligence was taken in the education of boosters, it may help mitigate the damages. But it doesn't leave the institution off the hook. "There still is a direct responsibility of the institution for the action of these individuals who are operating on its behalf," Yeager says. "Boosters still have to understand that there is some consequence to their institution. Then it's a matter of trying to assign appropriate responsibility, whether it's to the individual, the school or both."