Recognizing Outstanding Youth Sports Programs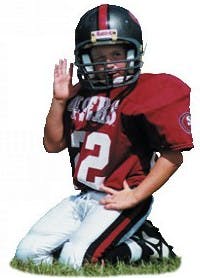 Given the plethora of youth sports programs in the United States, it's a safe bet that administrators of each one have their own stories of struggles and success. After all, overseeing a multifaceted program involving many variables - including numerous facilities and partnerships, and kids with different talent levels and backgrounds - is rife with challenges. And don't forget about parental involvement that runs the gamut from apathetic to overbearing.
Just ask this year's five Excellence in Youth Sports Award winners. Administrators from each of the winning programs have dozens of anecdotes to share, but we have chosen to focus on one or two of them here in the hopes they will serve as inspiration for others involved with games kids play.
Developed by the National Alliance for Youth Sports and Athletic Business, these awards recognize outstanding organizations that conduct diverse programs with a focus on providing safe and positive experiences for all participants, including children, parents and coaches.
The five winning programs were among 92 of the world's leading youth sports organizations that submitted applications for this year's competition, open to military bases, parks and recreation departments, YMCAs, Jewish Community Centers and Boys & Girls Clubs. A panel of judges reviewed each application.
This year's winners, in alphabetical order, are:
• Eglin Air Force Base Youth Programs, Eglin AFB, Fla. • Boys & Girls Clubs of Lackland Air Force Base, Lackland AFB, Texas • Orange County Parks & Recreation, Orange, Va. • South Suburban Parks and Recreation Athletics Department, Centennial, Colo. • YMCA at White Rock, Dallas
Each program will receive $4,000, courtesy of NAYS and Tony's Pizza, to further improve their operations. Southeastern Security Consultants also will provide each program with $1,000 worth of background-check services. Pat Croce, part owner of the Philadelphia 76ers, presented the awards at the Athletic Business Conference in November.
Past winners have used the prize money in a variety of ways, including waiving participation fees for low-income families, purchasing equipment for adaptive sports, sponsoring weeklong sports clinics, providing free training for parents and coaches, and bringing renowned speakers into their communities.
Congratulations to all winners, past and present, and thanks to all the organizations that entered this year's Excellence in Youth Sports competition.
Eglin Youth Programs, Eglin AFB, Fla . Last year, two mothers of children playing on the same baseball team at Eglin Air Force Base had the audacity to begin a heated argument in the stands that, as base youth sports director Terry Evans tells the story, had nothing to do with the game. In fact, it was about an incident that occurred at an on-base school. "One mother had the other in a headlock," Evans says. "If you want to do that, go across the street - don't do it here."
Eglin youth sports administrators (and the Air Force as a whole) have little tolerance for unruly parents. A physical confrontation, a profane word or other unsportsmanlike conduct can result in a fine, being barred from coaching duties or even removal from the military. "If officers were to get into a fight, that can eliminate them from the service immediately," Evans explains. "They're not only representing the base, they're also representing the government. If they throw a fit during a ball game, what will they do in a real-life situation?"
Fortunately, not many fits are thrown at youth sports events held at Eglin, located on the Florida panhandle between Panama City and Pensacola. Drastic repercussions combine with an effective red- and yellow-card spectator-control system, similar to that used with players in competitive soccer, to help keep confrontations to a minimum. If someone in the crowd is complaining about a coach's decision, any of Evans' staff members are encouraged to approach that spectator and hand him or her a yellow card, which essentially reminds that person of his or her positive role as a supporter of youth sports.
If, however, a fan uses profanity or instigates a physical confrontation, staffers are free to issue him or her a red card, which explains that the chosen behavior is unacceptable and asks the fan to leave the property - including the parking lot. Unlike the issuing of a yellow card, however, a red card is given in private. "Somebody has already brought attention to himself or herself," Evans says. "But we don't want to get into a potential argument in front of the kids."
In five years, the red card has only been used once, for a shouting match during a soccer game between a parent and a coach, Evans says. An assistant coach also got involved, and his commander eventually banished him from coaching and required him to take anger-management classes. Even yellow cards are rare, because parents help oversee each other's behavior in the stands. "If they see someone getting out of hand, they distract that person," Evans says. "They talk about the weather, work - anything but that game."
Kids pick up on the sportsmanship qualities displayed by most of their parents, too. "Five minutes after a game, they're all playing together," Evans says. "They don't hold any animosity toward each other. The emphasis on winning and losing is brought on by the parents. So it helps to have the parents understand that we're out here just for the children to have the opportunity to participate. It doesn't matter who wins or loses."
Boys & Girls Clubs of Lackland, Air Force Base Lackland AFB, Texas As the largest permanent base in the United States Air Force, Lackland is called "The Gateway," because all active Air Force personnel must train there at one time or another. Therefore, it's imperative that the base offers quality youth sports programs. Enter a progress-tracking tool called Measuring For Success.
Developed in 2000 as a means to report participation numbers to the United Way, which contributes to the Boys & Girls Clubs of Lackland Air Force Base, the program helps coaches and parents keep track of each child's growth in five key areas during the course of a season: physical skills, social skills, leadership abilities, goal management and sense of belonging. Each of those areas, called indicators, is supported by examples to help coaches explain specific strengths and weaknesses to parents and children.
While the United Way benefits from the Measuring For Success program by seeing proof that their contributions are being put to good use, it helps youth administrators at the base monitor each child's progress (or lack thereof). "It also allows a coach to see how well he or she has done," says John Bailey, the club's director of youth sports and fitness. "If a child has played 10 weeks of soccer and not learned anything, that's not a reflection on the child. That's a reflection on the coach - and on me."
Occasionally, children will consistently fail to meet the criteria spelled out in the Measuring For Success program, Bailey says. When that happens, he strives to put them with more experienced coaches in the future. The number of trained and certified coaches (a requirement at Lackland) jumped 85 percent to 283 between August 2001 and July 2002, coinciding with increased participation in Lackland's youth sports programs - thanks to renewed marketing efforts involving a web site and the base's newspaper and television station.
A "First Steps" program, which targets 3- to 5-year-olds by teaching sport-specific developmental skills for basketball, baseball and soccer, ensures that Lackland's youth sports activities will continue to be popular. Parents are involved in each of the twice-weekly, one-hour sessions, taught by qualified instructors. Lackland was the first base in the Air Force Education Training Command to use the program, which was developed by a former volunteer at the base, Bailey says. Today, he adds, the other bases in the command are required to provide the same or a similar developmental program.
The First Steps program was necessary, Bailey says, because nearby civilian communities were establishing traveling tee-ball teams for 3-yearolds. First Steps offered an alternative, at least for military children. As for competing with civilian teams, Bailey says he and his staff "have to be extremely cautious," because many off-base programs do not adhere to the base's child-development goals. Lackland's baseball teams will only play Little League-affiliated teams, while the basketball teams are part of the San Antonio Military League. All youth soccer competition is confined to the base.
Orange County Parks & Recreation, Orange, Va. Back in 1996, Orange County Parks & Recreation - then in existence for 14 years - did not even offer a youth sports program. A private nonprofit organization run by parents called the Orange County Boosters Club provided the community's youth sports programs, but with a perceived win-at-all-costs attitude. However, after parents approached the department and requested that city officials help administer the club's programs, things slowly began to change, says Debra Bickley, director of Orange County Parks & Recreation.
First the department had to gain the club's trust - a task that took about two years. "I think it's evolved in a very natural process that's allowed the trust to grow," Bickley says. "If we had come in and pushed all of our ideas, it would have been a major mess."
Still, the department made some significant changes to the program early on, including shifting the administrative burden associated with baseball, basketball, football, soccer and wrestling from the club to the city - a monumental undertaking for a group of volunteers who were trying to accomplish all related tasks at night. Other immediate changes included implementing a policy calling for redrafting teams each season ("Even if by a fluke, you create a powerhouse team one year, you're not going to have that same team the next year," Bickley says) and running background checks on volunteers ("It probably weeds out one of every 20 potential coaches," she says). Educational programs for parents and coaches were also established.
"I spent the first few years just trying to make sure that all of the sports were conducted fairly and equitably," Bickley says, adding that some teams previously had better uniforms and better players than others, based on parental influence and coaches' preferences. "I think we've eliminated a lot of the really old-school coaches. But we've still got some people who'll stand there and say, 'This is for the kids,' then still want to win."
Based on the department's success with the Boosters Club programs, a group of soccer parents petitioned (and convinced) the county to start up an alternative youth soccer program following the same principles in 1998.
While Orange County Parks & Recreation staffers handle all of the administrative duties, the Orange County Boosters Club maintains 20 acres of playing fields. The department keeps $1 of every $35 registration fee for each sport and gives the rest of the money (after deducting uniform, equipment and insurance expenses) to the club.
"The Boosters Club has really bought into the concept," Bickley says. "They truly want the program to be good for the kids. Now that they're not so caught up in the day-to-day operation of things, they have time to go to a game, sit back and realize why we're all out there."
South Suburban Parks and Recreation Athletics Department, Centennial, Colo. Thanks to a bargain-basement deal on a 150,000square-foot recreation facility - an estimated $29 million value snapped up for $7 million at a bankruptcy auction last year - South Suburban Parks and Recreation experienced a 20 percent jump in youth sports participation between 2001 and 2002. The independent district, which serves 140,000 residents in seven cities and parts of three unincorporated counties, retained the facility's original name (Family Sports Center) and immediately began figuring out the best ways for the district's various departments to make use of the building - which includes two ice sheets, a synthetic-turf field, an arena and a climbing wall.
"Our constituents range from low-income families to John Elway," says Allison Boyd, one of the district's two recreation directors, summing up the community's diverse programming needs. "We've always provided a recreational outlet by catering to what people want."
And what people want, it seems, are youth sports programs that help break down "jock" stereotypes. Hence, the district sponsors such activities as lacrosse (which serves as a feeder program to the area's competitive high school leagues), inline hockey (played at two rinks, including one adjacent to a skate park designed with input from local youths), and BMX racing (on a dirt track built on top of a landfill cap). Additionally, a dodgeball program for middle-school students started up this year, and a youth horseshoe-pitching program could be in the works soon.
That landfill, by the way, is expected to help increase youth sports participation numbers even more during the next few years, as the district builds eight synthetic-turf multipurpose fields and four synthetic-turf baseball fields on top of it.
To ensure that the many programs sponsored by the South Suburban Parks and Recreation Athletics Department run smoothly, administrators developed their own Parent Education Program (PEP), which teaches parents about the basic concepts and skills of the sports their children play, and educates them about proper fan behavior. "Mom couldn't throw a baseball, but she wanted to - it was as simple as that," Boyd says about why the district developed PEP. "Plus, by playing with their children, parents learn to become better spectators."
Another effective tool in helping keep the peace between parents, coaches, officials and kids is printing the codes of conduct for each group on the back of team schedules, which are likely to be looked at several times throughout a given season. "We want our parents to know what we expect from the officials, what we expect from the coaches and what we expect from them," Boyd says. "The key is keeping parents informed about what's going on."
YMCA at White Rock, Dallas Oh, the stories Dana Ruppert can tell. There's the one about two mothers who actually threw punches at each other during a teeball game. And then there's the grandmother who got into a heated argument with other parents at a game because she thought kindergarteners were cheating. "I wanted the fighting to stop," says Ruppert, who at the time was program director of Dallas' YMCA at White Rock and is now associate executive director of the city's Community Services YMCA. "Something had to change."
That something was the implementation in 1998 of the Making Values a Priority (or MVP) program. In the beginning, it aimed to teach children basic respect for each other - requiring them to shake hands with opponents, schedule team picnics and plan outings with other teams. Coaches were asked to ingrain the importance of character, while parents were expected to set examples for their kids by cheering for both teams. Keeping score became a thing of the past.
Players adhering to the program would earn incentives, such as medallions and tickets to area sporting events. "It only took a couple of games to get things turned around," Ruppert says. "If one parent blew it, that team would lose a reward, so parents began watching each other."
Fast-forward four years. Participation in youth sports activities has climbed 30 percent, there are more active coaches and officials than ever, and parents who once fought with each other now form a tunnel together for their kids to run through after each game.
"The MVP program still drives everything we do," says William Cornell, YMCA at White Rock's program director of youth sports. "Youth sports ought to be about fun. Kids will have the rest of their lives to compete."
Major components of today's MVP program - now in place at all 23 branches of the YMCA of Metropolitan Dallas - include six required behaviors and 10 optional activities, from which a team must choose at least five to be eligible for reward incentives.
Required behaviors include the reciting of the YMCA sports pledge by players, parents and coaches before all games; ensuring equal playing time for all players; and voicing complaints about officiating or coaching to YMCA staff members, not the officials or coaches. Optional activities include team participation in community service projects, offering drinks and snacks to officials after games, and the organization of individual family practice sessions.
It should be noted that while all coaches are mandated to follow the six requirements, they do not have to implement the optional aspects of the MVP program. That's where parents usually step in and oversee MVP activities.
"We have occasional blowups, when a parent gets mad," Cornell admits. "That's still going to happen. But we're able to see the kids having fun, and anybody who observes our programs can see that the conflicts are few."