A Columbus, Ga., program shows youths how to balance athletics and academics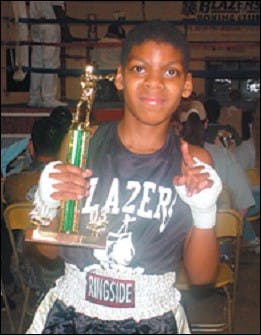 Kevin Garnett, Kobe Bryant and Amare Stoudemire have all done it, and within months, yet another high-school basketball phenom - LeBron James - is expected to make the jump straight from the prep ranks to the NBA.
The success of these players has millions of youths nationwide spending more time on the court, their sights set on improving their game and their chances of achieving similar hoop dreams. Meanwhile, Tony Adams is afraid this trend has too many youths forgoing another lofty goal - that of attending college.
The Innovative Sports Program was designed to help reverse that trend - at least in Columbus, Ga., where Adams is the city's parks and recreation director. The program aims to help youths ages six to 17 put the emphasis back on the books and find a healthy balance between athletics and academics. This spring, participants signed up for basketball, boxing or track and field, and in the fall, they can play either flag football or volleyball. Next spring, Adams expects to add to the program two lifetime sports, golf and tennis.
But the games aren't the only thing. All program participants are required to carry a minimum 2.0 grade-point average. Additionally, the program mandates attendance at educational workshops and seminars conducted by school principals, guidance counselors and professional youth motivational speakers. (Parents are also required to attend on occasion.) The workshops are tailored to meet the needs of students at each grade level. For example, the depth of sexual education seminars differ for elementary and middle school students. High school students, meanwhile, attend sessions on topics such as NCAA Clearinghouse registration procedures and college entrance exam preparation.
"We're not trying to teach the kids how to read and write, we're trying to get them to understand what the next level is like. Once these kids become athletes, all kinds of doors open for them. They see their names in the paper, they see all kinds of distractions," says Adams. "If we can educate the child on being a student first and an athlete second, then we can at least help make a better citizen in our community."
To help him realize that vision, Adams has called upon the services of the organization with perhaps the greatest interest in the future of Columbus' youth, the Muscogee County School District. The district operates Columbus' 52 elementary, middle and high schools, and as part of the program, the schools' athletic directors volunteer to speak to participants and their parents about the daily routine of a student-athlete, insight that Adams believes is invaluable. "They educate the parent on what their child's going to be doing when the school bell rings," he says. "He won't go straight home like everybody else. He has to go to practice and then he gets to go home, eat and do homework."
The Innovative Sports Program's fairly regimented, albeit short, schedule helps acclimate youths to that routine. Each "season" is no longer than six weeks. "We try to run them in 30 to 45 days because kids lose interest in things so fast," says Adams. "Plus, Mom wants them to participate, but she wants it to be quick so they can move on to something else."
The first week consists of registration and an introductory seminar for both parents and youths. At that seminar, participants pay a minimal fee to cover the costs of a uniform and secondary insurance (typically $40 to $60, depending on the sport) and are given a schedule of practices for the following week. Each participant is required to bring his or her most recent report card to the first practice. Before the start of the regular season, several practices are held, during which coaches evaluate each participant's skill level and accordingly place that individual on either a traveling team or a developmental team.
Once the season begins, those placed on developmental squads (carrying no more than 10 participants each) will compete in two games or meets each week. Game nights are alternated with one practice night and another reserved solely for educational sessions. Although it's up to each coach's discretion whether or not to hold a week's-end practice, youths are usually given Fridays off. Altogether, each participant will play in up to 10 games and attend five to six workshops.
Youths enrolled in the boxing track, on the other hand, practice every weeknight at a local boxing club, and each Saturday participate in smokers, or informal tournaments.
While boxing was the second sport to be offered to Innovative Sports Program participants, the program actually began five years ago as a youth basketball team sponsored by the Columbus Parks and Recreation Department, assembling the area's best middle school-age players to participate in regional and national tournaments. But the team had only 12 roster spots, leaving a number of youths out in the cold.
In 2001, the program was expanded to give all willing participants an opportunity to play, regardless of their skill level. "We looked at the big picture, and said, 'We've got 12 12-year-olds who we pick for our traveling team and we send 60 others home,' " says Adams. "It didn't make any sense. We're supposed to be a recreation department, encouraging kids to be part of our program."
The program has grown significantly since last January, when it assumed its current form. As of this spring, the Innovative Sports Program counts approximately 400 youths in developmental basketball, 60 in boxing and 40 in track and field. If growth continues at its current rate, Adams anticipates the program will have affected as many as 3,000 young lives by year's end.
To accommodate the Innovative Sports Program's increasing popularity, the Columbus Parks and Recreation Department hopes to hire a part-time employee whose sole responsibility will be to coordinate the program's educational workshops. But Adams knows that as long as his program specializes in sports, thousands of Columbus youths who might benefit from the workshops but aren't necessarily interested in sports could be slipping through the cracks. That's why the department is working to expand the program to include cultural arts offerings such as theater, music and visual arts, each of which are possibilities for next year's program.
In the meantime, Adams says that Muscogee County School District officials have been appreciative of efforts made by the Innovative Sports Program. "People from the school district are saying that the earlier we can teach the kids and their parents about what it takes to be a student-athlete, the easier their job's going to be when these kids eventually get to their schools."