A little attention paid to merchandising can help boost sales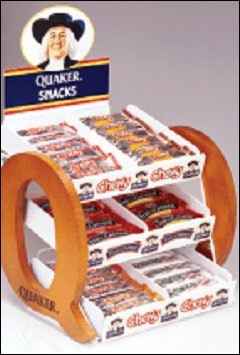 The growing number of brand marketers scrambling for limited space in athletic clubs, spas and sports facilities - and consumers who are more discriminating than ever - is leading to a marked improvement in the types and styles of point-of-purchase displays available. Merchandising is playing an increasingly vital role in the success of product sales, right up there with advertising and pricing. While advertising motivates a consumer to buy products inside a sports facility or health club, an effective point-of-purchase display bridges the gap between advertising and the cash register, while also generating incremental sales.
At their most glitzy, point-of-purchase displays are advertising. Custom signage, well established in restaurants and bars to move product, is now being successfully used by pro and major college sports teams to bring attention to goods for sale. Distinctive advertising clocks, light boxes or other signs can be customized with your team or business name, or popular brands of soft goods and food and beverage items. Particularly effective are light boxes, which are portable and can be placed on walls or tabletops and used as illuminated advertising signs. These should be kept lit throughout the venue; the colors attract attention and illuminate products beautifully.
Parks and recreation departments can utilize beach or poolside billboards that advertise bottled water, while doubling as a clock and/or thermometer. Consumers will read the ad (and get thirsty) every time they look to see the current time and temperature.
If your budget allows and you're looking for that one-of-a-kind image, consider a custom point-of-purchase display. Custom displays are only limited by your supplier's imagination, and can be tailor-made to meet any design or budget specification. They can be constructed from nearly any material, including plastic, wood, corrugated metal and other media. State-of-the-art designs include interactive floor stands, animated and electronic displays, electric clocks, corrugated prepacks, acrylic plaques and molded counter displays.
For those with limited budgets and tight scheduling requirements, a variety of stock point-of-purchase displays constructed from pre-made tooling and molds are available. Modular floor display racks are durable, economical and made of high-quality plastic, and are perfectly suited for merchandising beverages, energy bars, food items, sporting goods or apparel.
Even stock display racks can be custom-designed to meet your exact specifications for size, color and graphics. They ship knocked-down to save freight costs, and set up easily in the field without tools. Some racks are available as gravity-feed floor stands to keep your product front-faced and minimize restocking efforts. You may consider attaching wheels to these displays so they can be moved to various locations throughout your facility. Ideal for bottled waters, juices, energy drinks and energy bars, a floor rack can be customized to feature your business or team name and logo.
A vast array of shelf organizers - including gravity-feed displays, spring-loaded systems, slide tracks and serpentine dispensers - can be used to create the most appropriate display for products on countertops, such as energy drinks, vitamins and canned tennis balls. Cold sampling merchandisers, such as ice barrels, countertop coolers and refrigerators, keep beverages cold while building consumer awareness of business, team or brand names.
The time to think about your point-of-purchase options is during the creation of your initial marketing plan, as it is important that your merchandising goals be in step with your other marketing objectives. Be sure to begin by allocating a merchandising budget equal to 5 to 10 percent of your product wholesale costs.
Here are a few simple guidelines for selecting effective point-of-purchase displays:
• Displays should be field-tested for safety, to avoid sharp edges, weak construction or other defects. Displays should be reviewed, evaluated and revised on an ongoing basis.
• Don't begin display design until you have enough product samples to load your display and determine its effectiveness, strength and capacity, among other considerations.
• Create a display that is easy to set up. Many health clubs and spas do not employ the staff to apply special attention or time to point-of-purchase assembly. Test the assembly and clarify set-up instructions, if necessary.
• Your point-of-purchase display should transmit its sales message quickly and effectively with bold graphics and attractive design.
• Displayed products must be highly visible from many different angles and from great distances.
• Use light and motion to attract consumer attention.
• Displays reflect your business and brand image, so they should be attractive, user-friendly and (if it fits your budget) developed with the most sophisticated technology and product knowledge available.
• Customize your display with special features. In addition to those mentioned previously, consider a header to maximize brand awareness and a literature rack for add-on sales.
• Multifunctional displays offer greater usage. For example, you may wish to design point-of-purchase displays that can adapt to both the floor and the shelf, or one that fits into a large sports arena or a smaller wellness facility.
• Modular designs offer tremendous versatility, enabling your display to be stacked in many configurations and sizes to accommodate varying amounts of products and settings.
• Bigger is not always better. There are times when oversized displays are most effective, but an aesthetically pleasing design should attract club members and sports fans without being super-sized.
As for your point-of-purchase supplier, seek out a full-service company that will listen to all of your merchandising needs and challenges, and then create solutions to help you maximize profits. Choose a supplier who wants to work with you as a "business partner" for a long-term relationship, rather than the short-term gain. Ideally, this resource should provide comprehensive market research, field-testing, and prototype and model making, and have full manufacturing, warehousing and distributing capabilities. This will ensure that quality will be guaranteed through all phases of the operation, from production, assembly and decoration to packing and shipping. Time-tested expertise on the retail level wouldn't hurt, either.
Point-of-purchase displays are more than just shelves for goods. They can be used to build volume sales, target new audiences, reinforce your marketing message and support promotions and special events. Make sure that your point-of-purchase supplier not only offers design expertise, but also enthusiasm for and knowledge of the sports and wellness market. Only by mastering the ability to measure the sales logistics of each facility, and by knowing its particular opportunities and limitations, can a point-of-purchase supplier help select displays that will work for you.