Two baseball teams' escapades raise questions about long-distance travel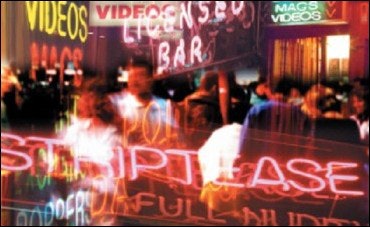 An annual Massapequa (N.Y.) High School varsity baseball tradition - spring training at Cocoa Beach, Fla.'s Cocoa Expo - led to tawdry national headlines last spring when 15 players received team and school suspensions after administrators learned they repeatedly visited a local strip club during their weeklong stay.
During the day, the Chiefs played baseball with teams from around the country for up to 12 hours straight; during the evening, however, at least one of Massapequa's 16 parent chaperones on the trip reportedly accompanied players to Sassy Merlot's 2, an adult-entertainment establishment. All but two of the players involved in the incidents were under the club's legal age limit. Head coach Bob Dell (who was in the midst of an age-discrimination suit against Massapequa Public Schools at the time) was suspended for the rest of the season and later fired, while longtime assistant coach Tom Sheedy also was suspended but was eventually pegged to replace Dell. All players were expected to be reinstated to the team by season's end.
At about the same time Massapequa officials were doling out punishments, Sahuaro High School in Tucson, Ariz., fired baseball coach Mark Tselentis for allegedly failing to supervise some of his players on an April tournament trip to Las Vegas. According to a statement from the school's principal, four of the student-athletes hired a stripper, and two volunteer assistant coaches consumed alcohol in front of players and drove them around while Tselentis gambled. Some players later vandalized property at the Motel 6 where they were staying, spat upon guests of the motel and eventually got kicked out. Tselentis, who filed an appeal, also lost his job as girls' volleyball coach but kept his teaching position at the school.
Neither of these stories generated as much stir as former University of Alabama head football coach Mike Price's night in a strip club last spring (which got the 57-year-old fired before coaching a single game for the Crimson Tide). After all, according to supporters of the suspended Massapequa players, going to strip clubs isn't exactly unheard of among teenage males. "Seventeen-year-old guys do it all the time," 16-year-old Massapequa student Desiree Nelson told The New York Times in the wake of that school's suspensions. "They're always at strip clubs. It's not like an abnormal thing."
Still, the incidents at Massapequa and Sahuaro should spark discussions about how athletic directors and coaches plan for and structure long-distance trips; what behavioral ideals players, coaches and parents are expected to live up to on those trips; and whether such trips are even necessary.
Clark Power, associate director of the University of Notre Dame's Mendelson Center for Sports, Character & Community, says student-athlete activities involving drugs, alcohol and sex occur a lot more frequently on the road than the headlines indicate. No surprise there. But that means schools whose athletic teams participate in competitions requiring an overnight stay might as well toss out their conventional student-athlete code of conduct. "Those things are generally not sufficient for trips like this," Power says. Instead, school officials are urged to create new conduct codes tailored to long-distance outings that address who and what the players represent to the world outside their school community.
"You need to sit down with players and go over situations that will be tempting," Power says. "Kids are away from home, they're away from parental supervision, and some of these trips are not chaperoned well. There is a lot of potential for kids to get into things they shouldn't on the road, and some parents and coaches may not see themselves in a guardian role. As a school, where should you draw the line?"
That line, regardless of where it's drawn, is a fuzzy one. "If I were a coach, I don't know if I would have anticipated a parent taking a group of kids to a strip club," Power admits. "But when you're together as a team - players and coaches - you must hold yourselves to a certain standard that may be higher than the standard to which a parent holds himself or herself."
In Dell's defense, all accounts indicate he wasn't aware of the Cocoa Beach escapades. Acquaintances say the hard-nosed coach would approach players after two hours of unsupervised free time (a directive from the district) and check their breath for alcohol and assess whether their eyes were glassy or dilated. That's apparently more than most coaches do.
"I don't know of any coach who has received formal rules about checking on players," Keith Francis, baseball coach at Canyon del Oro High School in Tucson told the Tucson Citizen after Tselentis' suspension. "The kids' behavior is covered by school policy, but in the specifics, the coaches' behavior isn't necessarily spelled out."
It should be, Power contends. "Coaches need to be aware of their influence over kids," he says, suggesting that coaches draw up a written contract for players and themselves prior to a trip. It should contain specific guidelines stipulating exactly what is expected of each participant. Coaches should institute a monitoring system that allows players the confidence to confront a teammate who may be looking for trouble, and encourage an open-door, no-questions-asked communication policy between players and coaches regarding the reporting of teammates' conduct. "Get some buy-in from the team on this," Power says. "Hold players to a higher standard than the rest of the student body. Then bring in the parents and have them sign off on the policy." (This is one of the topics to be discussed in a series of workshops planned around the country this fall as part of the Mendelson Center's new "Coaching for Character" initiative.)
Don't be afraid to bar a student-athlete from participation based on misbehavior, either. In some cases, Power advocates mandating that parents retrieve their son or daughter from the team's hotel - even if it adversely affects team performance.
For each of the past four seasons, 30 or 40 members of the Gloucester (Ontario) High School football team (along with four coaches) have played one game in the United States, living with the families of opposing players and competing in game-day environments unlike any they'll probably experience in Canada, which as a country places much less emphasis on high school athletics.
Gloucester athletic administrators adhere to the Carleton Board of Education's strict out-of-province policies for student-athletes, but coaches follow no formal code of conduct, says Geof Hamlin, Gloucester's athletic director and head football coach. Even so, they know what they should and shouldn't do, Hamlin maintains, and they meet with the opposing team's coaches prior to departure each season to ensure that all adults involved with a given trip are on the same page. "I think of coaches as being mentors," Hamlin says. "Therefore, we have to set the behavior guidelines for our kids."
The fact that Hamlin and his staff structure their journeys to include little free time is probably a key reason why no Gloucester football player has ever faced disciplinary action for inappropriate on-the-road behavior.
You don't have to convince Kelly Peagram on that point. Peagram serves as executive director of the Kaylee Scholarship Association (KSA), an Exton, Pa.-bas ed nonprofit company founded in 1991 to make it possible for a variety of high school sports teams from different parts of the country to compete against each other. (More than 25,000 student-athletes and their schools take advantage of the program every year.) "Our schedule makes it very difficult for a student, a coach or a parent to get out of line," Pea gram says, adding that an average of only two players are dismissed every year from KSA events, most of which are held at Disney's Wide World of Sports ™ complex in Orlando, Flab. "We control everything. There's no downtime. When you're dealing with students, keeping a detailed schedule of activities is important, because parents are nervous about their kids and school districts worry about liability issues."
Did the fact that Massage's district required two hours of unsupervised free time each night in Cocoa Beach contribute to the temporary unraveling of the school's baseball program? That's a tough call. More important, are road trips - which can be breeding grounds for inappropriate behavior - an integral part of the high school experience? The answer remains a resounding yes, as proponents claim team travel fulfills an academic mission by helping build team unity and foster individual character. "Our world is not a small place, and getting kids out of the realm of mom and dad and their hometown can help them become mature adults," Pea gram says.
Just don't wing it, Power warns. "If you don't pay attention to this area, we have found that there are other cultural forces - such as out-of-control parents and cheating - that are likely to get in the way," he says. "Don't make up the rules as you go, flying by the seat of your pants."