Rewards await agencies weighing consolidation - that is, once they've passed the roadblocks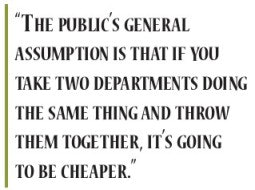 One word, two dictionaries, two very different interpretations. According to the Webster's New World Dictionary and Thesaurus, the word "merge" means "to lose or cause to lose identity by being absorbed or combined." Merriam-Webster's Collegiate Dictionary, meanwhile, carries a less troubling meaning: "to blend or come together without abrupt change." No doubt, it's the latter definition that's preferred by parks and recreation departments contemplating consolidation proposals, such as the July move that merged the independent Barstow (Calif.) Park and Recreation District with Barstow's city government.
"Everything remains the same," insists director Mary Ann Serafin, who will continue to head the city-operated parks and recreation department. "But the city has access to so many resources, such as grants. That's going to be a big help to us."
Or so she hopes. Despite whatever rewards the arrangement may provide in the future, the Barstow City Council's decision to assume control of the park district was still a controversial one. The city ended the 2003 fiscal year with a $300,000 budget deficit and some have called the park district a potential "headache" that will further strain the government's coffers.
Serafin disagrees, pointing out her department's self-sufficiency and resilience. Since the park district's budget was slashed in 1997 by nearly 50 percent - from an all-time high of $1.1 million to $569,000 - it has managed to continue operations with one-third of its former staff and add several new programs, including gymnastics and paintball. "We came back and we've made it work," says Serafin, who in part credits the city council for supporting the district during its tough times, and now, for ensuring its future success. "There are people with some insight and positive thinking who said, 'The parks are part of the city, anyway, so we need to take a stand and help them out as much as we can.' They feel we've done the right thing in merging. I hope we've done the right thing."
Serafin's reservations - if that's what they are - are probably justified. Mergers between park districts and municipal governments, as well as alliances between separate recreation entities, often present challenges ranging from the obvious - budgetary and programmatic issues, for example - to the more obscure.
"One thing that is often overlooked but is a factor to consider is what to do with employees' annual sick leave and comp time. You can't just eliminate somebody's annual leave; it's a contractual arrangement between employee and employer," says Rogers Brazier, director of Topeka (Kan.) Parks and Recreation, one of two entities being proposed for consolidation by Shawnee County commissioners (the other is the county's parks and recreation department). "There are some other factors - vehicle maintenance, for example. We have approximately 100 vehicles that are now taken care of by a city agency. The county would have to gear up to handle that. We're a big department in the summer with 650 to 700 employees, including our seasonal and temporary employees. You take a large agency like that and place it under county government, and you introduce an ongoing cost for attorneys - and somebody at human resources and somebody in the purchasing department. All the service agencies that we currently keep busy at the city level would be hit with a large workload once we came into the county."
Which is why Brazier isn't so easily convinced that department consolidations advertised as bringing about financial savings to government as well as taxpayers are always what they seem. "The public's general assumption is that if you take two departments doing the same thing and throw them together, you can eliminate a lot of jobs and it's going to be cheaper," he says. "But you're going to have the same total number of acres to mow, you're going to have the same number of pools that you'll have to hire lifeguards for, you're going to have the same number of community centers. About the only position I can see within the two departments that could be eliminated would be the director's position. You don't need two directors."
Certainly, most any department head would want to protect his or her own job, as well as those of his or her employees. After his department was created two years ago, Roderick Simmons, director of Sampson County (N.C.) Parks and Recreation, went a step further and took great pains to ensure the continued employment of not only his county employees but also all staff members within the city of Clinton Recreation & Parks Department, which last March embarked on a yearlong trial merger with the county. "We were understaffed last year because I knew there might be a chance in this budget year that we could merge with Clinton and I didn't want anybody to be displaced," says Simmons, who oversees a department divided into five districts, with the central district reserved for Clinton - when and if the official merger takes place.
While six of the county's seven municipalities signed agreements for their residents to be serviced by Sampson County Parks and Recreation, Clinton government officials have exercised a bit more caution. Six months after the completion of the trial, during which the city and county recreation departments shared programs, a merger deal had yet to be inked. "I structured it so that if we decided to merge at any point, the city employees would fit right into our park system. That staff would still be doing the same job it's doing now, it would just be under one system," says Simmons of the Clinton rec department, which serves a population of 8,000. "Out of 60,000 residents, 45,000 don't live within a municipality, so we wind up serving a lot of those citizens. And a lot of the towns weren't able to maintain the facilities they had. They just didn't have the expertise. By having a countywide system, we take the burden off the town clerks."
It also centralizes scheduling of recreational sports leagues, a change that Simmons admits has prompted resistance from some county residents. "It's stuff that you're going to have problems with whether you have one department or two," he says. "You're always going to have someone who doesn't want to play on Thursday nights. But when you move to a larger system, it affects those little things that you were dealing with on a one-on-one basis. You can't say, 'Well, Mary Lou's going out of town this weekend. We have to reschedule.' When the city of Clinton was scheduling for three teams, sure, you could do that. But you can't do that when you're scheduling for 55 teams. The issue is getting the citizens to understand that we're on a larger scale now."
Despite those hurdles, Simmons sees the consolidation of recreation in Sampson County as being more positive than negative. "The county residents weren't being served. There were no programs for seniors, nothing for special populations. It was basically baseball for 9- and 10-yearold kids. Baseball is just one part of recreation. It may be 90 percent of what we do, but there are a lot of other things that the county just wasn't receiving," he says. "No one was looking at the overall recreation picture. If you don't have such a department, you don't have anyone spearheading the construction of picnic areas, shelters and walking trails. We're all in the same community. We have to develop what's best for our community overall."