Municipal golf course operators strategize amid an industry-wide slump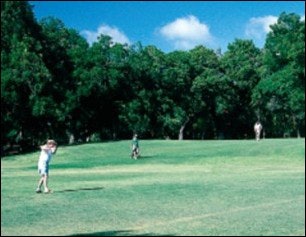 According to figures recently published by the National Golf Foundation, the golf industry is in the rough. Last year, 3 percent fewer rounds of golf were played than in 2001, marking the third consecutive year of decline. Meanwhile, there was a 2 percent increase in the number of courses. Against the backdrop of a sagging national economy, these statistics have some golf industry experts throwing around the terms "overcrowded market" and "slump."
Greg Gardner, director of golf at Sebastian (Fla.) Municipal Golf Course, is hesitant to either agree or disagree with this assessment. "Yes and no," says Gardner, when asked if his business has been negatively impacted. "I mean, we've been busy. Golf hit the top of its curve in 1997, '98, and on a national average, it has since tapered off. We saw our numbers drop a bit, but at the same time, we haven't slowed down that much."
Still, Gardner won't take anything for granted. In central Florida's Treasure Coast, a four-county region boasting year-round warm weather, Sebastian is just one of 30 public and private courses within a 15-mile radius. To keep his regular clientele happy while attracting new customers, Gardner isn't afraid to periodically incorporate into his business strategy a new idea or two. One of Sebastian's most recent special offers provides golfers a free 10-minute lesson with the purchase of one round of golf. "We've got a lot of coupons floating around," says Gardner. "We really try to go above and beyond the call of duty. We'll do whatever it takes."
But Gardner also doesn't mind sticking with methods that have proven successful time and again. Adhering to high standards of customer service and maintenance, as simple as it sounds, has helped set Sebastian apart from its competitors. "Sure, there are negative stereotypes typical of recreation facilities with a government attachment. But we try to keep things spic-and-span The shape of the golf course really helps to get rid of that stereotype," he says, adding that Sebastian closed the entire summer of 2001 for a $1 million renovation. "You'd be surprised. We get members from some of the private clubs around here. Every once in a while, they like to go off-campus."
Besides having to combat the perception of being second-rate compared to private facilities, municipal golf courses also have to balance the dual roles of public recreation benefit and profitable venture. Many municipal courses fall under the jurisdiction of parks and recreation departments, but are operated as self-supporting enterprises. In Lansing, Mich., for example, any revenue generated by the city's four golf courses stays separate from funds designated for parks and recreation and goes directly into the general fund. "Being a municipal entity, our goal has always been to provide golf to our residents at the lowest cost possible, and to not be a drag on the city's general fund," says Don Ballard, Lansing's director of golf.
Lansing's three least-expensive courses are nine-hole facilities that cater primarily to novice players. "If you're a beginning golfer, you're not going to want to plunk down $25 every time you want to play," says Ballard. "If you pay $8, you'll be more likely to come back again."
Forty percent of the city's golf revenue, however, is generated by the 18-hole Groesbeck Golf Course, Lansing's flagship facility. Says Ballard, "People looking for a course comparable in price, difficulty and length to a private course will find that Groesbeck competes with the best of them." And with this year's hiring of an outside concessionaire, Groesbeck now has the ability to accommodate group outings, each of which can pull in hundreds or even thousands of dollars. "Obviously, when groups book outings, they're looking for full services," says Ballard.
Similar reasoning recently led San Antonio Parks & Recreation to turn over concessions operations at its six golf courses and one driving range to a private group led by legendary Spur George "Iceman" Gervin. In August, KGK 44 Interests assumed the food-and-beverage contract from the previous concessionaire, which had fallen into default on its payments to the city. The first order of business for Gervin's group was to renovate and re-brand the clubhouse at Willow Springs Golf Course - located across the street from the Spurs' new SBC Center - into a sports bar/restaurant called Iceman's Pub. Besides serving course patrons during the day, the clubhouse is also open at night to accommodate Spurs' game attendees. "They've come in with a lot of energy and initiative," says San Antonio Parks & Recreation assistant director Ron Smudy of KGK 44's partners. "The menu has been enhanced, but still accommodates someone who says, 'I have a 7:15 tee time. I need a breakfast burrito and a coffee.' "
Another goal of the renovations at Willow Springs and San Antonio's other golf courses is to provide more opportunities for youth golfers. Smudy says that Gervin, an avid golfer who has been deeply involved in San Antonio community service since his retirement from professional basketball in 1990, has already expressed interest in using the city courses to host tournaments that would expose more kids, especially inner-city youths, to the game of golf. "He definitely feels there's a need in the community," says Smudy.
Some municipal course operators are learning that by serving the junior golfer market, they're not only providing youths a positive recreational outlet, they're also tapping into a doubly lucrative demographic. "The kids bring mom and dad out here, and maybe they'll pick up the game again and decide to get involved because their son or daughter likes it," says Sebastian's Gardner.
Lansing youths have available to them a scholarship that allows them to play any of the city's four courses for only 50 cents a round. "They're our next generation of golfers," says Ballard, adding that one of the city's nine-hole courses is being converted into a training center that beginning next year will house a chapter of the PGA's The First Tee youth development program. "We have no such facilities within Lansing city limits. We've never had the opportunity to develop our clientele. It's not always the case, but usually people like to play where they've learned the game. Hopefully, our theory of making the game more accessible proves correct."
And because Lansing's new golf training facility is poised to draw a host of newcomers (and their dollars) to the game, Ballard sees no reason why his operation, or others like it across the country, shouldn't reinvent itself from time to time. "There's a little downturn in the economy, golf play is down a little bit, and everyone is in a panic," he says. "Let's not sell our golf courses to the developers. My personal take is that it's only been a couple of years. Let's just wait and see what happens."