Facing a shortage of female athletes, Minneapolis schools get serious about growing them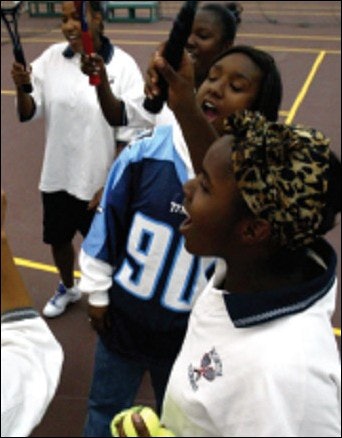 The good news out of Indianapolis, home of the National Federation of State High School Associations, is that nearly 50,000 more girls played interscholastic sports in 200203 than the previous school year. The bad news out of Minneapolis, home of Minnesota's lowest dollar-per-pupil ratio, is that many girls' athletics programs in that city are teetering on the edge of extinction - thanks to both player and budget shortages.
And that's got John Washington, athletic director for Minneapolis Public Schools, concerned. He cites a combination of factors contributing to low participation numbers in such girls' sports as tennis, cross country and golf - all perennially popular activities on the national level - including limited middle school feeder programs and a lack of funding to field competitive squads. Even hockey, in a state that became the first to officially sponsor the sport for high school girls 10 years ago, is in dire straits in the city. The seven public high schools in Minneapolis co-op with each other to field just one varsity girls' hockey team.
"This has been a problem now for several years," Washington says. "We really don't have a lot of youth programs to acclimate girls to various sports. And if they haven't played a sport by the time they reach the ninth grade, they probably won't ever play it. Plus, for the sports we do have, the price of uniforms and transportation keeps going up, and our budget stays the same."
While participation among girls remains high in sports like basketball, some schools with less-affluent student bodies have dropped (at least temporarily) such activities as girls' tennis and swimming. "Eighty percent of our 1,250 students receive free or reduced-cost lunches. We get kids who show an interest in playing a sport, but not enough interest to pay $60 to participate in that sport," says Matt Johnson, athletic director for Minneapolis North High School, referring to the district's per-sport fees. "That's a lot of money if you're playing a sport you're not very good at. It's a tough sell."
Many girls aren't buying. Girls' participation in the district has climbed by only 73 individuals, from 1,651 in 1997 to 1,724 in 2002, after hitting a low of 1,448 in 2000. But by partnering with public organizations to improve local youth sports and middle school athletic programs, Minneapolis Public Schools just may be creating a blueprint for how to generate growth in girls' high school athletic programs all over the country.
Witness the three-way partnership between the district, the Minneapolis Park & Recreation Board and the Minneapolis Youth Coordinating Board, a nonprofit organization created in the early 1990s to provide various means of support to the city's children. Out of these three entities spun the Minneapolis Youth Sports Organization, which last year launched a liaison program aimed at kids who are left out of middle school athletics.
The liaisons - typically college undergraduates majoring in physical education or recreation management programs, recruited by the Park & Recreation Board and paid about $160 a week by the Youth Coordinating Board - are assigned different territories within the city, attend team tryouts and encourage female students who don't make a certain team to participate in one of the city's recreation leagues instead. (The next phase of the liaison program will target boys' sports.)
"We wanted to make sure that the kids who were cut had someplace to go," says McKinley Boston, a consultant for the Youth Coordinating Board and the Youth Sports Organization, as well as a former University of Minnesota athletic director. "The park department was doing a pretty good job of teaching kids the fundamentals of sport up through the fifth grade, and then the numbers dropped significantly. The liaisons are key, in the sense that they really are the community recruiters."
The liaison strategy, implemented last fall, seems to be working. Thanks to nine liaisons, the number of city-sponsored recreation volleyball teams for girls jumped from 21 to 49, Boston says. The Youth Sports Organization also contributed $22,000 to the school district to create new volleyball teams at five of Minneapolis' seven middle schools.
"It has increased our participation at neighborhood centers and gotten more girls involved," says Norman Merrifield, assistant superintendent for the Minneapolis Park & Recreation Board's recreation and park police. "We are not a substitute for middle school athletics, but we have a range of activities that can fill some voids. In some cases, we are starting from scratch with young ladies who are not familiar with a sport. At least now they will have a background in some sports. It's the exposure that's critical."
"We're hoping the greater participation at the middle school and recreation levels will carry over to the high school level," Boston says, adding that the Youth Sports Organization will eventually become its own nonprofit entity, separate from the Youth Coordinating Board. "The intergovernmental agencies were always in place. We just needed to create some synergy."
While the efforts of the Minneapolis Youth Sports Organization are strengthening city high schools' feeder systems, coaches and administrators at the high schools are also showing initiative.
Washburn High School invites eighth graders to sign up for sports the spring prior to their freshman year, and officials at Roosevelt High School host a female sports luncheon.
North High has made some of the greatest strides, though, with Johnson's edict that all or most coaches be adults who also work in the school building. Seven years ago, when Johnson arrived, the majority of coaches originated from other buildings in the district - or even from other districts. "This is the only way we're going to build these programs," says Johnson. Rather than bring in a softball coach from the outside in 2002, Johnson coached the team himself, which barely had enough players to fill out the lineup. He also usually gave all players a ride home after practice because the district dropped post-practice bus transportation two years ago.
As an example of how coaches inside the building can positively affect sports programs, Johnson cites a new girl's golf team that debuted last spring with the second-largest roster in the city. A popular teacher was able to get kids excited about playing the sport, and demonstrated his belief in the rookie golfers by soliciting donations for golf clubs and an end-of-the-season banquet to celebrate. One girl even wound up placing in the city tournament.
Another North success story is the girls' tennis team, which forfeited the 2002 season because only two students showed an interest in playing. But last fall, the team boasted several basketball players, thanks to tennis coach Julie Anderson, who recruited them by explaining that tennis will improve the girls' hand-eye coordination. "Most of our better athletes usually want to be single-sport athletes, but we're trying to encourage them to take up other sports," Johnson says. "As a result, we're building some high school varsity programs with kids who've never played those sports before. For example, we lost every softball game, but by the end of the season, the girls were fairly competitive."
A new softball coach (who is also a teacher at North) is actively recruiting players from within the school's other athletic programs, and Johnson has renewed hope in all of the girl's sports teams at North. "The hardest part is finding new ideas," Washington says about boosting sports participation among females. "Now North has something to build on."