A massive Title IX lawsuit targets sports scheduling in Michigan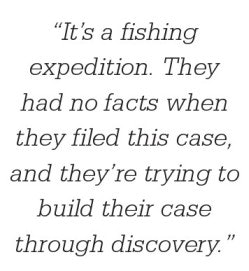 This won't be the year that Kristen Galles and John Roberts start exchanging Christmas gifts, for they and their respective organizations (Equity Legal and the Michigan High School Athletic Association) are locked in a bitter dispute that could significantly alter the way sports programs are conducted in the state of Michigan and elsewhere. Ever since last June - when Galles' clients, Communities for Equity, filed a massive lawsuit against the MHSAA charging it with discrimination - acrimony and name-calling have supplanted reasoned debate in communities and newspapers across the state.
The lawsuit is extremely wide-ranging; it claims that MHSAA assigns girls' teams to inferior athletic facilities for its state tournaments, has established shorter seasons for some girls' sports than corresponding boys' programs and provides girls' athletic programs with less promotion and administrative support. But the crux of the suit is Michigan's scheduling of many girls' sports during nontraditional seasons, which the complainants say reduces girls' opportunities to receive athletic scholarships.
If this suit seems among the more contentious in recent years, that's because it pits two of the country's most stubborn litigators against each other. Galles is one of the people responsible for creating some of the nation's first legal precedents in the realm of high school equity; she won a significant victory as co-counsel in a Nebraska case several years ago that led to the establishment of a state-sanctioned girls' fast-pitch softball program (see "Striking Back," July 1995, p. 26), and is currently lead counsel for the plaintiffs in a similar seasons-scheduling dispute in Virginia (see "You're Next," July 1998, p. 26). MHSAA, meanwhile, is without question the most aggressive among all the state activity associations in defending its stewardship of statewide interscholastic competition; the association takes a great deal of pride in its current 12-year courtroom winning streak against citizens and schools challenging its age-limitation, transfer and forfeiture rules.
That's not to say MHSAA is looking forward to yet another challenge to its authority. Roberts doesn't believe there should be a trial at all and, if there must be one, believes it shouldn't cover as many aspects of the MHSAA program as the plaintiffs are requesting through the discovery process. "The plaintiffs have made 2,224 demands for documents ranging in size from a couple of pages to hundreds of pages," says Roberts tartly. "It's a fishing expedition. They had no facts when they filed this case, and they're trying to build their case through discovery. I'll try not to let it paralyze our ability to get things done."
Galles isn't one to mince words, either. "To me, it's been blatant discrimination and intimidation in Michigan for 26 years," she says. "They've threatened to sue the Office for Civil Rights - they've threatened to sue anybody who wants to go up against them."
The MHSAA did sue the OCR after being slapped with an OCR violation back in 1982, and the association emerged with a determination from the OCR's Region V office that since the MHSAA did not receive federal financial assistance, it was not subject to Title IX. The MHSAA holds to this day that that determination is still valid, but the Title IX landscape has changed quite a bit since then. While there is some question about whether the courts view state activity associations as having any similarities to the NCAA, both sides will be on the lookout for the U.S. Supreme Court's decision in the NCAA's appeal of Smith v. NCAA, in which the NCAA was found to be subject to Title IX since its dues-paying members receive federal funding. (The court heard oral arguments on Jan. 20.) Roberts insists, though, that neither the Smith case - nor the Sixth Circuit case, Horner v. Kentucky High School Athletic Association, that apparently influenced the Third Circuit's decision in Smith - is applicable since the MHSAA does not collect dues from its members.
The MHSAA has also taken the position that since the complainants are parents, they cannot claim to have been harmed by the nontraditional scheduling of seasons - and, Galles says, that the children can't sue because they're minors - but neither motion persuaded the judge.
"The MHSAA has thrown out a lot of silly arguments," Galles says, "but what this really boils down to at trial is, Are these kids being harmed?"
Communities for Equity says unequivocally, "Yes," for a variety of reasons:
• The NCAA's National Letter of Intent Day occurs in November, after most girls' volleyball seasons are finished but before Michigan's has started. Michigan's girls' basketball season, on the other hand, is played in the fall, when recruiters are forbidden to attend games for much of the time because of two NCAA blackout periods, the second of which occurred during the state tournament last fall. "We've got college basketball and volleyball coaches lined up from across the country who say, 'We do not recruit in Michigan,' " Galles says.
• Because the girls' basketball season takes place in the fall, it is a full month shorter than the boys' winter season. Girls are harmed in two ways, say the plaintiffs - they get one month less coaching and are also potentially harmed during recruiting, when questions can be raised about their stamina during the longer college season.
• Since MHSAA rules stipulate that athletes can't participate in "in-season" tournaments, Michigan girls can't participate in national AAU basketball tournaments that are held in the fall.
• Basketball is the biggest girls' sport, but Michigan girls' teams playing in the fall are forced to compete with the biggest boys' sport there is - football. Because of this, the plaintiffs claim, the girls get inferior playing dates, smaller crowds and unequal promotional treatment.
The MHSAA is keeping silent on these charges for now, but Roberts points out that the association surveyed its membership a year ago in response to a request by a group of Kent County superintendents who were interested in exploring the possibility of switching girls' volleyball to the fall. Nearly 83 percent of ADs were averse to realignment of high school seasons to coincide with college seasons, including 15 of 20 in Kent County. Says Roberts, "The change would require a lot of sports to change - girls' soccer from spring to fall, boys' golf from fall to spring, girls' tennis from fall to spring, girls' swimming and diving from fall to winter, girls' basketball from fall to winter and girls' volleyball from winter to fall. That's just not popular in Michigan."
Galles scoffs at this. "You can't vote civil rights," she says. "We've pulled up all these segregated-schools cases from the '60s in which black schools wanted to be part of all-white athletic associations, but white association members voted to keep them out. That's essentially what the MHSAA is doing - they're having older, primarily male ADs voting about what should happen to 16-year-old girls."
"Let's just look at what the schools think it does for them to keep things as they are," counters Roberts. "Who suffers, who benefits from the way we do things now? The schools overwhelmingly believe the schools, the kids, the coaches and the officials benefit. And they get angry when someone outside of their group thinks they know better than they do how to maximize opportunity."
And so it goes in Michigan. Critics of the lawsuit are many and vocal, and include several local sports columnists who have played up the "insider vs. outsider" angle. This is old hat for Galles, who four years ago was portrayed as a Washington, D.C.-area attorney come to tell Nebraskans how to run their sports programs. Galles happily recalls the end result (70-odd new girls' softball teams), but notes that the plaintiff, Naomi Fritson, who sued on behalf of her daughter, was "ridiculed, harassed and tormented" for years, while her daughter graduated before any reforms took place.
"It's sort of a sad thing," she says. "These are not people suing for eight years of lost wages and punitive damages. These are people who are saying, 'Change the system,' and their kids are getting no benefit from it. They have no ulterior motives, no matter what people say."