Voters in rural Oklahoma decide whether a Division II school can renovate facilities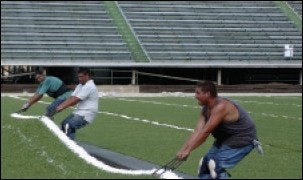 Athletic departments that function completely without taxpayer support go out of their way to make that fact known, particularly during fund-raising campaigns.
But on the Tahlequah, Okla., campus of Northeastern State University, controversy surrounding a citywide sales tax proposed three years ago to fund renovations to the school's football facilities actually enhanced support for the project, and even drew the interest of untapped private donors. On July 21, a ribbon-cutting ceremony marked the opening of a newly resurfaced track. Within weeks, synthetic turf had replaced the school's natural-grass football field. A new indoor practice facility is this month being readied for regular use by a number of NSU teams. Other current and forthcoming improvements to the stadium include a new video scoreboard and upgraded visitor locker rooms and spectator seating.
It has been an unusual chain of events, prompted by public concern over the physical state of 35-year-old Gable Field. By 2001, NSU was five years removed from its jump from the NAIA to the NCAA's Division II, and it was becoming increasingly clear that the school's athletic facilities didn't match the new level of competition. Moreover, Tahlequah High School played its home football games at Gable, further degrading playing conditions, and often forcing high school games to be played on Thursday night so the field could be repaired in time for a Saturday NSU game.
Granted, public money earmarked for joint-use facilities is nothing out of the ordinary. The City of Aberdeen, S.D., for example, announced in August that beginning in 2005 it will pay $1.2 million over 10 years toward the financing of a $3 million football facility that will serve both Northern State University and the Aberdeen School District. The money will come out of the city's capital improvements budget, which is supported by a sales tax. According to the Aberdeen American News, city commissioners hailed their decision to include the facility in the 2005 budget. "Athletics is one of the top sources for growth and sales tax revenue," commissioner Todd Forkel told reporter Mike Corpos. "This is an opportunity to do something special between all the entities involved." Added commissioner Jacki Omland, who teaches at Northern, "It'll be a great asset to Aberdeen. It would be nice to spend as much on academics, but you have to look at what brings in money, and that's athletics."
What sets the Tahlequah situation apart from those in Aberdeen and other college towns is that such decision-making power was given to the people. A group of individuals concerned with the state of NSU's facilities approached the mayor's office, which in turn consulted the state attorney general, who advised there was nothing illegal about allowing taxpayers to decide whether to pitch in toward renovations that would benefit the community. In September 2001, some 2,100 Tahlequah residents - more than had voted in the previous mayoral election - went to the polls. A half-cent tax, to be collected until $2 million of the project's requisite $3.5 million was raised, passed - by 11 votes.
Despite the slim margin, opponents of the tax didn't call for a recount. Instead they filed a lawsuit claiming (accurately) that the pending vote had not been posted in the local newspaper's legal notices. A court battle dragged on for the next year and a half, even as the new tax revenues were collected, just as they had been since January 2002. "It was such a large turnout, we contended that even though the city failed to do this that it wasn't a secret vote, it wasn't held under the cover of darkness," says NSU president Larry Williams.
The State Court of Civil Appeals eventually ruled the referendum invalid, leaving the NSU project and a pile of money in limbo. "We could have won by 96 percent, but the fact remains the city failed to put in that legal notice," Williams says. "To clear all the issues up, we just felt like it was best to go back to square one, start over, file the legal notice and hold the election again."
Turnout was even stronger the second time voters weighed in, on March 9 of this year, with 72 percent in favor of turning the tax money over to NSU. The unintended result of the initial legal challenges was to galvanize support for the renovations. "You don't want to deal with problems like that," Williams says. "But to be honest, it was good for us."
And good for the 15,000 residents of Tahlequah. The all-weather synthetic track, which surrounds a natural-grass practice field, is open to public use. (In fact, NSU dropped varsity track when it joined Division II.) The synthetic-turf game field allows Tahlequah High School to play all of its home games on Friday nights, and even host regional high school band competitions. "It's good for the city of Tahlequah, because now our football stadium will become an economic center, where we can host more than just football games and athletic events. This venue can now host concerts and other activities," says associate athletic director Scott Pettus. "It can generate revenue for the city."
The addition to the NSU campus of a privately funded indoor practice facility - which, along with those on the Division I-A campuses of Oklahoma and Oklahoma State, represents only the third such facility in the state - has exceeded Williams' wildest dreams. According to Pettus, it also represents the strongest selling point for a school struggling to recruit in its region. The 22,000-square-foot, air-supported structure houses a synthetic-turf practice field, a 30-by-100-foot weight room and a team meeting room open to all sports.
Clearly, the overwhelming commitment of Tahlequah taxpayers to the stadium renovations caught the attention of other individuals with university ties, and major contributions to the indoor practice facility have even come from out of state. Says Williams, "Since the successful passage of the stadium tax, we've had donors step up and say, 'If the community is willing to do this… .' "
Williams has also heard from peer institutions about NSU's referendum experience, and "I would suspect that it's something other schools will start trying to do," he says. (Pettus reports that at least one other state institution - Southeastern Oklahoma State University - has carefully monitored the NSU case.) According to Paul Anderson, associate director of the National Sports Law Institute at Marquette University, the practice of putting proposed athletic facilities projects before voters may catch on. "If it should become a trend, I think it's a good one, because at least it's about asking. Usually, no one bothers to ask," Anderson says.
Will Williams ask again? A new basketball facility might befit the NSU men's basketball team, which won the Division II national championship in 2003, as well as beckon high school tournaments to Tahlequah. Could taxpayers' votes be counted on to help deliver the goods a second time? "The truth of the matter is, there has been some discussion about whether or not that ought to be considered in terms of building a new arena, or a combination arena and convocation hall," Williams says. "But I'm not about to get on the agenda for the city council, go down there and start talking about the next sales tax - not at this stage. We want to get this project done first and make sure we've pleased the public and the people who have been in partnership with us."