A Wichita health club asks for and gets public financial aid, but not without controversy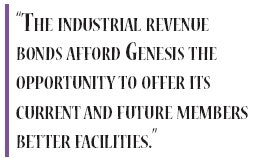 Earlier this year, officials with Genesis Health Clubs, which operates four fitness facilities in Wichita, Kan., began making big plans for the future. In 10 years' time, the company hoped to open up two more facilities and renovate a third - projects that promised to invest more than $9 million into the local construction industry. The expansion would require the hiring of 100 new full-time workers at salaries averaging more than $30,000 per year, the company says.
Well aware that big dreams cost big money, Genesis officials turned to an unusual source for help. In June, the club applied to the city of Wichita for a 10-year, 100 percent property tax abatement and $11.85 million in industrial revenue bonds (IRBs) - low-interest financing offered through the city government, usually to manufacturing or warehousing companies, with the goal of stimulating the local economy. In their application, Genesis officials cited a local obesity crisis and unfair competition with the tax-exempt Greater Wichita YMCA as the two main reasons why the club deserved financial assistance.
On July 13, Genesis got the help it sought - most of it, anyway. The Wichita City Council voted five to one to approve the club's IRB application and gave it a 50 percent property tax abatement, exempting it from paying $1.73 million in taxes through 2014. With this vote, Genesis became the first privately owned health club to receive IRBs since the funding mechanism was first offered by the city of Wichita 10 years ago. (More than 130 projects have been financed through IRBs since 1994.)
Financially speaking, the council's favorable vote is a major coup for Genesis, considering how rare it is for municipal governments to give any sort of financial aid to private, for-profit fitness facilities. "The IRBs afford Genesis the opportunity to offer its current and future members better facilities while keeping its expenses - and, thus, member and non-member costs - as low as possible," says the club's co-owner, Rodney Steven II. "The IRBs also, at least in small measure, allow Genesis to operate on the same playing field with the YMCA, which pays no taxes and has a financial competitive advantage compared to a taxpaying, private business such as ours."
The only problem is that not everyone in the Wichita community sees the Y as holding a competitive advantage over other area fitness businesses. "The YMCA should not be used to justify the Genesis tax break unless Genesis is willing to provide the same community services," wrote one resident in a letter appearing in the July 17 edition of The Wichita Eagle. "Talk about comparing apples and oranges."
Dennis Schoenebeck, general executive of the Greater Wichita YMCA, agrees. In fact, he scoffs at the suggestion that the nonprofit, 75,000-member Y competes in any way with Genesis, which has approximately 30,000 members. "I feel we earn our tax exemption every day. Regarding the question of fair or unfair competition, saying it's unfair implies that Genesis is doing the same things we are," he says. "We have 20,000 kids in youth sports, 20,000 kids on scholarship, 1,300 kids in swim lessons, 6,000 kids in free after-school day care. If Genesis is doing these kinds of things, then it ought to become a 501(c)3."
Meanwhile, some Wichitans took Genesis and the Wichita City Council to task because they felt the health club, as a service business, didn't deserve to receive IRBs. (Under Wichita's policy, 10 types of businesses are eligible for IRB financing, including service businesses.) Other residents, fearful their tax dollars were being handed over to a private "social club," were skeptical they would personally benefit as a result of the club's expansion. "I guarantee people in Wichita won't be any less obese after the new Genesis clubs open," read a letter printed in The Eagle's July 19 edition. "Get real, people." Wrote another resident on July 18, "To the mayor and City Council members who OK'd that tax break for the health club: You're fired."
Such responses have been typical of the constituency, according to Councilmember Phil Lambke - the lone dissenter in the council's July 13 vote, on the grounds of his opposition to municipal tax breaks for private businesses of any kind. "I've had a lot of calls and e-mails," he says. "Only one out of four or five dozen people spoke favorably about it."
Steven wonders if the councilman is talking to the right people. "The reaction has been quite positive from the members of Genesis and the general public with whom I have spoken," he says. "That is, once they have a complete understanding that a) IRBs are a financing tool, with no governmental guarantees or financial consequences for its success or failure, b) that Genesis privately pays for its IRB financing and not a penny of taxpayer dollars or government revenue is used, and c) that net tax revenue to the city, state and school districts will actually increase, not decrease."
The figures Steven alludes to come from an economic benefit analysis conducted by Wichita State University's Center for Economic Development and Business Research. (Kansas state law requires that all requests for tax abatements be accompanied by an independent cost-benefit analysis. In Wichita, such analyses are carried out by WSU researchers.)
As part of its analysis, WSU considered major benefits such as income, sales and personal property taxes paid by Genesis and its employees, as well as any spinoff benefits as their dollars move through the economy. Significant costs included the loss of the property taxes and the cost of providing government services to new residents hired by the club. Having made such considerations, the research center concluded that over a 10-year period, the decision to approve Genesis' tax abatements would have a net economic benefit to the city of about $430,000. Sedgwick County, where Wichita is located, will get $1 million and the state of Kansas will receive $5.5 million - much of that figure coming from new employee income taxes. "A fact that is frequently overlooked is the economic importance to our community of having quality health/fitness clubs as we compete for employers who are looking at our market among other regional and national options," says Steven.
But in a metropolitan area in which 270,000 individuals are reportedly obese or overweight, Steven believes the health benefits of Genesis' expansion - expected to bring in between 4,000 and 8,000 new members - will be just as important as the boost to the local economy. "A health and fitness club that offers health and fitness benefits to the community helps fight obesity, keeps health-care costs down and increases the quality of life and productivity of the local community," he says. "These things are at least of equal, if not greater value, to a broader range of citizens than a distribution warehouse that gets an IRB and stores and ships widgets and provides minimal employment."
Steven flatly denies allegations that Genesis is an exclusive social club for adults, pointing to partnerships with a local hospital to offer a comprehensive anti-obesity campaign and with a nonprofit foundation serving Wichita's underprivileged youth to host a junior tennis academy. "For one week, students were exposed to the fun and fitness benefits of this lifelong sport. We served between 800 and 1,000 kids during this session," says Steven, who lists Tae Kwon Do, group fitness classes, basketball and volleyball camps, year-round swimming lessons and a summertime swim team as his club's other youth offerings.
"Paramount to Genesis' thinking is addressing the question: 'How does the business community promote and enhance exercise, fitness and wellness at the lowest possible cost to the community with the highest range, quality and diversity of offerings?' " adds Steven, whose club's annual memberships start at $540 for individuals and $912 for families. "Genesis, the YMCA, gymnastics schools, women-only health clubs, public parks and others are all part of that greater and more diverse vision."
Steven may have effectively silenced the first wave of Genesis critics, but he must now prepare himself for another round of questions, these regarding the validity of the WSU cost-benefit analysis. The software program used to conduct the analysis - originally designed to measure the economic impact of hard-hat industries, not service businesses like Genesis - is outdated by most standards. Allen Bell, Wichita's economic development director, estimates the software's age at anywhere from 10 to 15 years. "The impact of the expansion of service businesses on the local economy wasn't exactly what the Kansas Legislature had in mind when it mandated that local governments use a cost-benefit model," he says. "But it appropriated this cost-benefit software to cities and counties at no cost, and that's what we've used."
But in Genesis' case, the current software failed to take into consideration the economic impact of a sales tax exemption for all equipment purchased by the club with the IRBs. (Property purchased with IRB financing belongs to the local government until the bonds are paid back, meaning that construction materials, furnishings and equipment purchases, including fitness equipment, are not subject to sales taxes.) The sales tax exemption is estimated to be worth about $375,000.
Now officials with Sedgwick County and the city of Wichita are contemplating a proposal to replace their current software program with a formula-driven incentive matrix that would consider not just how many jobs a project might create, but how much those jobs would pay, how much the applicant company would invest in the local economy and whether the applicant is in an industry local officials have targeted for expansion. "We're looking at more sophisticated software, not just because of Genesis, but because ours hasn't been updated in five years," says Bell. "It's obsolete."
"The WSU study model may need to be fine-tuned to better analyze service businesses, in particular," Steven admits. Nevertheless, he is hopeful that in the future, a new cost-benefit model will aid other local service businesses, including health clubs, that desire to follow in Genesis' footsteps.
Apparently, the future is now. Just one day after the Wichita City Council announced its approval of financial incentives for Genesis, one of the club's chief competitors, Fitness 2000, submitted an application for IRB financing. As of this writing, Fitness 2000's application was pending. "The city council exercised vision and leadership by authorizing the use of IRBs to help fight obesity," says Steven. "Genesis welcomes and supports the efforts of others to do the same."