"Scholar Baller" logos on ASU football jerseys, which honor B students, may start a trend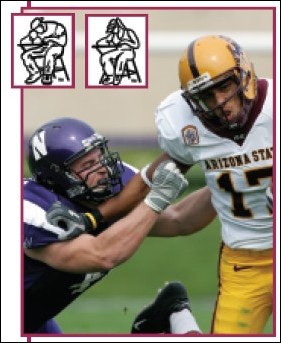 I wish I was little bit taller y'all; I wish I was a baller." So goes the refrain to the 1995 song "I Wish," by hip-hop artist Skee-Lo.
By 1995, Jean Boyd's days as a "baller" were behind him. That year, Boyd returned to his alma mater, Arizona State University, to serve an internship in its athletic department and pursue a master's degree. Having been cut by the NFL's New England Patriots, and unable to land a spot in the World League, Boyd quickly realized he needed to find some "juice," as he puts it, elsewhere in life besides the defensive backfield.
Now, as ASU's assistant athletic director for student-athlete development, Boyd's juices are flowing big time. He has co-created a program called Scholar Baller ™ , which is designed to motivate student-athletes academically by promoting a message - to all athletes, but particularly to African-American males from urban backgrounds - that success both on the field and in the classroom is within their reach.
"There has been a disconnect," says Boyd, 33, who grew up in inner-city Los Angeles surrounded by the myth that long-term financial security could only come through playing sports, recording music or dealing drugs. "Guys come to institutions like this to play ball, and they see this as a kind of minor league, a place where they prepare to play professional sports. They don't take advantage of everything the collegiate experience has to offer. That's why there was a need to come up with something nontraditional to inspire individuals across the board."
Boyd launched the Scholar Baller program at ASU in 2001, and for two years awarded T-shirts to football players achieving a B average or higher. Last year, he divided the football team into 12 peer units, each earning points or demerits based on such criteria as class attendance and grade-point performance. Members of the winning team received sweat suits bearing the message "Scholar Balling: Competing in the Classroom."
The program didn't gain national attention until this Sept. 2, when 29 Sun Devils took the field for their season opener in jerseys bearing a 2-by-3-inch Scholar Baller patch featuring the so-called Thinkman ™ logo.
"The jersey is almost sacred in college athletics," says Boyd, who wore ASU's colors from 1991-93. "It's your identity. It says that you have arrived as a Division I athlete. Now when you're out competing at the highest level of collegiate athletics, here's a patch that says, 'Hey, I also compete in school, and it's important to me. That's part of my identity, too.' "
"I developed the logo to create an image that it's cool to be smart," says ASU visiting professor and Scholar Baller co-creator Keith Harrison, a former collegiate player and coach whose post-graduate research centered on the socialization of African-American athletes in revenue sports. "It's almost a part of my own academic, athletic and hip-hop identity." (Harrison, 36, also conducts research for Russell Simmons' Hip Hop Summit Action Network and its literacy program Hip Hop Reader.) Adds Boyd, "Hip-hop, sport and education - we're trying to merge those three entities into one mentality for success, because young people can identify with it."
There's no mistaking the hip-hop culture's influence on Thinkman, who wears a backwards cap, biceps-hugging T-shirt and baggy jeans as he puts pen to paper in a collegiate-style desk-chair. The logo traces its roots to 1996, when Harrison, then on the faculty at Washington State, commissioned a University of Washington player - who, like Boyd, first met Harrison during the latter's coaching stint at Cerrito College in Norwalk, Calif. - to draw an image depicting the typical athlete in the classroom.
Harrison takes credit for coining the Scholar Baller phrase a year later while making the international speaking rounds with his freshly minted athlete-socialization research. The term is derived from "all baller, no scholar," which is what Harrison, through photo-elicitation studies and examinations of popular culture (including films such as "The Program" and "Boyz N The Hood"), discovered to be the predominant stereotype facing young black males. "I've tried to get at how people perceive studentathletes, particularly their racial perceptions," Harrison says. "And I've found that the stereotypes are worse than I originally thought." By reversing the key words, Scholar Baller represents the antithesis of those stereotypes, according to Boyd, who has made guest appearances in Harrison's classroom and joined him in presenting at various conferences over the years.
Still, for some skeptics the patch hasn't provided enough proof of academic arrival. "I had one guy write and say, 'While I think it's great that you're acknowledging academics and athletics this way on the jersey, I question the validity of major Division I football and basketball players' grades,' " Boyd says. "Another lady wrote that the word 'baller' is 'at best troublesome and at worst tragic.' For her, the connotation was sexual."
The program's vocabulary is edgy by design. Harrison cites Erving Guffman's Stigma: Notes on the Management of Spoiled Identity when he says, "Once things are stigmatized, you have to use the stigma to destigmatize."
"Really, the term and the vision work together to debunk myths," adds Boyd. "Just because you walk into a classroom with your hat on backwards doesn't mean you're not smart, or you can't be smart."
Ironically, Boyd himself would not have met the Scholar Baller criteria (a minimum 3.0 grade-point average in either of the most recent fall or spring semesters). "I overemphasized football," he admits, adding that he took a 3.4 high school GPA into college and "totally underachieved."
"There's a subculture within major Division I football," Boyd says. "And the subculture says, 'Hey, you do what you gotta do in school to stay eligible.' "
Many decorated athletes have done much more than that. This August, Boyd assembled a PowerPoint presentation for the football team's incoming class, including photos of such players as New York Jets rookie linebacker Jonathan Vilma. The ASU freshmen could detail Vilma's on-field bio with surprising accuracy: first-round draft choice out of Miami, three straight seasons of leading the Hurricanes in tackles. Boyd then punched up the numbers to validate their recollections. Then he showed them a third page - "Did you know this about him." - on which Vilma's lesser-known achievements were outlined: a 3.5 GPA in finance while earning his degree in three and a half years, two Academic All-America and three Academic All-Big East honors, 60 hours of community service.
"We present them with the dual nature of individuals who are in the NFL or who have done outstanding things in life," says Boyd, citing ASU's own Pat Tillman, the late Arizona Cardinal cum Army Ranger who earned a 3.8 GPA in marketing while graduating in three and a half years. "The student-athletes identify with the football part, but then we flip it and say, 'At the same time, these people performed at a high, high level in school.' "
No presentation is complete without mention of Paul Robeson, considered by both Boyd and Harrison to be the quintessential Scholar Baller. Only the third African-American to attend Rutgers University by 1915, Robeson won 15 letters in three sports while on academic scholarship. He went on to practice law, act in films, sing and advocate for civil rights. While a member of the faculty at the University of Michigan (from 1997 through this spring), Harrison founded the Paul Robeson Center for Academic and Athletic Prowess.
It was Boyd's desire to establish a Robeson Center Southwest that attracted Harrison to Tempe to reunite with his protégé. For now, both men envision Scholar Baller spreading throughout collegiate athletics (Thinkwoman has already been trademarked), as well as elementary school and high school sports. NFL players, an estimated 50 percent of whom have earned bachelor's degrees, have expressed interest in helping, as well. "Frankly, we see this as a movement," Boyd says. "We see it as energy that young people interested in sports can embrace and that can help them learn how to be balanced, whole individuals."