Despite some limitations inherent to the design of ballparks, sports facility architects view minor league venues as opportunities to build something unique and personal.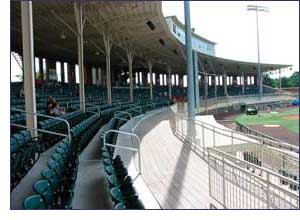 Public money aside, one of the biggest advantages enjoyed by professional sports team owners looking to build a stadium is the urban backdrop in which they find themselves. Major League Baseball teams especially, given the preponderance of foul-territory seating, can use the city beyond the outfield walls to lend a unique character to their new buildings. And so, the Orioles have the B&O Warehouse, the Indians the Cleveland skyline and the Giants the boats bobbing in San Francisco Bay. All three ballparks have their own charms, of course, but it's the synergy between the ballpark architecture and its immediate environment that brings the team closer to the people sitting up in the cheap seats: Big-league team, big-league city.
Another advantage from a design standpoint is the size and stature of the typical major league venue. With its towering grandstands and banks of lights, not to mention the size of the throng itself, a major league park announces its presence from a great distance, adding to fans' gathering excitement as they approach the entry gates.
Log in to view the full article