High school administrators are encouraging students to stage pregame tailgate parties - within boundaries.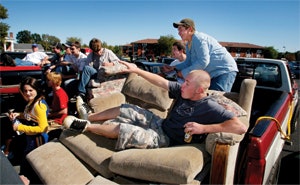 Steve Dirnbeck calls them "my blue guys" - a half-dozen students at O'Fallon (Ill.) High School who cover themselves in Panther-blue body paint and work the sidelines of home football games as wacky sidekicks to the school's official cheerleaders. While they certainly spur school pride in the stands, their efforts now begin in the parking lot with a tailgate party that includes the painting ritual, says Dirnbeck, O'Fallon's principal, who three years ago began encouraging students' attempts to tailgate on school property before Friday-night football. "My initial fear was that the kids were going to sneak in beer, but it has evolved into another way for them to have a good time and see that they can get ready for a game without alcohol," he says. "I also wanted to get more kids going to games and making high school activities a part of their weekend."
Even though usually no more than 50 students set up grills prior to any given home game at the suburban St. Louis school, Dirnbeck says his blue guys and others who have followed their tailgating lead have fueled a school spirit revival. Mark Roherty, principal of Homestead High School in Mequon, Wis., has noticed the same thing. "Tailgating provides a sense of community, even if it's something as simple as kids planning a party together and using an event at school as the reason to do that," he says. "That can be very positive."
Log in to view the full article