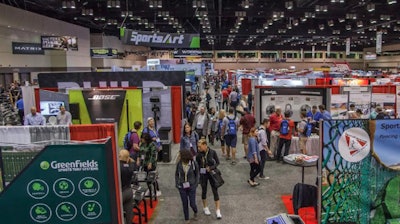 A trade show floor can be a daunting experience for the inexperienced. Such was my perspective coming away from my first AB Show last year in New Orleans, where I spent the majority of my time manning the AB booth.
This year, however, I had my sea legs under me and went out to experience the expo floor in all of its glory.
First up, the fitness giants — and I do mean giant! Longtime AB exhibitors, including Cybex, Life Fitness, Matrix Fitness, Precor, Technogym, TRUE Fitness and Spirit Fitness put their best feet (and equipment) forward to wow attendees as they entered the hall.
Functional fitness has been a hot topic for us editorially this year, (and at my local gym), and the trade show floor reflected that. A number of companies had modular rigs on display, and I finally got a chance get up close to the SYNRGY360 group exercise rig from Life Fitness. I'd seen this piece of equipment at a few branches of my gym, but the trade show floor offered a different perspective at how effective the rig can be for multiple, simultaneous users.
It was cool to see Technogym's SKILLMILL and the Matrix S-Drive in person. Each one offers speed, agility, endurance and strength exercises, and has the ability to change between them quickly. Upon first glance, these machines might look like a variation of a treadmill. But make no mistake, these are strength and conditioning machines great for sled pushing, high intensity interval training and circuit training.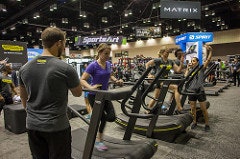 Newcomer Torque Fitness brought out its TANK — a few laps with that thing will have you sweating bullets. Torque also brought out their stackable plyometric boxes appropriately named Plyostack, as well as a wealth of other products to meet any facility's functional fitness needs.
Functional training may be trending, but cardio equipment will always be a staple in athletic, fitness and rec facilities, driven by continual technology development to keep users engaged and working hard. TRUE Fitness, for example, brought its Alpine Runner, showing off its impressive incline range. The Alpine Runner can go from negative-three percent incline to a 30 percent incline, and has a cool Monument Workout feature that lets users climb world landmarks.
I had a chance to speak with the folks at SportsArt, who were showcasing their Eco-POWR gym equipment. During one of their "Power the Tower" contests, they told me about how their gym equipment turns human-generated energy into kilowatts that go right from a regular wall outlet back to the power grid. With so many facilities increasingly interested in LEED certification and sustainability, it was interesting to see how Eco-POWR could fit into that larger picture.
Next, a few colleagues and I met with Octane Fitness, which had its full lineup of zero-impact cardio equipment on display. Though you don't typically associate cardio equipment with marathon training, Octane and marathon coach Rick Muhr hope to change that, sharing with us the biodynamic properties that make Zero Runner an asset to the running communities. We also discussed the company's acquisition by Nautilus nearly a year ago and what the new relationship meant for Octane. Among other perks, they were happy to have access to Nautilus's larger collection of marketing resources, Rick told us.
Though they're a big part of the AB Show experience, the fitness and strength companies aren't the only thing to see at the expo. One of my favorite parts of the whole week was the discussions I had with the abundance of architects who attend our show. We didn't have to go far--our 360-degree AB booth was neighbored by TMP Architects and Dewberry, as well as our Wisconsin neighbors from Water Technology Inc. Just a few steps down the row was the gang from CannonDesign, Hastings+Chivetta, HOK and Moody Nolan. I loved hearing about the state of the industry from their perspective, and several of the people I spoke with indicated that business continues to be good for architects constructing athletics, fitness and recreation facilities.
Speaking of good conversations, the award for the most-engaged social media follower goes easily to Star Trac. Prior to the show they created this AB Show timeline, which we think is pretty cool.
Athletic Business starts this week! Did you know these fun facts about the AB show? #AthleticBusiness pic.twitter.com/LkUhp8s0wM

— Star Trac (@StarTracFitness) November 15, 2016
As usual, people were lining up to try out the Star Trac BoxMaster. You may remember we had the opportunity to see the BoxMaster in person when we toured the University of Missouri's Student Recreation Complex. Check out video of that here.
Here is a Core Health & Fitness tour of the @AthleticBizShow! What a blast! #AthleticBusiness #ABOrlando pic.twitter.com/yITwgQFp7x

— Star Trac (@StarTracFitness) November 18, 2016
But they weren't the only one's busy online at the show. Somewhere between hosting 30-second speed challenges on its new Assault AirBike, Precor got in on the latest viral trend, the Mannequin Challenge, right at their booth.
The #MannequinChallenge is going down at our #ABOrlando booth! pic.twitter.com/Gp1HJUe2Eu

— Precor (@precor) November 18, 2016
One kind of company you typically don't see at an athletics show? Bakeries. But Toronto, Ont.-based Dimpflmeier Bakery thought the Show would be a perfect place to promote their all-natural, no sugar, high-protein bread. Each slice comes in at a whopping 34 grams of protein (!!!).
Speaking of new companies, we had an entire section of the floor devoted to new exhibitors! The Acoustiblok booth was pretty loud… and then pretty quiet, as exhibitors raised and lowered a soundproof cover over a speaker to show the extent of their acoustics products' capabilities. Other first-timers joining them in the New Exhibitor Pavilion included ReliaPOLE Inspection Services, Plubber Co. and its line of sports flooring, as well as a handful of new fitness dealers.
On first look, SNA Sports Group seemed like a newcomer, but I and others would easily recognize the company by its former name, Schelde North America.
With so many intriguing products on display, it was hard to resist stopping to test a few out. Bhalla International in particular was hard to ignore, with brightly colored cones, flags, weighted balls and much more to check out. With a product line ranging from basketball products to playgrounds, it's understandable that the company opted for a bigger footprint to fit it all in.
Usually, AB staff are very busy during the Show. But that doesn't mean a shrewd member of the team can't find an opportunity to relax. Just ask AB senior editor Paul Steinbach, one of the many who stood in line to try out the Rikian Exerciser. He wasn't the only one who needed a break from the show floor — similar lines formed for ProSun International's touchless massage, and massage chairs at the Adako USA booth.
The rest of us also got a chance for a break, thanks to our friends at SportaFence. They stopped by the AB Media booth to hand out bottles of water for our whole team, right when we needed it most. How thoughtful!
Speaking of hydration, Friday afternoon's trade show happy hour sponsored by Matrix Fitness was a huge success. The featured Matrix Margaritas made a perfect complement to the warm, giant pretzels.
One Twitter user summed up the entire experience nicely:
@AthleticBizShow #ExhibitHallProblems #ABOrlando pic.twitter.com/kFHCKhIzy0

— Andy Peal (@pealjam03) November 17, 2016
As the trade show hours wrapped up, I had seen only a fraction of all there was to see (with more than 890 exhibitors in 241 booths this year, it was tough to stop by every booth, and with more than 2,800 attendees roaming the floor and having conversations, I didn't want to interrupt anybody!) As we closed the show, the energy in the expo hall was palpable.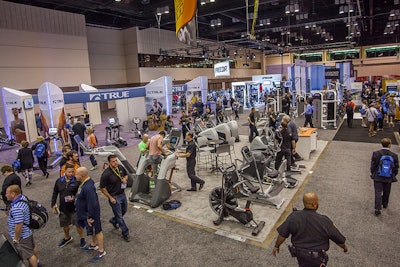 I wasn't quite ready for the show to be over, but fortunately, networking dinners are also an integral part of the AB experience. Ever drink beer out of a beer bong? Some of my AB colleagues and I did (there were glasses involved — those days are behind me), along with a few peers from Mateflex and Eversan Scoreboards — these New Englanders have a habit of traveling to shows together and sharing a booth, lining the entire thing with Mateflex flooring and decorating it with Eversan products. Practicality at its finest.
The AB Show is such an exciting event for people in our industry, and I'm so glad I got to be a part of it this year. I know I'm not alone when I say this—but I can't wait to be back in Orlando for next year's edition of #ABOrlando, Nov. 8-11 (trade show Nov. 9-10).