There's no doubt functional fitness is here to stay. From CrossFit to TRX to high- intensity interval training, more exercise programs are taking their cues from functional training, leading to an increased demand for space inside health clubs to accommodate such programming with a range of equipment that can include dumbbells, resistance bands, suspension trainers and squat racks.
In response to the challenge facility owners face in creating dedicated functional fitness space, several of the leading fitness technology brands now offer modular training systems that make incorporating functional training easier. Enter OMNIA from Technogym in 2014, Connexus from Matrix earlier this year, Life Fitness's SYNRGY360 and most recently, Precor's acquisition of Queenax. Traditional strength equipment companies, such as Eau Claire-based Dynamic Fitness & Strength, are also seeing increased demand for modular systems.
"We're seeing popularity exploding across all the markets — clubs, YMCAs, franchises," says Guy Brown, sales and product director at Dynamic, adding that even schools and athletic facilities are taking an interest. "It's because of the space efficiency and multifunction — resistance training, suspension training, group exercise. That's a model for middle school class all the way to professional athletes, even retired seniors."
Each company offers various styles and sizes based on a facility's needs, but the basic concept is the same: Freestanding, open structures that can be reconfigured to accommodate a range of equipment, from TRX bands or battle ropes to heavy bags for boxing. Exercisers can also utilize the frame itself to do bodyweight exercises such as pull-ups or assisted push-ups. "There are so many different places that you can attach some kind of accessory to perform an exercise or use the frame itself to perform an exercise," says Adam Hubbard, director of product management for Precor. "It also allows the unit to be configured for circuit training. That means you can either have one individual or a group of people doing a different exercise, rotating from location to location within the frame."
---
RELATED: Profiting from Functional Fitness
---
According to Technogym product and education manager Ed Hulit, products like OMNIA give business owners a "turnkey solution to functional training and small group training," and the versatility of equipment allows for a great variety of programming opportunities for different populations and interests. "If you wanted to teach a boxing class with eight people you could hang eight heavy bags," Hulit says. "If you wanted to hang just one heavy bag, you could hang one heavy bag and have seven other stations."
Modular units come in two basic types — freestanding or wall-mounted — to take advantage of a given facility's available space, and they come in a range of sizes. Hubbard likes to compare Queenax to a set of Legos: "When you buy a set of Legos, you can buy a 16-piece set or you can buy a 125-piece set. Queenax really operates on the same principle. If you only have a small space there are solutions that have fewer pieces and that mount to the wall and release or tuck into a corner, which is great for smaller facilities."
Similarly, Technogym offers different sizing options for OMNIA, including the freestanding OMNIA 8 and OMNIA 3, a smaller, wall-mounted structure. Modular attachments allow club owners to size the equipment to fit the programming.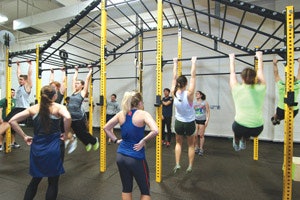 As additional space or dollars become available — or as demand necessitates — facility owners can purchase additional parts and expand the unit. For facilities with either a dedicated group exercise space or an ample amount of floor space, Queenax's largest configuration, The Bridge, can span 56 feet without any supporting beams underneath it.
Accessories are as easily removed as they are added, allowing The Bridge to stand idle as the space is used for other programming. "It takes advantage of space that's underutilized or not utilized at all, like walls and the area above your head," Hubbard says. "You can remove the attachments and still have that open space for a Zumba class or yoga class underneath it. That's what really came out in our research among operators: 'That would give me both those things I really want,' which is open space and the ability to quickly fill the open space to respond to a trend."
Modular systems themselves also reduce the amount of dead space typically created by some pieces of traditional strength equipment, says Brown. "With an Olympic training machine, there's space between apparatuses — squat rack and squat rack, bench and bench," he explains. "By building storage mechanisms right into the unit, you still have the area to load an Olympic bar, but you can also have your wall ball, dumbbell or kettlebell and utilize that space."
In another break from tradition, more facilities are opting to place modular systems in areas of high facility traffic. The unique look of the equipment not only sparks curiosity among current members, but it can also be a talking point for prospects.
---
RELATED: SPOTLIGHT: Weight Rooms/Strength Equipment
---
"These rigs are very provocative in that people aren't really familiar with them," Hubbard says. "Club owners like to place them in a prominent location, so when members or prospective members come into the club you get that reaction of 'Wow, what's that?' "
Hulit adds that unfamiliarity with the equipment can actually open the door to enhanced interaction between club staff and patrons. "That's where it provides a unique opportunity for club owners because it gives personal trainers and fitness people the opportunity to engage members and talk to them about their goals and what they're trying to accomplish," Hulit says. "It may present an opportunity to talk about personal training down the road."
One last advantage of modular systems, notes Brown, is that they add a lighter element often missing from strength training. "They can bring excitement and social interaction into a fitness routine," he says. "It's bringing fitness back to where we all started, becoming more like play."
---
Laura Godlewski is a former Athletic Business editorial assistant.
---
This article originally appeared in the October 2015 issue of Athletic Business with the title "Making Fitness Spaces More Functional"