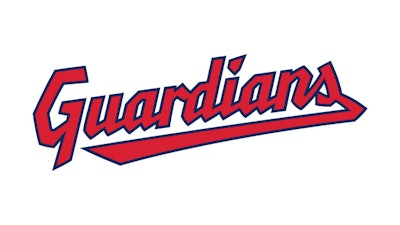 Cleveland Guardians
Crews in Cleveland are at work this week taking down the script "Indians" sign as the MLB team transitions to its new moniker: the Guardians.
The 80-foot-long sign started to come down Tuesday, and it will take several days to remove it, WEWS-TV reported.
The Brilliant Electric Sign Co. is tasked with removing the sign to make room for the new "Guardians" script sign that will greet fans next season.
The organization is still working through the future of the "Indians" sign. Until that's decided, the sign will be stored at Brilliant Electric Sign Co.
The team revealed in July that it would change its names to the Guardians beginning next season after more than 100 years as the Indians, a name that had come under criticism as being derogatory toward Native Americans.
The new sign features fabricated aluminum letters that will be mounted onto the existing scoreboard structure. WEWS-TV reported the letters will be painted red with a white border, and the border will feature exposed 3000K, 5-watt white LED lamps to light the sign up at dusk.
The Cleveland team is also facing a lawsuit after it announced its intention to become the "Guardians." A roller derby team, also the Cleveland Guardians, claims the baseball franchise infringed upon the roller derby team's trademark. The roller derby team alleges the Indians franchise "surreptitiously filed" the trademark application for the Guardians moniker through the obscure island nation of Mauritius.