Money man Kevin Fringer paints a financial picture of the modern-day athletic department.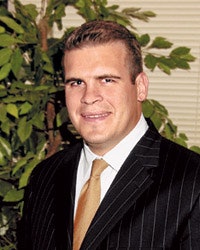 Since the onset of March Madness, 48 head coaching positions in NCAA Division I men's basketball have been vacated (and, as of the second week of April, 36 were filled). The previous two seasons saw a combined 103 jobs change hands. That's a lot of contract structuring, retirement planning and mortgage lending all stemming from one small segment of America's workforce. And that's where, beginning five years ago, career financial advisor Kevin Fringer sought to fill a service void. As founder of Collegiate Financial Services, "the official financial consulting and relocation firm of the 1A Athletic Directors Association and the National Association of Collegiate Directors of Athletics," Fringer has provided the athletics staffs at roughly 50 schools with financial advice. Paul Steinbach asked Fringer to paint a financial picture of the modern-day athletic department.
Q: What specifically about college athletics lends itself to your services? A: The massive relocation that occurs doesn't allow coaches and administrators to be like normal people who establish long-term professional relationships in their community with an insurance agent, a financial advisor, a mortgage lender, a CPA and an attorney. Because they move so much, they're constantly looking to new people for advice.
Q: What is the most common financial mistake made by coaches? A: The biggest one is leaving a trail of retirement plans. They get to that seventh university, and they have three years in this retirement system, two years in this one, five years in that one. Figuring out what they actually have accumulated toward retirement can be a challenge. We encourage coaches to clean out their retirement plans as they relocate.
Q: How do you help athletic departments make better financial decisions? A: By the time we've gotten to the table, the athletic department has already decided how much money it's going to pay a coach. We're just trying to make that million dollars a year stretch as far and be as competitive as possible for the department. And we're trying to save the coach as much in taxes as possible through tax shelters and deferred compensation.
Q: Do you envision a day when student-athletes will be compensated? A: Most people who talk about paying athletes are watching the BCS national championships or the Final Fours, and they're really losing sight of the fact that a Division I-A program is taking the profit of two or, if it's lucky, three teams and basically subsidizing 25 non-revenue sports. I just don't think the money is there.
Q: Are programs spending too much money on high-profile coaches? A: You have to go back to the business model of the athletic department as a whole. I use an analogy from the investment world: Mutual funds managers go out and hire banner portfolio managers and pay them huge dollars, but these folks are paid huge dollars because they bring in the money. If you're the University of South Carolina and you bring in Steve Spurrier, what does that do for your donations and your TV and apparel revenue? It's really an investment. If you're making that investment wisely, it's coming back to you tenfold, because it really drives your revenue sources for the entire department.