He no longer can speak or move his arms and legs. A medical device pumps life into his lungs. But he still smiles and writes to you on his computer using his foot on a roller ball. If you ask, Augie Nieto will tell you the happiest days of his life have been since he was diagnosed with Lou Gehrig's Disease.
Some moments have been mournful. Overwhelmed with pity, he attempted to take his life with a pill overdose. When I visited my dear friend of 30 years in the hospital, he told me he was starting to discover a whole new reason to live.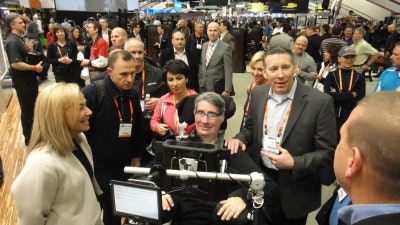 At IHRSA, Chris Clawson, CEO of Life Fitness, shows Augie the commemorative
Lifecycle
that will go on sale this year.
He picked himself up and started a new chapter in the great story that is his life. Augie's typical day is a whirlwind of visitors, planning for fundraisers and offering advice to those of us in the fitness industry. This co-founder of Life Fitness serves on the board of two public companies, as well as the board of Octane Fitness. More important, he founded cure for ALS. Last week at IHRSA's 30th Annual Convention and Trade Show, an industry gathering of more than 700 people raised $1,323,721.
Working for Augie is a pleasure - even a celebration. At IHRSA, Zumba Fitness organized a "Zumbathon," where an exhilarated 1,300 people danced together in a ballroom, capping off a year in which they raised $211,000. A man who no longer speaks has managed to unite friends and competitors to fight this fatal disease. To date, Augie's Quest has raised a total of $28,097,736.20.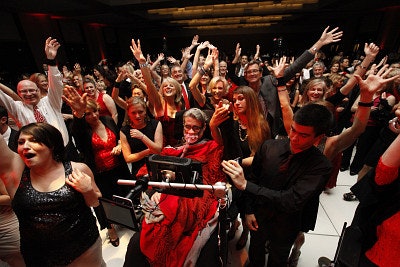 But what was even more important is that I think everyone who attended felt blessed to spend the evening with him.