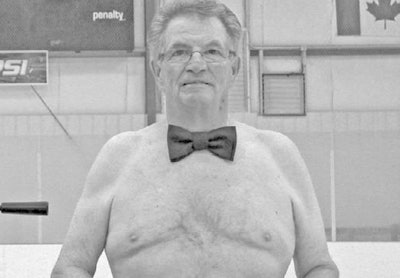 Looking for a creative way to raise some extra funds for your recreation center project? Pilot Mound, small town in Manitoba is raising some eyebrows with its latest initiative — selling calendars featuring topless men in "flirty" poses.
Construction of Pilot Mound Millennium Recreation Complex began as a community effort in 1999 when volunteers put up the original structure, which has since grown to include a curling rink, a skating rink and a daycare, and will be adding a theatre later this year. Money was borrowed to fund the initial construction, and the community has been working to pay it off since.
The latest effort is the 2016 calendar, featuring 13 seniors (and an extra month) being sold for $25. The models were all nominated by the community and are featured in poses representative of the community and the models — in a cornfield, on a Zamboni®, flying a plane.
Check out more images from Pilot Mound's 2016 calendar
"We wanted to really capture what each of the guys was all about and their careers and interests," said Ginger Collins, head of the fundraising committee and CEO of the local health district. "I think it will probably end up being one of our best fundraisers