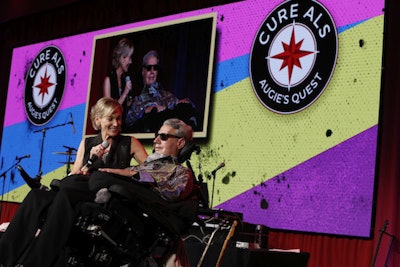 This year, the fitness industry rallied in unprecedented fashion to support Augie's Quest to Cure ALS, the organization dedicated to curing Amyotrophic Lateral Sclerosis, also known as Lou Gherig's disease.
Fitness industry pioneer and Life Fitness founder Augie Nieto was diagnosed with the disease 12 years ago, but instead of giving in, Augie chose to fight. Along with his wife, Lynne, he founded Augie's Quest, and to date the research initiative has raised more than $45 million to find a cure.
Augie has also done things that many would've thought impossible. ALS has slowly robbed Augie of his ability to speak or move on his own, but he continues to exercise and inspire the fitness industry as he does.
At its annual fundraiser, the BASH for Augie's Quest, the fitness industry helped to raise $3.5 million at the IHRSA trade show in Los Angeles,. Orange Theory Fitness, through its #IBurn4ALS campaign, contributed $2.08 million to that amount, making it the largest in-club fundraiser and largest single-year campaign for Augie's Quest ever. All of the funds raised go to support ALS research.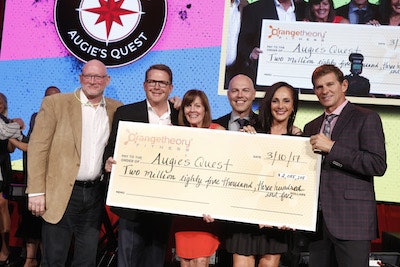 And the impact Augie's Quest is having is real. Fitness industry support has helped make it possible for the ALS Therapy Development Institute to develop an exciting new drug called AT-1501, which is in early stages of clinical trials.
"Our partners and donors from across the fitness industry are one in a million. Their competitive spirit, generous financial support and fierce commitment as a collective industry to actively champion the health of so many people affected by ALS is driving real change and research results," said Nieto. "ALS is not an incurable disease; it is an underfunded one. ALS doesn't have a fighting chance with the fitness industry in the ring."
To learn more about Augie's Quest to Cure ALS, visit their website here.