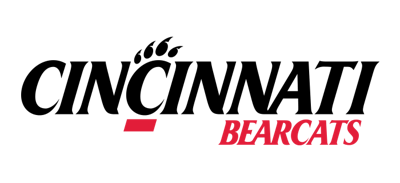 As it prepares to enter the Big 12 Conference, the University of Cincinnati has launched the Day One Ready Campaign — a $100 million fundraising effort believed to be the largest in school history.
A new campus indoor practice and performance facility is the biggest project that's part of the fundraising initiative, UC said in a statement, as reported byCincinnati Business Courier. The facility will replace a temporary bubble that currently allows practice fields to be used during winter months.
The announcement comes just as the Bearcats cracked the top four in the latest College Football Playoff rankings.
Athletic department data show that Cincinnati will need to spend more money to compete in the Big 12, but revenues should rise, too. The Big 12 features bigger-budget athletic programs and comes with more TV revenue than the American Athletic Conference in which UC currently competes.
"As we prepare to call the Big 12 home, our vision of Next Level Success is more important than ever before," UC athletic director John Cunningham said in the release. "The collective investments we make in UC Athletics today positions every student-athlete who wears Cincinnati across their chest to be champions tomorrow. By contributing to this campaign, Bearcats' supporters will ensure we are ready to compete — and win — from our very first day in the Big 12."
In addition to the indoor practice facility, other fundraising initiatives include:
An endowment to provide funding for student-athletes' access to mental health and wellness services.
Funding for a full-time sports nutritionist.
Creation of the Bearcats Career Development Institute to prepare Bearcat athletes for their professional lives. That includes IMPACT, a program that helps athletes capitalize on their name, image and likeness (NIL)
Upgrades to the men's and women's basketball team facilities in Fifth Third Arena.
Increased support for student-athlete scholarships and private air travel for coaches to recruit nationally.
UC has already raised $24 million of the $100 million goal during the silent phase of the fundraising campaign.
"As Bearcats, we are relentless in the pursuit of excellence – and nowhere is that more evident than in our journey to the Big 12," UC president Neville Pinto said in the release. "Being competitive from day one requires a vision that's bold and an effort that mobilizes an entire community around showing the world who we are."