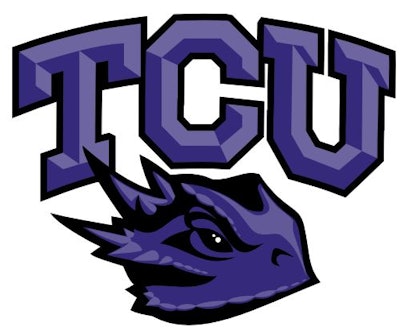 The TCU Frog Club at Texas Christian University introduced a new "Investors Society" during the football team's annual spring game Friday night, providing close to 70 inaugural members field access and an up-close glimpse of the program under first-year coach Sonny Dykes.
"As college athletics continues to evolve, support through the Investors Society allows our leadership to make real-time decisions to provide championship resources for our coaches and student-athletes," TCU athletic director Jeremiah Donati said, as reported by the Fort Worth Star-Telegram. "We've seen historically that investment in the success of TCU Athletics can have a ripple effect for our campus, and the Fort Worth community.
"The Investors Society provides a formal structure to best organize these investments in our pursuit of championships."
According to Ian Sadler, TCU's assistant athletics director for development — major gifts, donors are supportive of the initiative. There's a renewed energy across campus with Dykes taking over the football program.
"It was the perfect backdrop with the new era of football," Sadler said. "The Frog Club proudly launched the new Investors Society with some of our closest friends and supporters. It was an incredibly successful evening and a lot of generous fans are excited to invest in the future of TCU athletics."
More experiences ranging from pregame field passes to traveling with programs on road trips will be coming for those donors who participate. Most major-gift commitments are tied to donors receiving seating and parking at various events, but this endeavor is about providing behind-the-scenes experiences, the Star-Telegram reported.
TCU is requiring donors to commit $50,000 or more over a five-year period to join the exclusive club. Sadler hopes donors view this as an "investment over a donation." If TCU athletics is flourishing, as Donati alluded to, it can have a positive impact on the campus and community at large. As Sadler put it, "A rising tide raises all ships."
Financial commitments are expected to help all 22 programs in TCU's athletics department. "Donors who participate will gain access to unique VIP experiences," Sadler said. "Those who go above and beyond will get above and beyond experiences."
And TCU is not alone. According to the Star-Telegram, Division I schools such as Louisiana State, Ole Miss and Tennessee have launched similar programs. Tennessee's, for instance, is called the Shareholders Society.