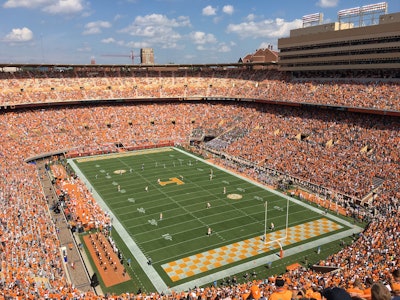 University of Tennessee fans flooded the field and tore down the Neyland Stadium goalposts Saturday after the Volunteers beat Alabama in football for the first time in 15 years. Now Tennessee is asking fans to foot the bill.
UT athletic director Danny White tweeted "We had some fun, didn't we?" and asked fans to "help us out."
On top of the lost stadium hardware, some of which was tossed into the Tennessee River in the post-game aftermath, the Volunteers were fined $100,000 by the Southeastern Conference for its second violation of the league's access to competition are policy, according to The Associated Press. The first violation came after a basketball game against Florida in 2006.
According to the AP, SEC policy states that ''access to competition areas shall be limited to participating student-athletes, coaches, officials, support personnel and properly-credentialed individuals at all times. For the safety of participants and spectators alike, at no time before, during or after a contest shall spectators be permitted to enter the competition area. It is the responsibility of each member institution to implement procedures to ensure compliance with this policy.''
A third offense and beyond would cost Tennessee $250,000.
The then-sixth-ranked Volunteers defeated No. 3 Alabama, 52-49, on a last-second field goal, touching off one of college football's largest post-game on-field gatherings of fans in recent memory.
Joe Pompliano tweeted Sunday afternoon that more than $33,000 had already been raised.
One goalpost can cost up to $15,000, depending on the desired quality. ESPN reported in February that the SEC's most recent payout to each member school topped $54 million — a $10 million increase from the previous year.