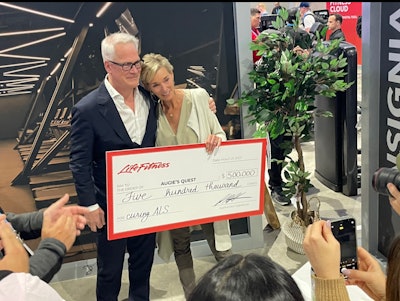 It was a memorable second day at the IHRSA 2023 show in San Diego, as Life Fitness presented Augie's Quest with a $500,000 donation to aid in the organization's mission to find a cure for ALS.
Life Fitness CEO Paul Stoneham presented the gift to Augie Nieto's wife, Lynne, before a crowd that packed Life Fitness' booth on the expo floor.
Augie Nieto, who died last month of complications from ALS, was the co-founder and former chief executive of Life Fitness, as well as the chairman of Augie's Quest to Cure ALS, and the ALS Therapy Development Institute.
Under Augie's leadership, almost $200 million was raised for ALS research.