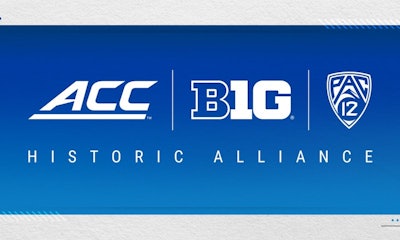 The ACC, Big Ten and Pac-12 are looking to again raise the issue of creating an eight-team college football playoff when the CFP management committee meets next week.
According to The Athletic, the ACC is leading the charge on the issue, with the Big Ten in "lockstep" on the issue. The Pac-12 is amenable to either an eight-team or 12-team model.
The eight-team model would allow for automatic qualifying spots for each Power 5 champion.
A four-member CFP working group made up of Notre Dame athletic director Jack Swarbrick, SEC commissioner Greg Sankey, Big 12 commissioner Bob Bowlsby and Mountain West commissioner Craig Thompson put forward a proposal back in June that centered around a 12-team format that would include the six highest-ranked conference champions and six at-large teams.
Should the committee come to an agreement on a playoff expansion solution, the group could then move forward with possible implementation by 2024.