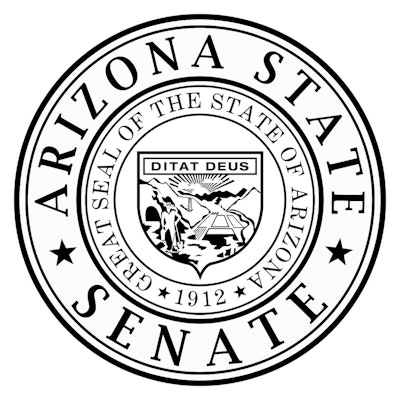 Lawmakers on Arizona's Senate Judiciary Committee voted 4-3 on party lines Thursday in favor of passing State Bill 1165, which calls for banning transgender people from taking part in school sports.
As reported by Fox affiliate KSAZ in Phoenix, Republicans have dubbed the proposal that was sidelined during the coronavirus-shortened 2020 legislative session the "Save Women's Sports Act."
Proponents believe the bill is needed to prevent transgender women and girls from dominating women's and girls' sporting events, claiming they are naturally stronger than those who identify with their birth-assigned gender.
"Women deserve to compete on a level playing field and allowing males to compete in women's sports destroys fair competition in women's athletic opportunities," said Matt Sharp, senior counsel with the Alliance Defending Freedom, a conservative group that advocates for religious freedom and traditional family values while pushing similar bills in other states. "Biological sex is indisputably the single biggest driver of athletic advantage."
The proposed law is the latest to surface since Idaho enacted the first ban on transgender girls playing on teams aligning with their gender identity in 2020. Idaho, Montana, South Dakota, Texas, Arkansas, Mississippi, Tennessee, Alabama, Florida and West Virginia have either passed some version of a law or imposed an executive order banning or limiting transgender students from participating in school sports, KSAZ reported, adding that court cases challenging the law are underway in at least four of those states.
The NCAA this week updated its transgender policy, shifting to a sport-by-sport model regarding participation requirements.
Related: NCAA Updates Transgender Participation Policy
Democrats on the Senate Judiciary Committee and opponents who testified Thursday called the Arizona proposal "cruel."
"I don't think that we should be further segregating kids who are already alienated and made to feel like they shouldn't exist," Nicole Cassidy, deputy director of the LGBTQ advocacy organization Equality Arizona, told the committee, as reported by KSAZ. "I think that they should be able to play with other kids."
"As a mother, it is my responsibility to protect my child," said Lizette Trujillo, the mother of a transgender individual, as reported by CBS affiliate KOLD in Tucson. "As a community member, it is my responsibility to speak up and say this is wrong."
Trujillo spoke to lawmakers Thursday in hopes that her son has the same rights as all other kids.
"My son says his gender identity is such a small part of who he is. He's funny. He's smart. He loves history. He plays the guitar. He plays basketball," she said. "He cheekily says he wasn't the best, but he loved being able to play with his friends and have a good time."
University of Pennsylvania swimmer Lia Thomas has made headlines this season while dominating Ivy League competition as a transgender woman and drawing attention to perceived competitive advantages.
Related: Penn Swim Parents Demand NCAA Change Transgender Rules
Jadis Argiope, a transgender woman, testified in Arizona that she believes it would be unfair to allow transgender women to compete on women's teams.
"All this bill has to do with his biological sex, biological reality," Argiope said, as reported by KSAZ. "The reality is we're strong, we're taller, we have bigger bones.
"In fairness towards women, there's a bad trend in taking away women's rights, and allowing males to compete against women is completely unfair."